Detroit textile artist Carole Harris (b. 1943) has been making quilts since the late 1960s. Along the way, Harris has subverted and redefined the basic concepts of quilting to suit her own artistic purposes drawing inspiration from her travels to Europe, China, Japan, South America, and the Caribbean as well as from the rhythms of Detroit jazz and blues music and the history of Detroit where she resides with her playwright husband, Bill.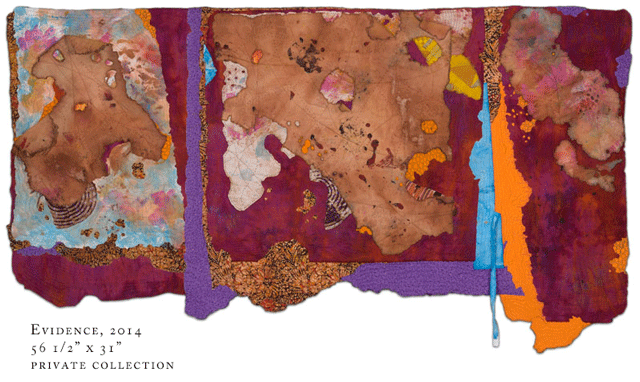 Harris's mother introduced her to needle arts as a child, teaching her embroidery and crocheting. Sewing classes in elementary school increased her skills and helped hone her craft. However, Harris did not explore quilting as an art form until after she earned a Bachelor of Fine Arts from Wayne State University in 1966. Since then, Harris has made over 200 quilts. Post-college, Harris pursued a successful career as an interior designer including thirty-three years as president of Harris Design Group, LLC, the interior and graphic design firm she founded in 1976 and dissolved in 2009 to devote full time to her studio art practice.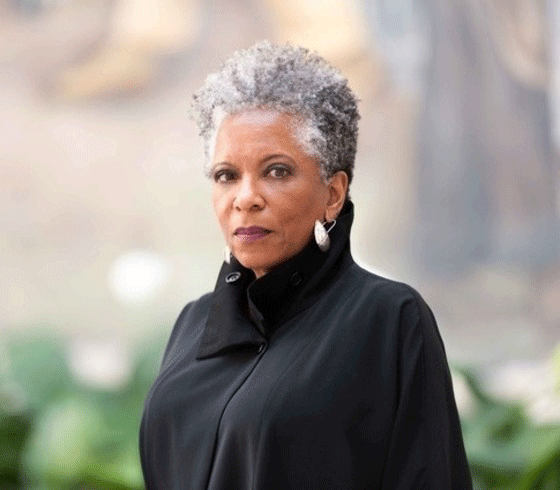 The interplay of hue and pattern from the combination of colour, texture, energy and movement are recurring themes in Harris's quilts. Harris extends the boundaries of traditional quilting by incorporating other forms of stitchery, irregular shapes, textures, materials, and objects. Improvisation and a fascination with the rhythms and energy created when combining multiple patterns and textures define her work.
"I let the materials and colours lead me on a rhythmic journey," she says. Harris's early quilts had architectural and geometric themes influenced by her years as an interior designer working with architectural forms. She primarily uses commercially printed cotton and loomed silks, as well as hand-dyed and vintage fabrics to make her quilts, often altering the textiles by overdyeing or painting on the fabrics.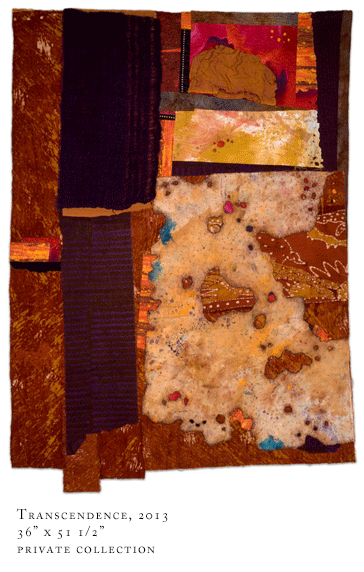 Harris's world travels have influenced her to explore how time impacts and alters  natural and constructed environments. To make the twenty-six quilts in her Mapping Time, Place, and Memory series, Harris employed found objects, paper, rust dyeing, collage, and burning techniques on materials that she cut up, overlaid, and repositioned to create a densely layered collage. By incorporating diverse fibres other than cotton including silks to create the quilts in this series, Harris addresses the UN Sustainable Development Goals 8, 9, 10 and 12: Decent Work and Economic Growth, Industry, Innovation, and Infrastructure, Responsible Consumption and Production, Reduced Inequalities.
---
Although cotton is a natural fibre, conventional cotton is far from environmentally friendly. 95% of global cotton production is genetically modified. 99% of the world's cotton farmers are located in developing countries where labour, health and safety regulations are either nonexistent or not enforced.
Compared to cotton, silk production consumes little energy, is not genetically modified, does not cause soil erosion, and is not treated with toxic chemical agents. Because silk is a protein fibre spun by silkworms, it is a renewable resource and biodegradable. For these reasons, silk is considered a sustainable fibre. However, the chemicals in conventional silk production kill the silkworm. Thus, organic silk is considered to be more eco-friendly and less wasteful.
---
Harris's Mapping Time, Place, and Memory series (2012-2018) exemplifies her interest in the environment, memory, and the passage of time. Drawing inspiration from walls, ageing structures, and objects that reveal years of use, she states:
My intention is to celebrate the beauty in the frayed, the decaying, and the repaired. I want to capture the patina of colour softened by time, as well as feature the nicks, scratches, scars and other marks left by nature or humans on constructed and natural surfaces.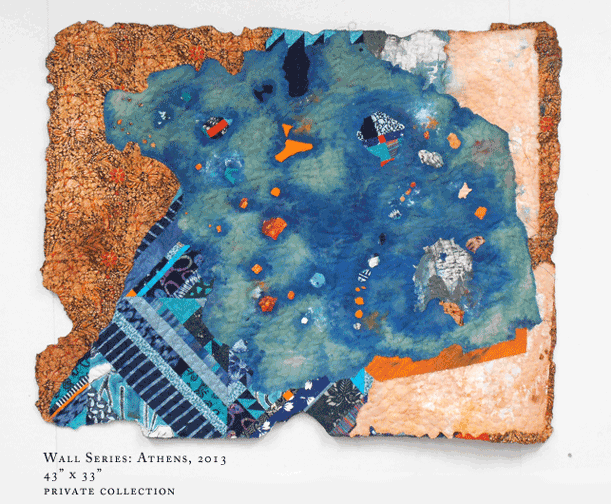 Harris interprets these topographical and human-induced changes in nature through cloth to tell stories of time, place, and people using creative stitching, layering, and the mixing of colourful and textured fabrics. Out of her many sets of thematic quilts, the Mapping Time, Place, and Memory (2012-2018) series is the most representative of sustainable and environmental art. Its twenty-six quilts indeed evoke "the nicks, scratches, scars, and other marks left by nature or humans" on the Earth.        
Taking a brief look at some of the quilts in the series, the quilt entitled Transcendence (2013) is one of several vertical compositions. It features a mountain-like form at the top and rugged topographic landscape imagery.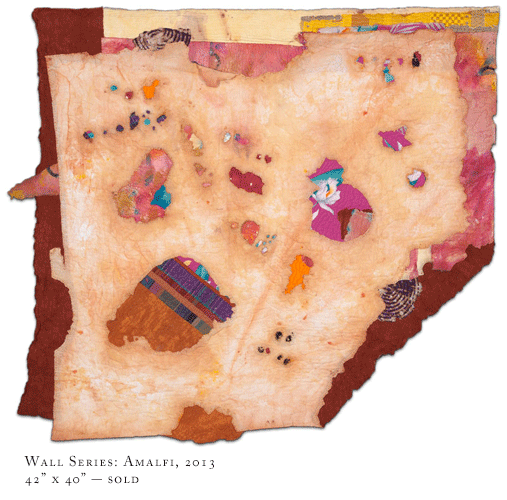 Another quilt entitled Wall Series: Amalfi (2013) represents the Amalfi Coast, a thirty-four-mile stretch of coastline on the Tyrrhenian Sea located along the southern edge of the Gulf of Salerno on Italy's Sorrento Peninsula, in the Campania region of Southern Italy. Its companion, Wall Series: Athens (2013), represents the Mediterranean Sea with geographical and sand forms.
Evidence (2014), a rare three-panelled composition, repeats the aerial topographical map theme.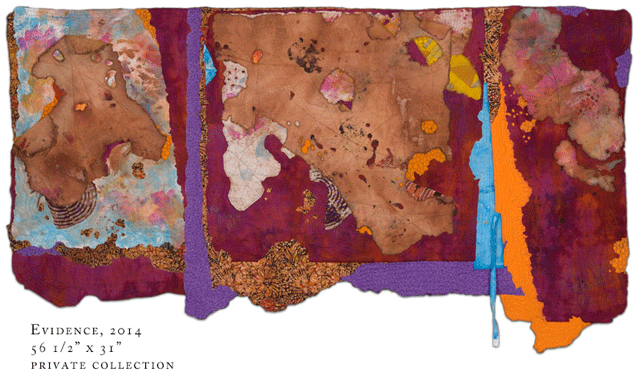 Strata (2014), symbolizes the geological layer of sedimentary rock above a body of water with stylized waves and Reverence (2014), is a fringed quilt with a blue and white aquatic theme as though seen from above with swirling cloud formations.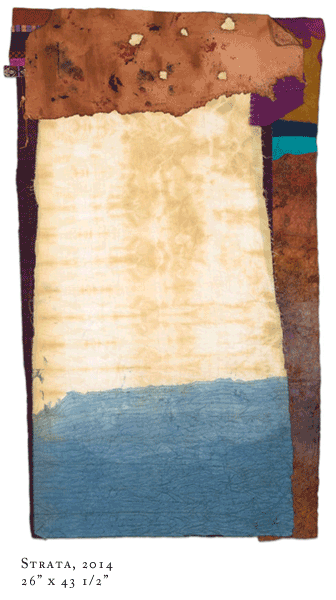 The Long Walk, an undated piece, incorporates solid strips of fabric similar to those of 2013's Transcendence.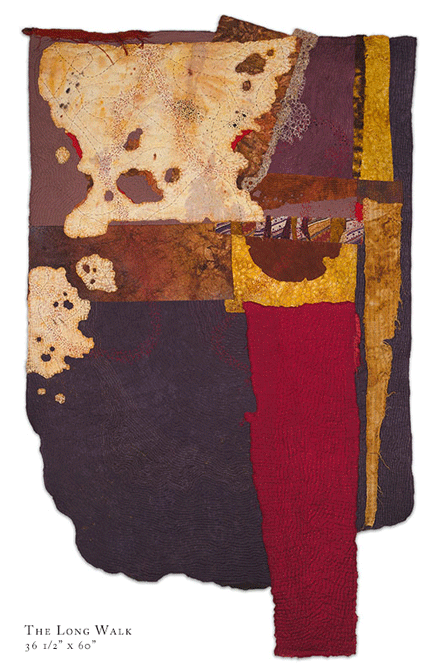 Also a vertical composition, The Long Walk is comprised of a long strip of deep red fabric against a deep purple background hanging off the edge of the lower edge of the composition as though leading a path across the landscape to the punctured geological formations at the top. A radical departure, Ariel III (2017) contains textured black and grey biomorphic forms evoking microscopic bacteria against an unusual golden yellow background, overlaid with small brown perforations resembling burn marks.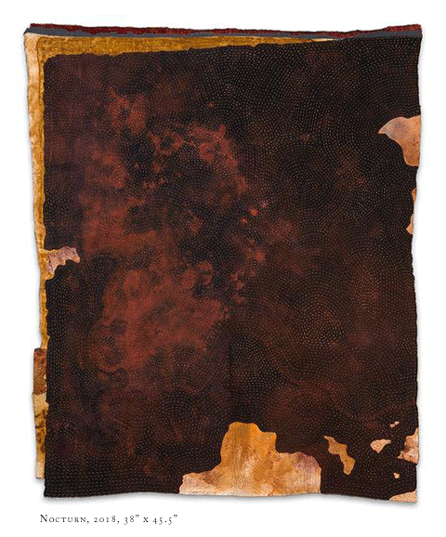 Nocturn, created in 2018, is a rare, unadorned solid colour quilt of contrasting brownish-black and tan fabric reminiscent of soil, earth, and the ground beneath one's feet.
Throughout the entire twenty-six quilt series of Mapping Time, Place, and Memory, Harris does just that–she captures locations at particular times recording the echoes of remembrance.