Severe floods happening in Nigeria this year—the worst in a decade—have already affected 2.8 million people, resulting in the displacement of 1.3 million, hundreds of deaths and concerns about food insecurity. Achor David, a photographer from Nigeria has been documenting the consequences of these devastating events in Kaduna State, located in Northern Nigeria.
In this interview with Arts Help, Achor David shares how he got into photography, why educating on recycling and waste management should be a priority, and what compelled him to focus on environmental issues, aligning his work with the United Nations Sustainable Development Goal of Climate Action.
---
To start, tell us a little bit about yourself. Where are you from and how did you get started in photography?
My name is Uteno Achor David, and I'm from Nigeria, in West Africa. I'm a graduate of physics from Ahmadu Bello University Zaria in Kaduna State, Nigeria. I started my journey [in photography] as a videographer in church. It got boring along the line, so after I graduated from university in 2017, I moved to another city and decided to register for a professional video training class, but it got boring also. I needed something more active that would take me out.
I dabbled into photography, bought my first camera—a Canon 550D —in 2019, and then I started. My journey started as an event photographer; I would document weddings and birthdays. I was interested in stories because I feel more connected to my community where I find myself documenting daily activities and how people basically live. So, I decided to do more research about telling stories and sharing life events that are going on. That was how I got into photography.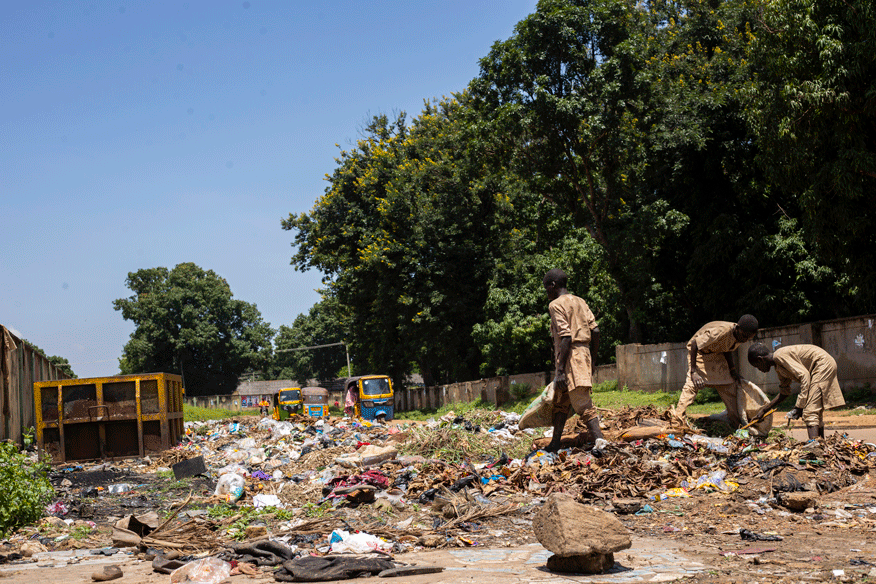 One of your recent projects documents water pollution in a community in Nigeria. Your photographs reveal huge amounts of waste in a river and in the fields of this community. Can you tell us about this place and explain what is happening?
When I started with photography, I moved to another city very close to where I grew up. I traveled to do a documentary for a wedding. Then on my way back, a neighbour of mine told me that a certain community close to us, a 10 to 15 minute drive from where I live, is flooded with water. I didn't take it that seriously, I was thinking [it was] something very simple. The community is known as Kabala community, located in Kaduna State, in Northern Nigeria.
I didn't take it seriously until two days later. Then someone again told me about the community, and I said, okay, I'll try and see if I would go. So, a day came. I felt very energetic, and I was like, okay, [I'll] just pick up my camera and go see what's happening. I got one guy that knows about the community because people around there are a bit hostile, so I didn't want to go alone. I called him and then we went.
What's happening in the community is [that] they lack proper waste management. They have over 3 to 4 dump sites just by the edge of the river, just one foot away from the river. In this community, all they do when they gather their dumps [is that] they just go there, throw it there. So, when the rain came and the flood came, it started washing away the dump sites into the river and then some of the dumps were going back into their houses, the streets, the churches, the mosque in that area, schools. All of them were flooded with waste.
That same day, I met some young people fishing close to the river. I saw them frustrated and I asked why, have they caught any fish today? And they were like, no. I told them they caused it because all of this dump flushing into the river. The polythene bags, the plastic waste will definitely either kill the fishes or drive them away. I took interest because I know they need help, because they are usually aged people [who are] not really learned and I guess they need proper coaching and intervention to teach them that. To tell them that this should not be done in this area because in the long run it's going to affect them and how they live.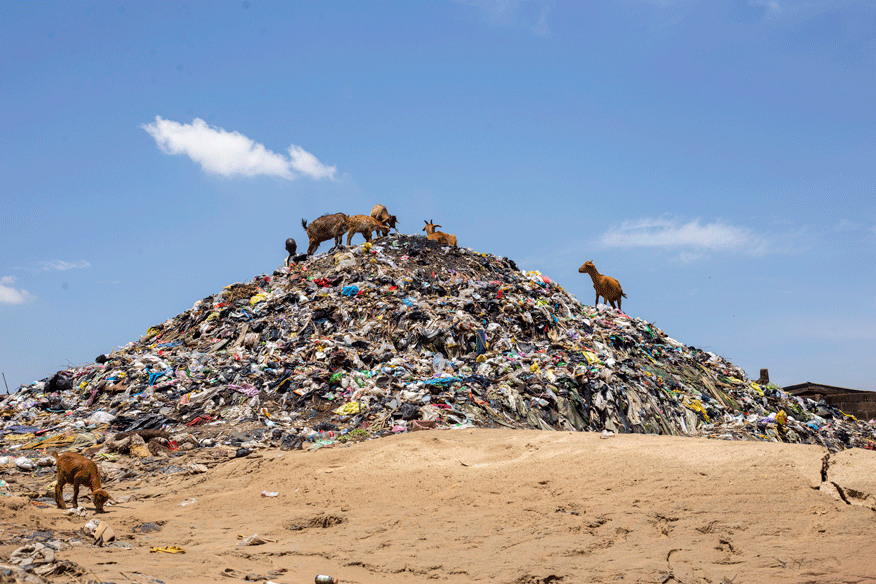 There have been some devastating floods happening in Nigeria lately. Can you talk to us about your experience and if you think these floods are getting enough attention?
The magnitude of the flood increased around late September. The flood was basically moving from state to state in Nigeria. The [most] affected was a state called Kogi State; the capital is Lokoja. This is a place where two rivers meet, the river Niger and river Benue, so that place was massively flooded. You have two-story, three-story [buildings] almost swallowed up by water. These people that were massively affected, people that are living just close to the river bank, the government has warned them to relocate. But it's Africa. Some of us are just adamant to warnings. But our government or some organizations actually give these people warning. Even in my community, [they gave] strict warnings to those people living close to the riverbank, but they are just adamant and they don't pay attention and they just believe that whatever happens will happen. In Africa, we believe that it's God that allows things to happen. And if it doesn't, fine; if it does, fine.
A lot of people have been affected. A lot of them must have lost things they can't ever recover again because of this flood. Some of them have lost their homes, their businesses and properties. I feel [that] the government should put more emphasis in forcefully relocating these people to somewhere safer. That's one. Then two, I think organizations, local and international climate actors, should actually storm this community, educate them. I think there should be proper sensitization for these people. I know now with what has happened, a lot of them will understand that. What the world is saying [about] climate action is real and people should not joke around it. A lot of attention should be given to African organizations to really focus on the waste management system of Africa. Local organizations should educate them properly about waste management, plastic waste, and how they pollute the river. Then they should teach them about recycling, because a lot of the plastic waste in Nigeria—just a few of them are recycled. A lot of them are polluted from river to river, streets to streets, dumpsite to dumpsite. I think if one or two of these [things] are done, it's going to help. Recycling and proper waste management will do a lot.
Also, I'm trying to see how I can create a system of documentary or climate photographers from state to state, because I might not be able to travel from state to state because of expenses. It could be mobile photographers that can quickly report such incidents, document such incidents, and then call the attention of climate actors or people that can intervene on such situations or such hazards.
What inspired you to focus on environmental issues within your documentary photography?
In 2020, I was just a year old into photography. I was volunteering for an organization that focuses on education, CLEDA Africa. I find it interesting to help my community, basically. At that time, I didn't know what I should focus on. I needed guidance. I needed someone to tell me how to be more community centered. So, I volunteered with the organization. At that time I was asking, how can I use my photography to foster change, to bring change to where I am? And I wasn't getting the responses I needed, so it took me a lot of time. I kept searching. I kept digging. I kept asking questions.
In the long run, I came across a community, a site, Africa No Filter. In this site, we're talking about Africa and how to report stories, how to tell underreported stories. So, I did [it] after reading that. I started looking for topics that are not actually spoken about in my community. Topics that few people pay attention to in my community. I was discussing with my partner and then I was looking at different areas. And then I realized that, yes, people are actually not talking about the environment. Basically in Nigeria, people actually do. But in the part of the world where I live, northern Nigeria, 3 to 8% of people care about the environment. So, I decided this is a good place to really focus on. Since I love telling stories, since I want to help my community in that way, and I want my work to bring change to where I stay and impact people, I decided to focus on the environment. But the truth is, I'm really concerned about how people live around me. I'm concerned about how things are done around me.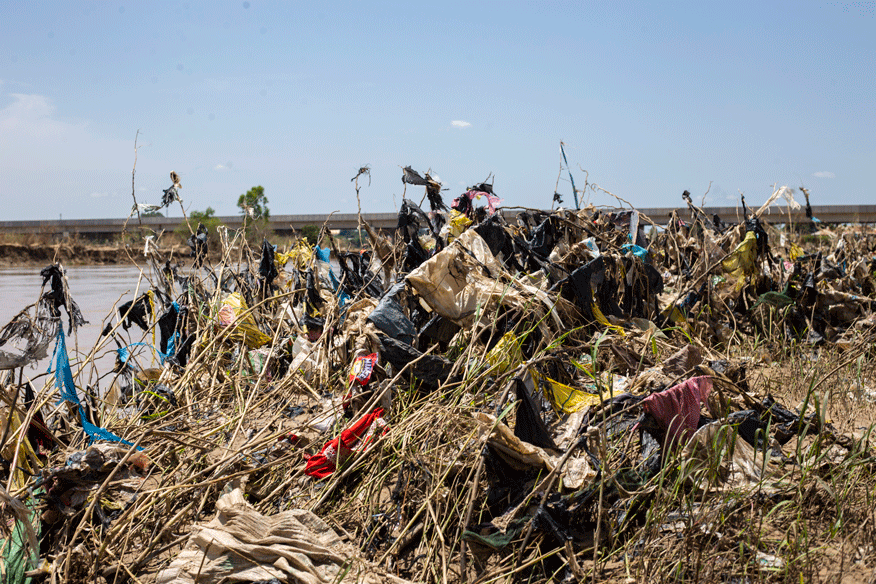 Yes, there are a lot of environmental issues that are very relevant: the displacement of people, food insecurity…
[In] this same community I went to that was flooded, I interviewed a farmer that was just coming out of the river. His farm was washed away, close to maybe 1 to 3 hectares of land was washed away by this flood. He lost everything, and in one way or the other, the food chain has been affected because there will be lesser supplies. I don't know how many farmers were affected, but I know if one was affected in one community, a lot of others would be affected in different communities. [When] I interviewed him he said he invested around 250,000 Nigerian naira—that should be $300 to $400 US dollars—and everything was washed away by the flood. Food supply this year might be bad. And just to make emphasis on that Lokoja, Kogi State, [in] that place too, a lot of farmers were affected. It's a chain and then I just pray God helps us not to suffer for food this year.
Shifting into the topic of the crypto space, you also sell some of your photographs as NFTs. How did you first find out about NFTs and what has the experience been like for you?
I learned about cryptocurrencies in 2016, but the first experience I had was someone who scammed me. He scammed me with the coin called FXCoin. In 2018, I invested in the BNB Binance coin. I bought it very low at that time, so I just kept hanging there, learning about cryptocurrencies. I had some sketchy ideas about them.
But the interesting part of cryptocurrencies hit me in 2021 with the crypto boom, when bitcoin, ethereum and others went up. I got some good returns from my BNB investments. So, I took interest and then I started hearing about NFTs. But I was thinking it's tough. I didn't know you could convert your photographs into NFTs, so I didn't pay much attention again. Then someone came to me and was like, actually, you can convert some of your documentary pictures into NFTs. And I was like, oh no I don't have such kind of money to mint. So they said [that] on OpenSea you can mint for free. So I went on YouTube, did my research, learned how to mint and then started minting.
I have my portfolio on OpenSea right now, but I slowed down a bit. I'm still trying to learn how to sell because I have not made any sales yet. But I have about 4 to 5 pictures that are minted and I'm still looking for any pictures I can add. So far I have enjoyed the benefits of cryptocurrency. It's really good. I still trade cryptos. I sell, I buy. I have not really made any NFT sales yet, but I'm hoping I will someday.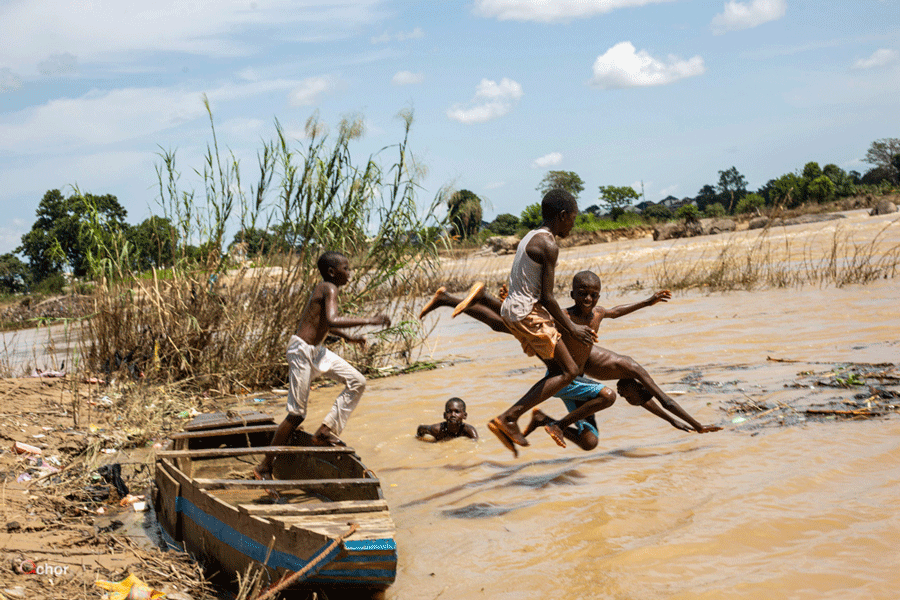 Do you have any upcoming projects you would like to share?
Like I said, I'm trying to create a system, a network of photographers [so] that we can actually talk about the environment together. In the other states I told you about that were flooded, I got someone to take the pictures and I paid for the services. That was when it struck me, why not make a network and then get photographers that would be in your network. Even if they don't know how to, even if they don't have professional cameras, you can train them on mobile photography and then have a team that could represent in every state. If we want to do a report about any state on climate, we can easily just network, team up. It's going to be easier for me to move myself to meet a team ready in a particular state. And then we do what we need to do to tell the story we need to tell.
But basically I want to center on talking about climate. I've been doing lots of courses on climate journalism, getting myself ready for the big task. Once I can fix all of this, I'm ready to start. But before that, I'm still documenting events going around my community. I actually did a project about a small community where they do recycling back home. They turn some waste products into reusable things. And it's interesting that this demand trains lots of young teenagers, so that's the kind of project I'm looking for, and there are more to come.
---
To keep up with Achor David's latest projects, you can follow him on Instagram (@_nomadstoryteller), Twitter (@achordavz) and visit his website.