A luminous wash of irregular bands of green, blue, red and white in an abstract shimmer delight the eye. Then, the title Unionids: Threatened and Endangered breaks the heart.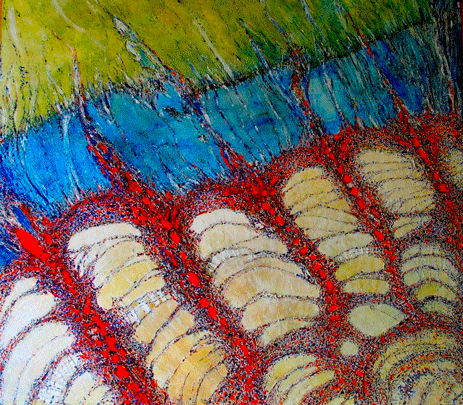 The painting by Sara Adlerstein-Gonzalez, part of her Biological Abstractions series, represents a group of unionids, endangered freshwater mussels native to North America, resting on the bottom of the Huron River surrounded by colonies of small red fish and seaweed. Bertolt Brecht  (1898-1956) once said, "Art is not a mirror held up to reality, but a hammer with which to shape it". Similarly, environmental artist and ecologist Adlerstein-Gonzalez creates artwork that reflects her interest in the intersection between art and nature, using art to communicate ecological issues affecting the Great Lakes.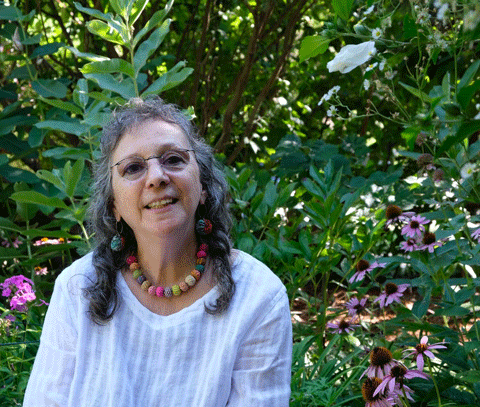 For Alderstein-Gonzalez, art and science are interconnected. Her mixed media abstract, figurative, aquatic, and landscape paintings explore her love for science and the natural world. A self-taught artist with no formal or academic training, Adlerstein-Gonzalez has been painting for over 40 years. She sees art and science as pursuits that naturally "belong together like air and water"  to increase public awareness and inspire change.
"Every painting is like an experiment," she says.
As a scientist, Adlerstein-Gonzalez' primary research interest is to understand ecological processes and population dynamics of aquatic organisms at the ecosystem level, particularly those aspects relevant to responsible water resource management, ecosystem conservation, impact of proposed offshore renewable energy projects and climate change. These aims speak directly to the targets of the United Nations Sustainable Development Goals (SDGs) on Life Below Water, Affordable and Clean Energy and Climate Action.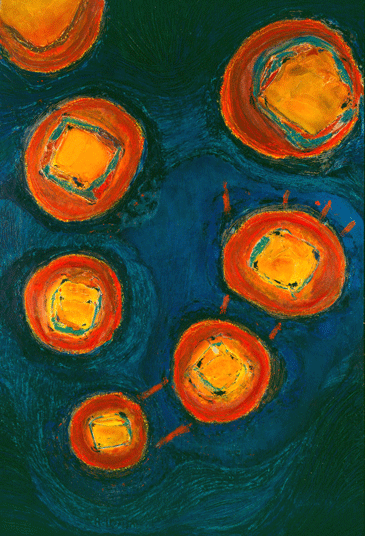 An applied aquatic ecologist and bio-environmental scientist based in Ann Arbor, Michigan, Adlerstein-Gonzalez is a faculty member at the School for Environment and Sustainability (SEAS) and an Associate Research Scientist at the Center for Sustainable Systems at the University of Michigan. She specializes in ecosystem science and management, focusing on aquatic conservation and restoration in the Great Lakes.
As fish and other aquatic organisms cannot be directly observed at the ecosystem level with the naked eye, Adlerstein-Gonzalez relies upon analysis of data from scientific surveys and commercial operations. She specializes in statistical modeling to conduct large-scale population studies viewed through a microscope. She has forged a dual career as an artist teaching art classes that blend scientific concepts at the University of Michigan's Penny W. Stamps School of Art and Design, the Residential College and the Program for the Environment.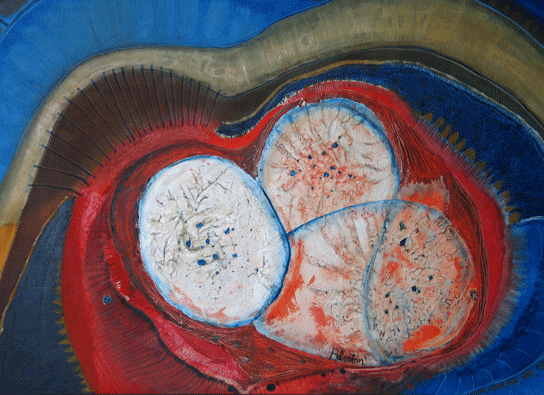 Born in Concepción on the coast of Chile, a country with 2,700 miles of ocean coastline, Adlerstein-Gonzalez fell in love with both nature and art as a child, writing poetry and creating original illustrations. As an adult, she began playing with oils and mixed media in paintings. Adlerstein-Gonzalez studied biology at the Institute for Biological Sciences at the Universidad de Concepción where she earned a Master of Science degree. Her thesis focused on freshwater phytoplankton—microscopic organisms that inhabit the upper sunlit layer of almost all oceans and bodies of fresh water in the Maule River, one of Chile's largest rivers.
In 1983, Adlerstein-Gonzalez left Chile as a single mother with two young sons to attend graduate school in Seattle, Washington, completing Master of Science and PhD degrees in aquatic ecology at the University of Washington's School of Fisheries. There she met her zoologist husband, Dr. Edgar Meyhofer. After six years working for the Institute of Fisheries at the University of Hamburg in her husband's native Germany, Alderstein-Gonzalez and Meyhofer returned to the United States for positions at the University of Michigan in Ann Arbor.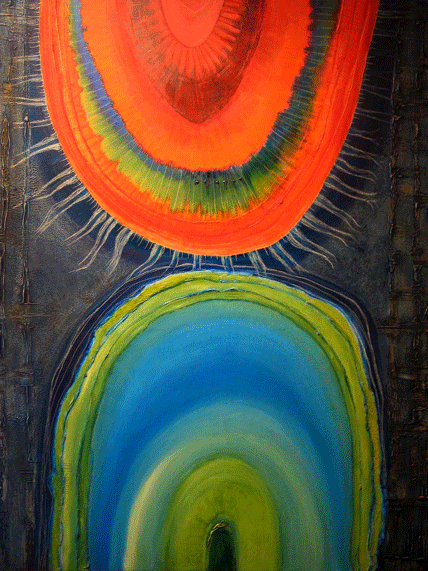 Alderstein-Gonzalez' paintings are often environmentally-based with imagery built on her experiences as a scientist and "sensibility as an artist to communicate concerns, dreams, and emotions all emerging from a deep and relentless love for life". Her research studying aquatic ecosystems, microorganisms, and water quality influence the subjects of her paintings.
She has developed her own mixed media painting techniques incorporating oil with acrylic paints and preferring masonite over traditional canvas. Her lifelong love for art and science informs her artistic process, which Alderstein-Gonzalez describes as "magical, nurturing, and informative".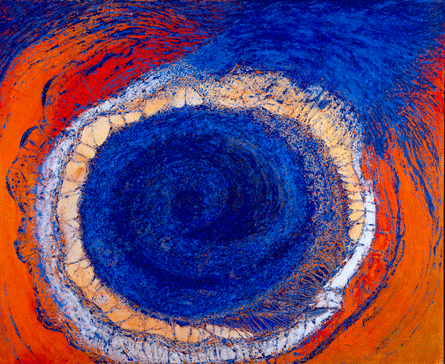 Her subject matter ranges from organic abstractions to figurative interpretations consisting of biomorphic and anthropomorphic shapes, zoomorphic forms and organic landscapes; portraying her love for the earth and concern for the future of aquatic ecosystems. These elements feature prominently in Adlerstein-Gonzalez' science-infused Biological Abstractions and abstract Interpretative Ecosystems series.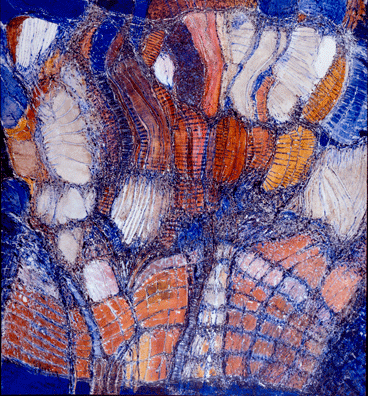 Water, the womb, fertility, femininity, motherhood, the female "landscape" and mother earth personifying mankind are prominent themes especially in Adlerstein-Gonzalez' Interpretative Ecosystems series. As a giver of life and symbol of fertility, this element is most evident in Headwaters, as a melancholy, meditative ecosystem in Water Blues, and an embodiment of mother earth personifying mankind in Prisionera del Mar.
From her Biological Abstractions series, are the womb-like painting Peridinium and the female "landscape" Underworld  containing the image of an aggrieved woman's face as though mourning what humanity has done to erode biodiversity and destroy ecosystems.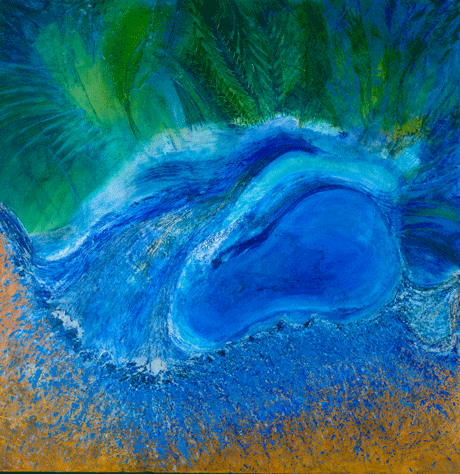 Adlerstein-Gonzalez is a member of the Washington Street Gallery  in downtown Ann Arbor, where she has displayed her work since 2014, an artist-owned and operated gallery consisting of local artists living in or near Ann Arbor where she headed the gallery's public relations until they closed their doors in March 2020 due to the COVID-19 pandemic. The gallery will reopen later this summer at a new location in Ann Arbor's Historic Kerrytown District. Alderstein-Gonzalez' work has also been shown in galleries and museums in Chile, Europe, Canada and across the United States. It is part of public and private art collections and published in books and magazines.
Her work appears in Poemas de las Madres (The Mothers' Poems, Eastern Washington University Press, 1996), a poetry collection by the Nobel prize-winning Chilean poet, Gabriela Mistral (1889-1957). In addition to paintings, Adlerstein-Gonzalez has experimented with multimedia art. One project incorporating video, music, dance and poetry was inspired by the water cycle of the Huron River and the relationship between water and culture.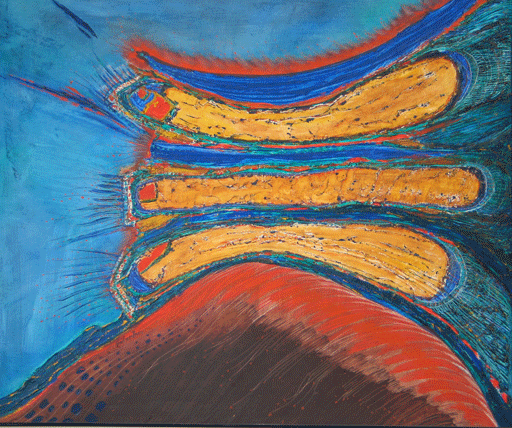 In 2012, Adlerstein-Gonzalez founded the  Art and Environment Gallery at the University of  Michigan School for Environment and Sustainability where she serves as  gallery director, curator, and arts promoter, featuring local and national eco-artists in rotating exhibitions whose works: "speak to how people interact and understand the environment...to underscore the influence of art in shaping our understanding of science and nature." She has also exhibited her own work in the Art and Environment Gallery.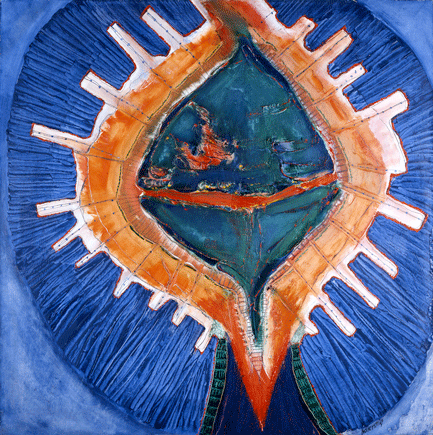 Alderstein-Gonzalez has curated international exhibits, and teaches courses bridging arts and science to students of diverse backgrounds at the Penny School of Design. Since 2009,  Alderstein-Gonzalez' investigation has concentrated on spatial and temporal scales needed to study the spatial distribution of fish abundance and obtain indices of fish populations in marine and freshwater ecosystems.
From her position as Research Scientist at the School for Environment and Sustainability, Alderstein-Gonzalez plays an active role in Sea Grant Michigan, a cooperative program of the University of Michigan, Michigan State University, and the National Oceanic and Atmospheric Administration (NOAA) dedicated to the protection and sustainable use of the Great Lakes through research, education, and outreach projects designed to foster science-based decisions about the uses and conservation of Great Lakes resources.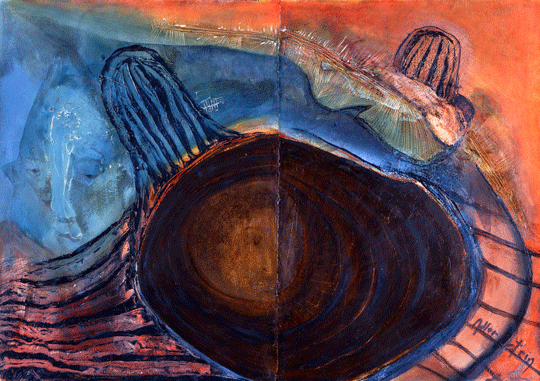 In connecting art with science in her paintings, Alderstein-Gonzalez expresses her ecological concerns and vision for a better planet in hopes of inspiring a moment of magic for the viewer while communicating the realities of climate change.