Guerilla Girls, a feminist activist group, reported in 1989 that less than 5% of artists portrayed in the Metropolitan Museum's Modern Art Section were women, but 85% of the nudes were female.
More recent studies since then have corroborated these findings of gender inequality and misogyny in the art world.
Ilya Milstein's The Muse's Revenge tackles this theme head-on.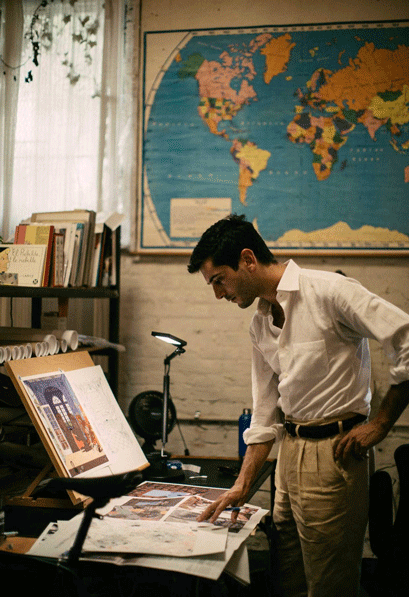 Born in Milan, raised in Melbourne, and currently residing in Brooklyn, Ilya's illustrations depict the domesticity of people's lives in a maximalist style with muted colours and clean lines. He derives inspiration from "Japanese woodblock prints, Aztec codices and Egyptian hieroglyphs."
Ilya largely focuses on street scenes, social gatherings of friends, and some surrealist scenes of New York streets.
In an interview with Booooooom, Ilya expresses the strength of mental well-being in one's work, saying, "Returning to drawing was almost an act of self-acceptance and a crucial lesson in the importance of being honest to oneself in one's art.
"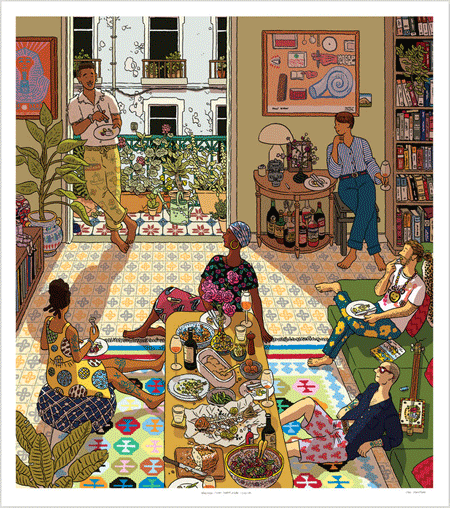 A lot of renowned artists, Pablo Picasso and Edgar Degas to name a few, have collections that mostly include women. All pioneers in their respective eras and art form, they are infamous for harassing their models.
Picasso had several mistresses throughout his life, some when he was still married to other women. Marie-Thérèse Walter, was only 17 when Picasso, 45 at that time, started having an affair with her. He regarded women, especially his models as "either goddesses or doormats," and "machines for suffering."
Degas often mistreated his female models and called women "an animal" and "little rats" in an interview later in his life.
Ilya's painting expresses the emotion of 'revenge' on the voyeuristic painters who were applauded for taking risks in their art but were not questioned on the mistreatment of their models. He remarks that his own depressive phases in life added to some bleak illustrations he created.
"I spent from age 20 to 26 in a near-catatonic state of depression and confusion." Ilya opens up about his consecutive depressive periods in an interview with 99U. "I had a period of intense revelation, mixed with extraordinary pain. The one thing I could recognize was that I needed out, and I moved to New York without a plan other than survival."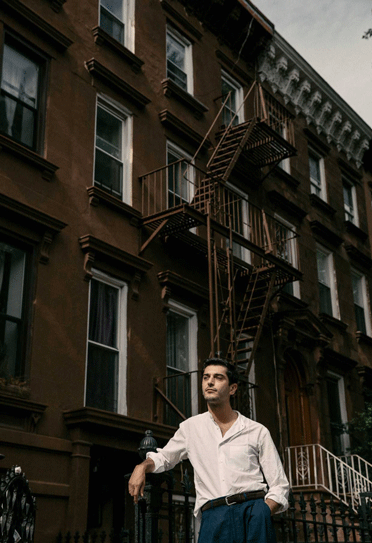 Similar to Ilya's other illustrations, The Muse's Revenge is meticulously packed with details. The artwork depicts a young woman in a long red dress holding a gun and pointing it toward a man who has fallen back on his paintings. He is lying on numerous broken colour palettes and canvas.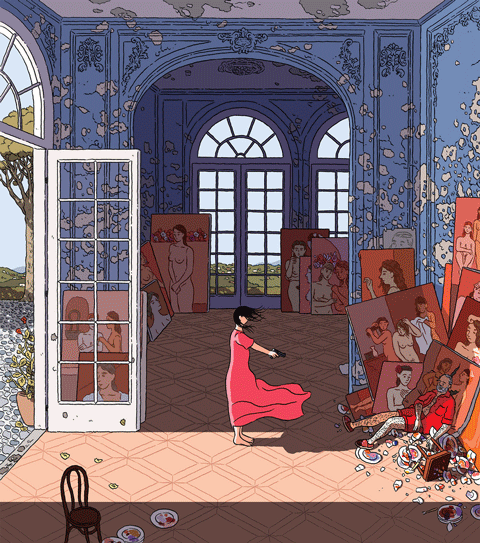 There is no blood or gunshot wound on the man and no trace of smoke or gunpowder around the woman. Regardless, the man is lying unconscious on the floor, fallen back on his paintings. The sheer force of the woman's presence seems to have a tremendous effect on the man; of his muse holding the gaze and, quite literally, the position of power over him. There is a sort of role reversal in this illustration.
John Berger, in Ways of Seeing, argues that the pretence for a man's presence in a painting, especially in the background of a woman's nude, is to exercise his power on other figures.
"Men survey women before treating them," John states. Ilya's Muse does not give that agency to the male painter to survey her body or examine her in any way.
She, unlike the other nudes in the illustration, is not intended for the male gaze. She is faceless, nameless, and thus, untouchable by the male viewership. Only the male artist and nude women in the paintings have faces and expressions for the viewer. She is not intended to be a commodity or made for the consumption of the male gaze.
Ilya's The Muse's Revenge tackles the United Nations Sustainable Development Goal (SDG) on Gender Equality. It highlights the gap between the representation of women in paintings and female artists creating art. Although women dominate as the subjects being painted, their efforts in that painting process and their work as artists are often overlooked.
According to a study done by Artnet Analytics and Maastricht University in 2017, only 13.7 percent of living artists represented by galleries in Europe and North America are female. Even within that bleak realm of representation, they face numerous barriers of harassment and misogyny.
To support local artists like Ilya Milstein, check out his website for more intricately detailed illustrations.
To do your part and help women artists get the recognition they deserve, check out the National Museum of Women in the Arts and help them restore their "iconic home" in Washington DC.