Agnes Denes is a pivotal figure among concept-based artists in the 1960s and 1970s. She is well-known globally for her work in a variety of mediums. In her work, Denes investigates science, philosophy, linguistics, psychology, poetry, history, and music. Her aesthetics and involvement with socio-political ideas distinguish her art style and touches numerous United Nations Sustainable Development Goals (SDGs) - much before they were created. Agnes Denes has honorary doctorates from Ripon College, Wisconsin and Bucknell University, as well as fellowships from Carnegie Mellon University's Studio for Creative Inquiry and M.I.T's Centre for Advanced Visual Studies.
Denes is well-known for her innovative use of metallic inks and other unconventional materials in making a massive body of sketches and prints that delineate her explorations in a range of disciplines. Her collection can be seen in museums worldwide, including the Museum of Modern Art, the Metropolitan Museum of Art, the Art Institute of Chicago, the Israel Museum in Jerusalem, and the Centre Pompidou in Paris.
Wheatfield - A Confrontation is one of Denes' most notable works. It has been dubbed as 'one of Land Art's greatest transgressive masterpieces'. Denes planted a field of golden wheat on two acres of rubble-strewn landfill between the World Trade Center and Wall Street over a four-month period in the spring and summer of 1982. Two hundred truckloads of soil were delivered, and 285 furrows were hand-dug and cleared of rocks and garbage. During those four months, the field was maintained and an irrigation system was installed. The grain was harvested by August 16th, yielding over 1000 pounds of healthy, golden wheat.
Wheatfield was a symbol that represented food, energy, commerce, world trade, and economics. It alluded to mismanagement, pollution, world hunger, and environmental issues. It drew attention to our misguided priorities and created a powerful paradox that touches almost all 17 SDGs, ranging from that on Life on Land (SDG 15), Climate Action (SDG 13), No Poverty (SDG 1), Zero Hunger (SDG 2), Reduced Inequalities (SDG 10), Sustainable Cities and Communities (SDG 11) etc. The harvested grain travelled to twenty-eight cities around the world as part of Denes' exhibition, The International Art Show for the End of World Hunger. The seeds were taken by people who planted them in different parts of the globe.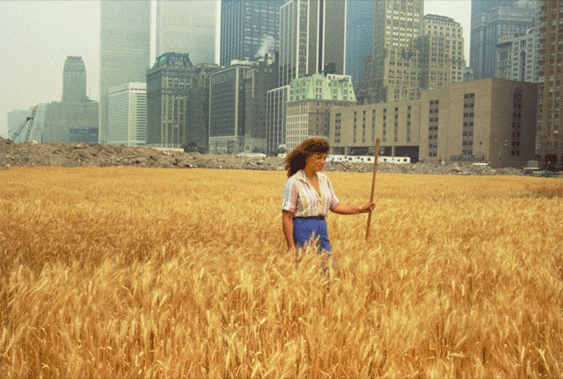 Tree Mountain - A Living Time Capsule is a stunning piece of art created by Denes in 1982. At the Pinzio gravel pits near Ylojarvi, Finland, a massive man-made mountain measuring 270 meters wide, 38 meters high, and elliptical in form was planted with eleven thousand trees by eleven thousand people from all over the world. The installation was part of a large earthwork and land reclamation project. The initiative was declared by the Finnish government on Earth Environment Day in 1992 at the Earth Summit in Rio de Janeiro as Finland's contribution to helping relieve the world's ecological stress.
Tree Mountain is a protected area that will be preserved for four centuries, gradually becoming a pristine forest. The trees are planted in a complex mathematical pattern created by combining the golden segment and the artist's pineapple/sunflower system. Tree Mountain is the world's largest monument, committed to leaving a lasting legacy for future generations and touches SDG 13 concerning Life on Land. It was the very first time in Finland, and amongst the first time in the world, that an artist repaired environmental degradation with ecological art intended for present and future generations.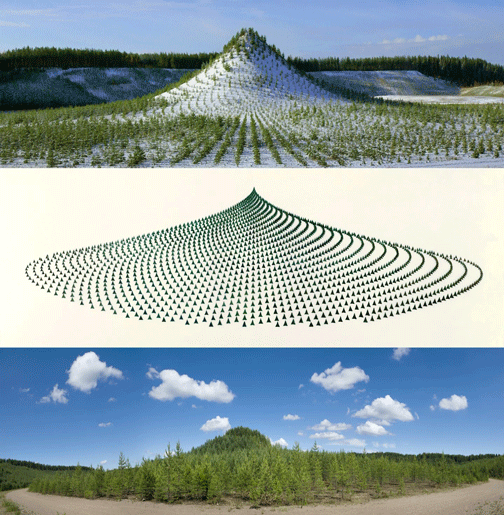 Agnes Denes' work highlights the global need for cultural and environmental development. Her 2014 model initiative A Forest for New York - A Peace Park for Mind and Soul emphasizes the importance of green spaces in urban areas. A Forest for New York is a forest located on the last open area in New York before it is engulfed by condos and shopping malls. Denes intended to grow 100,000 trees specifically suited to thrive in the current environment on 177 acres of desolate land. The environmental project solves public health issues by using the beneficial effects of a forest to extract carbon emissions from the air, purify it, and create a sustainable habitat for the entire community through natural biological processes - an installation touching SDG 3 on Good Health and Well-Being many regions should look to adopting. The project offers a beautiful environment for people to explore and enjoy, a destination that will give them the courage to face the struggles of everyday life.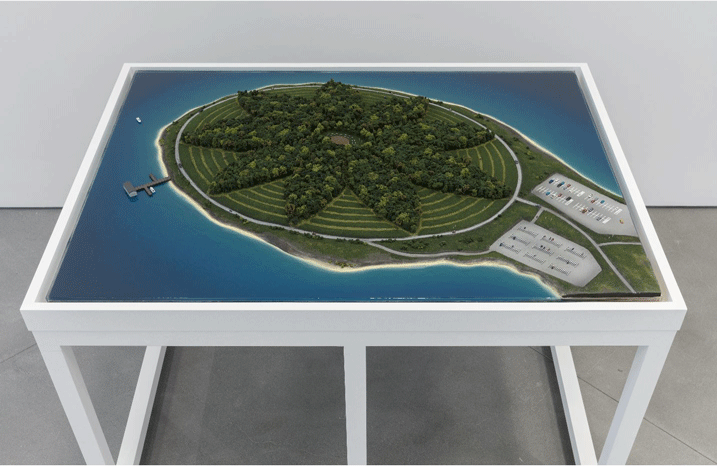 Model for Teardrop - Monument to Being Earthbound is another legendary work by Agnes Denes. The model, which was created in 2019, is an incandescent soccer-ball-sized teardrop that levitates inches above its base using electromagnets. Since magnet technology is not yet powerful enough, the piece cannot survive on its intended monumental scale. Denes created the original artwork in 1983. It displayed a monoprint in which the teardrop appears illuminated and floating above its circular base on a dark background. The design instilled new hope in the prospect of the future; it is a phenomenal work that encourages individuals to escape the physical world and reach the realm of something previously unknown. This highlights the importance of implementing all our current 17 Sustainable Development Goals to project ourselves into our shared future of sustainability and prosperity.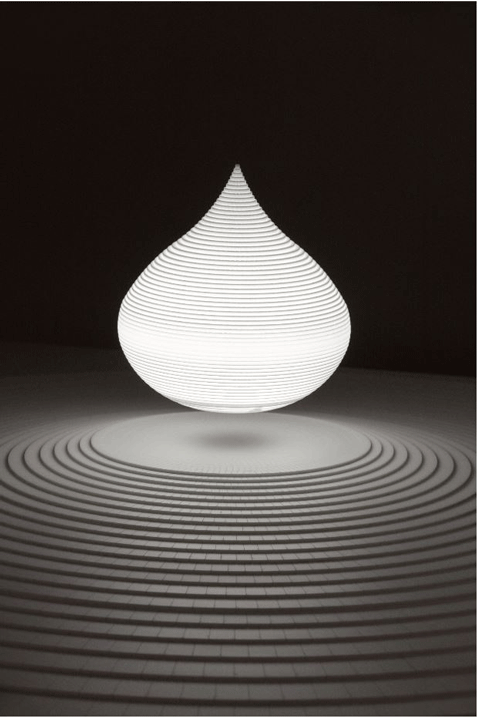 For Denes, art is a means of ordering the universe, of sharing thoughts, and of offering others new ways of looking and thinking. She refers to her body of work as a philosophy, something that is often too complex to be easily described but is nonetheless beautiful. Her work reveals more about how humans create information structures and how knowledge itself can become an aesthetic creation. Denes has developed a vast range of work that offers a fresh perspective on environmental growth and advances generations.