What would fashion look like a thousand years from now?
Senegalese fashion designer Selly Raby Kane has the answers as she reimagined Afrofuturism through her literal out-of-this-world runway collection that tackles the United Nations Sustainable Development Goals (SDGs) on Sustainable Cities and Communities and No Poverty.
Kane was born and raised in Dakar which influenced her perception of social realities from an early age. Later on, she transferred to France to study Business Administration and Law but quitted soon after she realized she was more passionate about fashion.
She dabbled in a lot of mediums such as filmmaking, directing, and later fashion. Undoubtedly, her works are a byproduct of her immersive experience in various places. Combining Western influences and her African heritage, she pioneers the reconceptualization of Africa's lively fashion scene.
Her fashion career started when she started her brand "Seraka" commonly known as SRK. Aspiring to redefine conventionality, she draws her inspirations from science fiction and surrealist art. Currently, Kane released 6 collections executing her creative vision.
From bold distinctive patterns to inventive silhouettes, her eclectic designs strikingly captured her aesthetics. She tastefully utilizes patchworks and colour-blocking techniques to draw attention to the dynamic ensemble. The different textures at play are reminiscent of the plurality of African culture while ascribing to a modern androgynous silhouette.
The juxtaposition between traditional and modern highlights the authenticity of her pieces and mirrors her fashion-forward thinking. At the same time, it leaves room for self-expression and individuality.
Her works can be stand-alone pieces to complete an outfit or a versatile piece that complements other bold elements. Either way, it is a manifestation of her impeccable eye for art.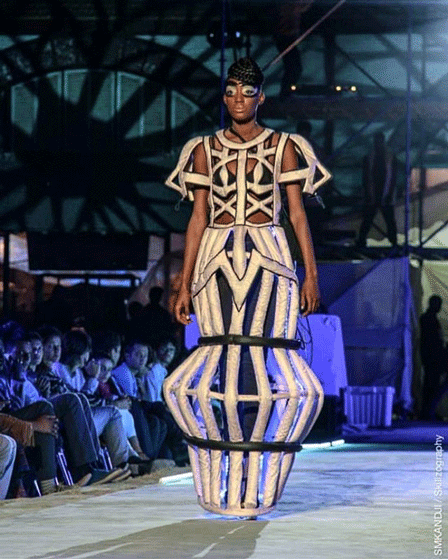 Looking closely at her works, the cohesion of her looks is derived from her precarious storytelling. She gives a backstory to every article of clothing, weaving those stories together to form a collection. This interesting detail gives her work life.
The main theme of her Autumn and Winter Fashion Collection in 2014 (AW14) is Alien Cartoon wherein she set her time in the year 2244 and explored Dakar's old train station during a UFO invasion. Her thinking-outside-of-the-box mindset brought one of the most memorable runway shows in Dakar's history.
Most of the time, the fashion choices in science fiction symbolize the key elements of their simulation or sartorially frames the context. The collection actively harnessed the use of volume to its own advantage as it tries to create an alien-like silhouette similar to the massive octopus that hung on the ceiling like a chandelier. This avant-garde interpretation is a catalyst in the portrayal of surrealism in fashion.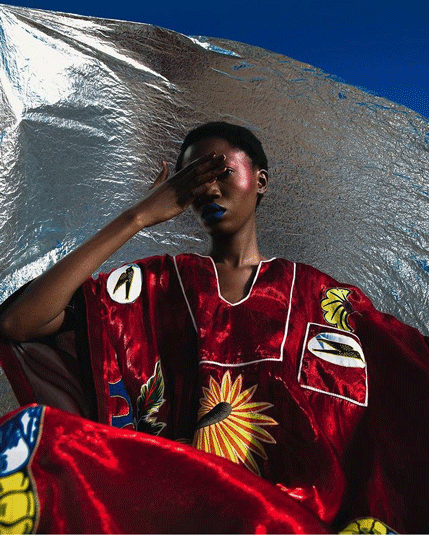 In her AW15, her theme was City of Birds. The collection drew inspiration from the clothes worn by Baye Fall people containing a twist as it featured flamboyant wildlife prints representing the abundant biodiversity. Her signature style of using a vibrant colour palette accented with embroidery and patches mimics the colourful feathers of native African birds. Her maximalist approach enriches every fibre of her work by giving it an additional flair. The mixing of deconstructed elements pays homage to mix hand-crafted touches in an already structured figure.
She is also part of art collectives Muus du Tux and Petite Pierre wherein she met fellow alternative artists who have the same goals as her. The creative hub allows her to bounce ideas back and forth with like-minded people.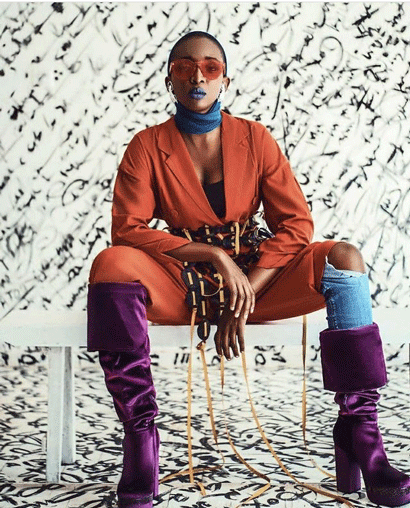 In an interview, she disclosed, "My clothes are not what most women in Dakar would conventionally want to wear but that's what makes it interesting. I'm challenging what is feminine, what is fashionable, and it's beginning to make an impact."
Her eye-catching designs continuously celebrate Black pride as she puts her culture at the forefront of her designs. With iconic nods to technology and futuristic visualization, she never fails to connect both street style and high fashion.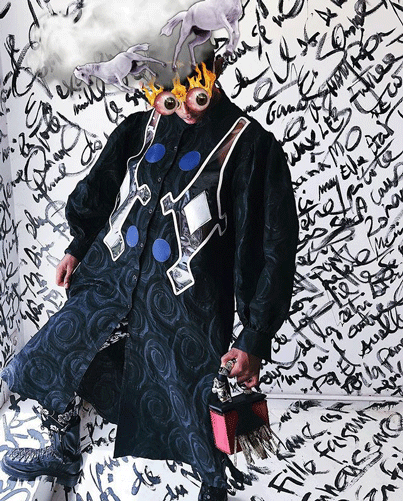 It is no secret how much her style is influenced by Dakar. In the same interview, she said, "Dakar is special to me. There is a new wind and so much going on right now for the young generation. It's important for me to be here, produce here, and stay connected to the people."
This awareness enables her to pro-actively design clothes not only for citizens inside Dakar but she is able to bring Dakar's influence to an outside audience. She aims to diversify the modes of production by sourcing her materials locally and utilizing existing networks. Not only that, she takes her time to be involved and develops art as a platform to amplify the voices of her community.
Picarelli, who carefully unpacked Kane's styles and their social implications pointed out in her study that Kane uses fashion design as a tool to make sense of this deep, affective connection and give back to Dakar. Kane's keen sense of style, empathy for her community, and wild imagination, perpetually fuels the blooming alternative subculture in Senegal.