Recently, the IPCC (Intergovernmental Panel on Climate Change) came out with their latest report stating that the rise in temperature around the globe has been "unequivocally" made by human activity. That activity, burning fossil fuels which release carbon dioxide into the air, started with the industrial revolution and continues today through our ever-growing population's extensive demand for energy.
The United Nations Sustainable Development Goal (SDG) 11 on Sustainable Cities and Communities states that more than half the world's populations live in cities and that number is expected to rise. Even though cities occupy only 3% of the earth's land they account for about 70% of the global carbon emissions through industry, transportation and energy use for buildings.
People are drawn to cities for work and yet, in many places around the world, cities are blanketed by pollution and housing is either too expensive or inadequate.
Inequality and income insecurity, as well as pollution, are detrimental to human health and our ability to work effectively. Strong economies depend on healthy and engaged workforces.
Income inequality must be addressed as part of the drive to combat climate change but so must pollution. Many cities like Boston and Vancouver have taken up the mantle to become more "green" to meet the Paris Accord goals. To do this, they must analyze how people flow between home, work and the community.
In the past, cities have revered and celebrated architects who designed fancy buildings that drew critical acclaim but thought nothing about the people who use them or the health of the environment. Starchitects like Frank Gehry, who transformed the Art Gallery of Ontario in Toronto, and Rem Koolhaas are known for designing striking, gravity-defying buildings worldwide. But now, artists, scientists, psychologists and architects are coming together to design buildings and neighbourhoods that work for people and the environment.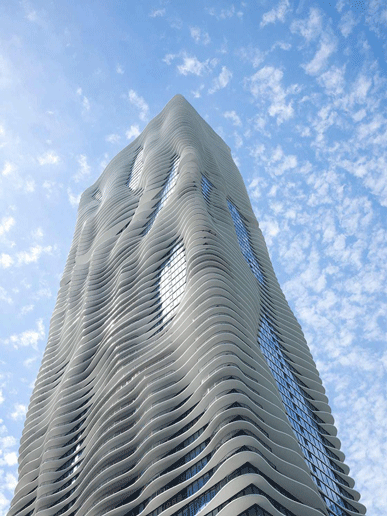 Jeanne Gang is an award-winning architect and urban designer based in Chicago who is changing the architecture landscape through her innovative and environmental designs. She is the founder of the architecture and urban design firm, Studio Gang. She defines herself as a "relationship builder". In her TED talk, she explains that cities are about people and that most building-focused urban habitats are out of balance. She believes we need to reimagine typical urban neighbourhoods and put the emphasis on how people interact and engage in the community. Only then can we reduce stress and polarization that develop from unbalanced living environments.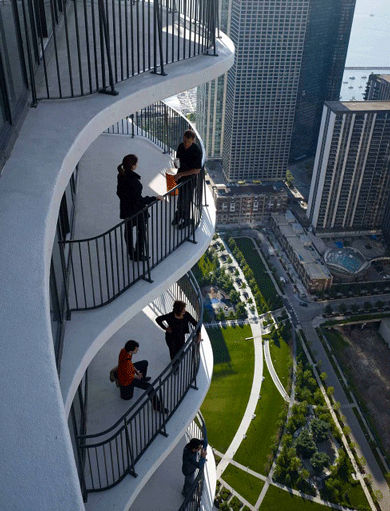 Gang earned her Bachelor's degree in Architecture from the University of Illinois, went on to further study in urban planning and landscape architecture and then received her Master's of Architecture from Harvard University. She is most well known for the Aqua Tower in Chicago that was built in 2004. At 82 floors it is the tallest building in the world that was built by a female architect. But it was also designed with curved balconies that deflect the strong Chicago winds and allow neighbours to talk to each other. Situated in the downtown core, it is a mixed-use building of apartments, condos and a hotel. In addition, it boasts the largest green roof in the city where residents have started a community garden.
With its proximity to mass transportation, bird-friendly design, heat-resistant glass and water collection to irrigate the green roof, the building is an excellent example of sustainable urban design.
In 2019, Gang was nominated by Time as one of the year's most influential people because of her ability to look beyond the shape of a building and to design infrastructure that enhances people's lives. She was the only architect on the list which recognizes activism, innovation and achievement.
"For Jeanne, architecture is not just a wondrous object. It's a catalyst for change," says American actress and playwright Anna Deavere Smith wrote in the award description.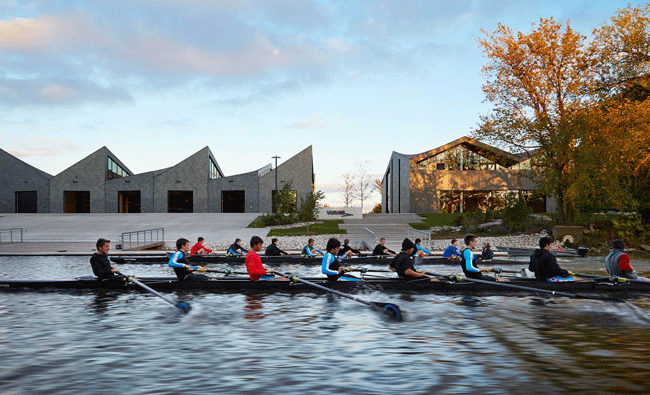 One area that needs change is the Chicago River.
Historically, this essential transportation route has been used as a dumping ground for the city. In an attempt to revitalize the river and its communities, Studio Gang developed the WMS Boathouse. Situated on the river's northern shores, it is the home of a local rowing school.
Designed to reflect the shape of oars while in motion, the W and M rooflines of the building also allow for the sun to warm the interior in the winter and cool breezes to flow through in the summer. Stormwater is properly collected and filtered through the native landscaping before allowing to enter the river. Training programs at the school encourage leadership in youth and engage the community.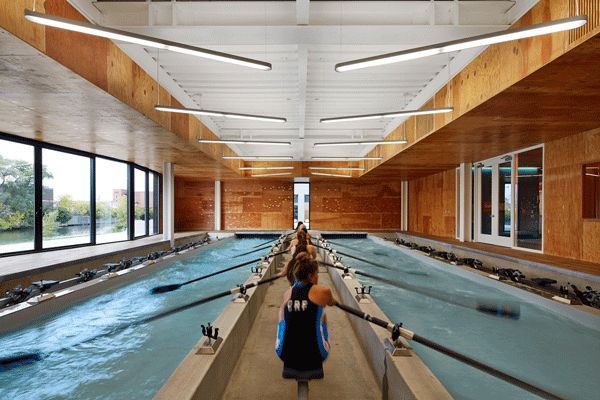 On another river in a town just north of Chicago, Studio Gang was asked to redesign an abandoned coal power plant into a student union building for a neighbouring college. Recycling old buildings uses much less carbon than building new and Studio Gang was pleased to help bring back some life to a neglected area of the town. In addition to a fitness centre, pool and indoor field, the building also now houses student lounges and a 164 seat auditorium.
New insulation and radiant heat that taps into the original river power systems help reduce the total energy use of this large building. A pedestrian bridge now connects this transformed industrial area with the local community, reducing the need to drive. The building is an excellent example of a reused and sustainable building and is a new centre for health and well-being for the area.
"...they went from burning coal to burning calories," says Gang in the promotional video.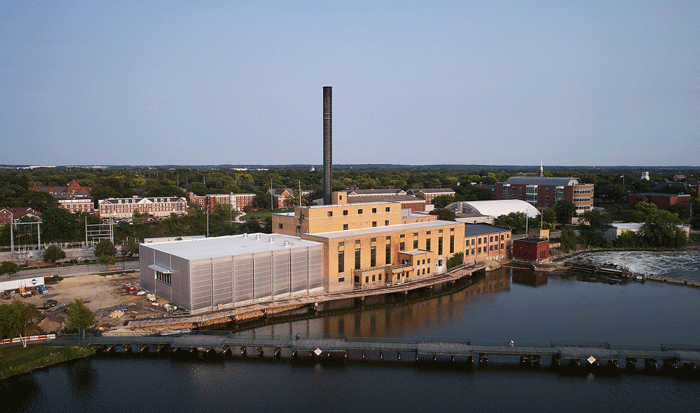 The suspended, 175-meter track allows runners and walkers to loop through all eras of the building, taking in many different views. Beloit Powerhouse by Studio Gang. Image courtesy of Studio Gang.
In addition to the numerous buildings that Studio Gang has designed in North America, they are also heavily involved in urban planning studies that encompass community dynamics, economic development and sustainability.
In 2017 Studio Gang helped develop the Crime Prevention Through Community Design Study. Collaborating with the Mayor's Office of Criminal Justice, the New York City Police Department and the NYC Department of Design and Construction, the study looks at how urban design and architecture can reduce crime for neighbourhoods in the Bronx.
A safe community is one of trust and open communication between all players including city agencies, community groups and individuals. The design of these areas has to take into account how they all work together and the best way to facilitate those interactions. The Neighborhood Activation Study that resulted from this research effort is a set of principles and methods that other cities can use as a guide for their renovation projects.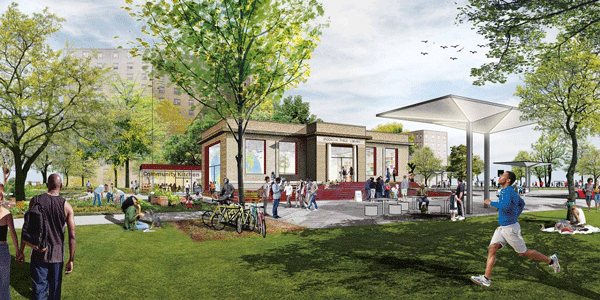 In an extension of this research, Studio Gang has an ongoing self-directed study into how police stations can better interact with neighbourhoods by including community centres into their buildings. The Polis Station concept was tested recently with the integration of a basketball court in an unused parking lot in a Chicago police station. The court has been well received in the area as it encourages youth and police officers to interact as people and players, rather than combatants.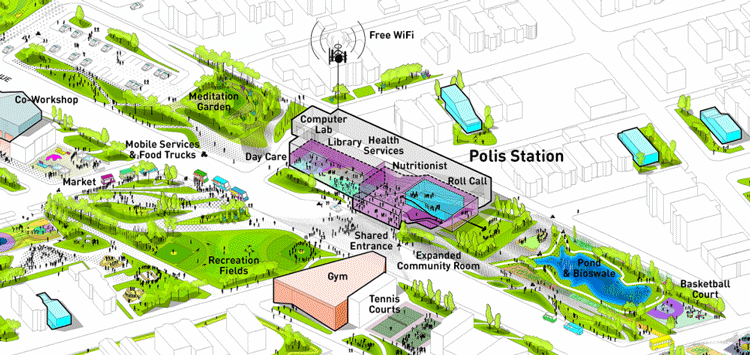 As a relationship builder/architect, Jeanne Gang is an influential trail-blazer in a time when innovation and big picture thinking are essential for our survival. The "code red" that the IPCC has issued in their latest report is hopefully a wake call for urban planners around the world. Open-minded, resilient and adaptive communities will be necessary as we adjust to the increasing demands of the climate crisis.
To see more of Studio Gang's exceptional work, visit their website.
Click here to read Studio Gang's free downloadable booklet called Reimagining The Civic Commons.