The famous street artist Banksy has just revealed his much-awaited new project. A navy ship, splattered in pink, and adorned with a rendition of his iconic "Girl with Balloon," stencil marks the artist's revitalized presence. After selling two remote control refugee boats from his 2015 project "Dismaland," Banksy realized he wanted to do more for refugees with the proceeds from those sales. So, he purchased a former French Navy boat and donated it to refugee rescue missions. The ship, named "Louise Michel," after the French anarchist, was painted pink using a fire extinguisher alongside the girl, who instead of carrying a balloon holds up a heart-shaped flotation device, and she also wears a lifejacket.
Banksy first started planning the project in September 2019, when he reached out to Pia Klemp who had led several missions with NGO boats to rescue refugees. He wrote a short note, which read: "Hello Pia, I've read about your story in the papers. You sound like a badass. I am an artist from the UK and I've made some work about the migrant crisis, obviously, I can't keep the money. Could you use it to buy a new boat or something? Please let me know. Well done. Banksy." Klemp accepted and the 31-meter vessel was purchased.

On August 18, the ship secretly set sail on its first mission, from the Spanish port of Burriana. The ship has since made multiple journeys across the Mediterranean bringing  hundreds of North African refugees to safety. The latest journey on, August 27, rescued 89 people, including 14 women and four children from a dingy off the coast of Libya. The small boat had fallen mercy to an overflow of ocean water, and the passengers were found sitting in a mixture of saltwater and fuel, attempting to empty the boat with their hands. When Louse Michel found them, one passenger was already dead.
On another recent mission, on August 29, the ship took on more than it could handle. With 219 refugees, 10 crew members, and 33 more migrants on an attached raft, the weight was too much and the ship could no longer maneuver. After six hours in distress, the Italian Coast Guard and a German rescue boat called Sea Watch-4 finally answered the calls, and the refugees were transported to the other vessels. Banksy posted a video to Instagram accusing the European authorities of "deliberately ignoring (the) distress calls."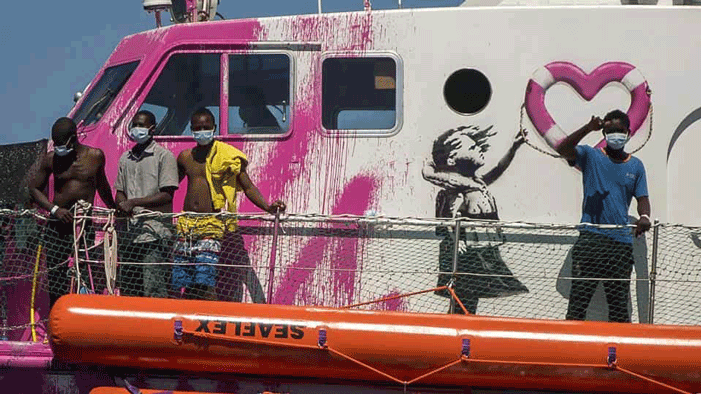 The migrant crisis in European waterways has been exacerbated by the fact that the Coast Guard is instructed not to answer distress calls from non-Europeans. Authorities work to prevent other boats from making rescues as well and will arrest crews and impound boats that make attempts. The "Louise Michel" later tweeted that, "The obligation to resume at sea is an obligation under international maritime law. This obligation applies to every person in danger at sea - regardless of nationality, the reason for flight or legal status. #EU, you don't respect your own laws." Banksy, who has explored refugee issues in his work, felt the need to take matters into his own hands with the purchase of the navy vessel. He's responding to the crisis, where his government is not. So far this year, 500 refugees and migrants are known to have died trying to cross the Mediterranean Sea, but the actual death count is much higher. The United Nations and the International Organization for Migration issued a joint statement recently, petitioning European officials to allow migrants access to their shores. The petition argues that vulnerable people deserve safety and assistance in times of distress and that the European governments must work together to ensure that. Until then, citizens like Kemp and Banksy will do what they can to help.
Donations are welcomed for the continuing missions of MV Louise Michel.