Each day thousands of people walk past the humble city bench, thinking absolutely nothing of it.
What most people don't realize, however, is that many of these seemingly innocuous benches were designed with a sinister purpose in mind - preventing those suffering from homelessness from simply sleeping on them. In her public installation piece entitled Prescriptive Space, artist Charity White uses these benches to challenge viewers to confront the unseen anti-homeless attitudes that define our public spaces through which we move daily.
Placing a handrail on public benches to prevent a person in need from lying down is the result of a larger web of policies that criminalize homelessness rather than address the root causes such as unemployment, low wages or mental illness. Legislators have cracked down on excluding the homeless from public spaces while simultaneously defunding the social services that could provide them with aid and shelter, prompting criticism from the United Nations, whose Sustainable Development Goals on No Poverty,  Sustainable Cities and Communities and Reduced Inequalities aim to eliminate such policies and work toward providing equal access to housing.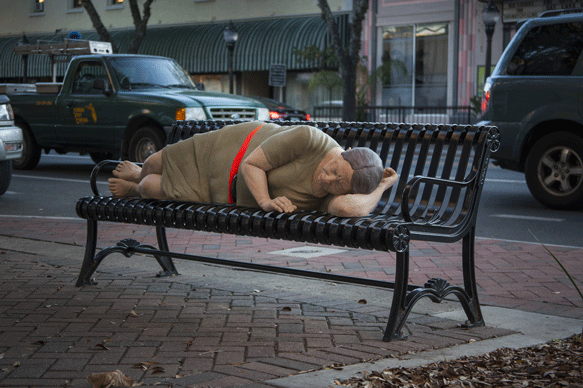 More recently, the COVID-19 pandemic has worsened the situation, as heightened rates of job loss and evictions have put pressure on policymakers to take action. "Housing has become the front-line defence against the coronavirus," states United Nations Special Rapporteur on the right to adequate housing Leilani Farha, "Home has rarely been more of a life or death situation."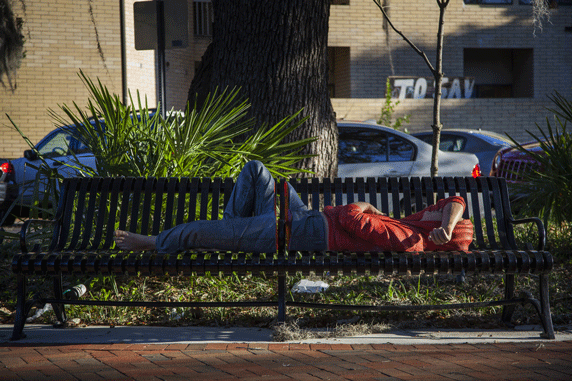 Disturbed by the way society treats its vulnerable, White set about creating Prescriptive Space in the hopes of shedding light on the issue, using the city bench as a jumping-off point for sparking important conversations.
For the piece, she designed highly realistic sleeping figures whose bodies are cut in two by the handrail. In the place where the bodies are split, White provides information on the city's history of policies targeting marginalized groups. She installed all of this in various public locations, awaiting peoples' responses.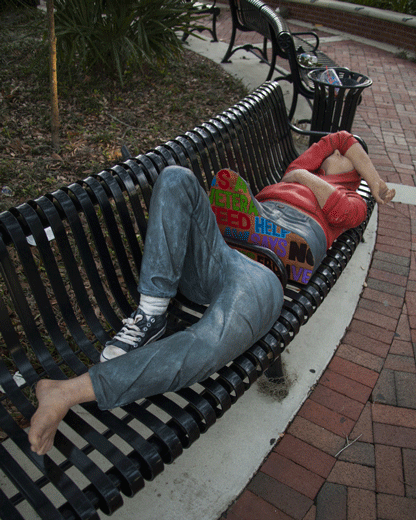 The resulting artwork is an unsettling but informative indictment of the ideologies that perpetuate anti-homeless attitudes, making visible the inhumanity of practices that place more importance on a bench than on a human in need of shelter. "My work seeks to make visible the politics of urban design and invites the community to reconsider our use of participation in public space," explains White on her website.
What is most compelling about the project, however, is not the sculptures themselves but rather how the public interacts with them. Having installed video cameras near the sleeping figures, White records peoples' responses to the installations - the good, the bad and the ugly.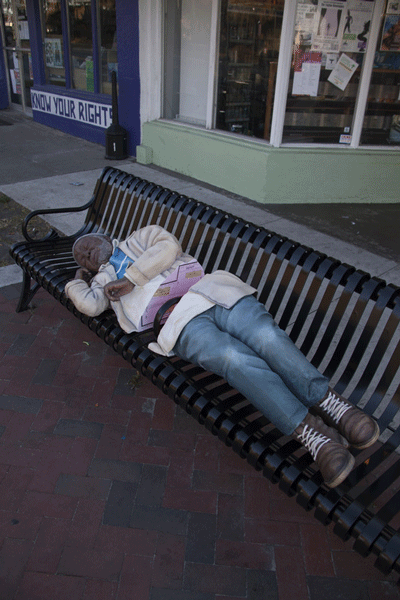 Some have a closer look, some laugh and brush it off and a surprising number take selfies - but not every interaction is so harmless. For drunk revellers leaving bars late at night, White's installation is not an impetus for honest conversations about society's ills but rather an object to exploit, harass, and in one case, destroy. After witnessing such behaviour, one can only imagine what countless homeless individuals face on a nightly basis.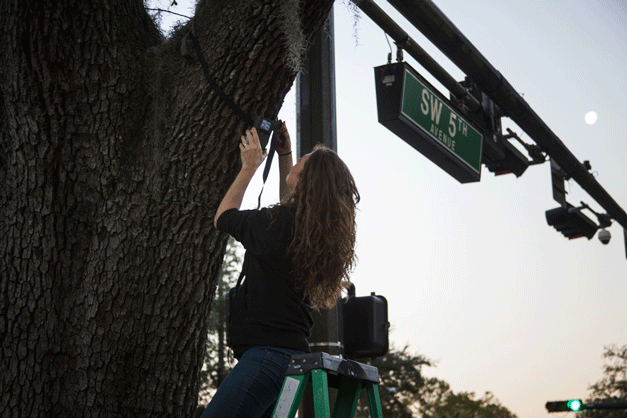 "I think art shows us the parts of ourselves that we want to see and also the parts of ourselves that we don't want to see," says White in an interview with Our Town Magazine.
Indeed, Prescriptive Space paints a complicated portrait of human nature. Though one group inflicted damage to the sleeping figure, a group that passed by afterwards worked together to repair it, with one man even using his thumb to wipe off a smudge in a moment that White found particularly touching.  
White does not claim to possess all the answers or to solve homelessness with a single exhibition, and she acknowledges the complexities that lie within the issue. However, art like White's - art that challenges us, educates us, and even makes us uncomfortable - has proven time and time again to have the power to set us on a path toward empathy and action.
White continues to use her practice to address social concerns and to work for a better future. You can keep up to date on her projects on her website.