Every summer, the West Coast of Canada prepares itself for the inevitable forest fires. This year seems to be worse than all the others. After an extreme heatwave that took the interior up to 50 degrees celsius, the fires developed fast and hot and the town of Lytton, British Columbia (BC) was almost completely destroyed.
The destruction of forests due to climate change and human commercial activity is cited by the United Nations as a primary concern and is highlighted in the UN Sustainable Development Goal (SDG) 15. The Life for Land description states that "nature is critical to our survival: nature provides us with our oxygen, regulates our weather patterns, pollinates our crops, produces our food, feed and fibre. But it is under increasing stress."
Through the process of photosynthesis, trees provide the oxygen we need to breathe and are essential for our survival. Not surprisingly, they have become a symbol of nature as a whole. Artists around the world have used them to bring attention to our relationship with nature.
Henrique Oliveira has used tree sculptures in his art with dramatic results. Henrique is a Brazilian artist who received his Masters of Arts from the University of Sao Paulo. He started his art career with abstract painting and continues to describe himself as a painter even though he is most famous for his life-size sculptures of trees.
He describes his process for the installations as painting with wood.
The primary material is cheaply made Brazilian plywood called tapume. It is used for the fences that surround the many construction sites in Sao Paulo. The material does not last long and Henrique discovered it one day as it started to fall to pieces on the ground. In the broken torn wood he saw shapes that looked like brush strokes and the idea for painting his sculptures with wood was born.
Found and recycled materials feature prominently in his work from old couches and mattresses to cardboard, wire mesh and concrete. By reshaping waste into natural-looking subjects, Henrique encourages the viewer to think about how our consumerist society has affected the environment.
As David Frankel writes for the Art Forum website, Henrique works with "tactile, gritty things with clear social histories".
Henrique grew up in a small town in the country and was always interacting with and observing nature. He moved with his mother to Sao Paulo for school but it took time for him to get used to city living. This conflict seems to play out in one of his most dramatic installations, Baitogogo, at the Palais de Tokyo in Japan. In this sculpture, the branches of a tree are interconnected with the pillars of a manmade building.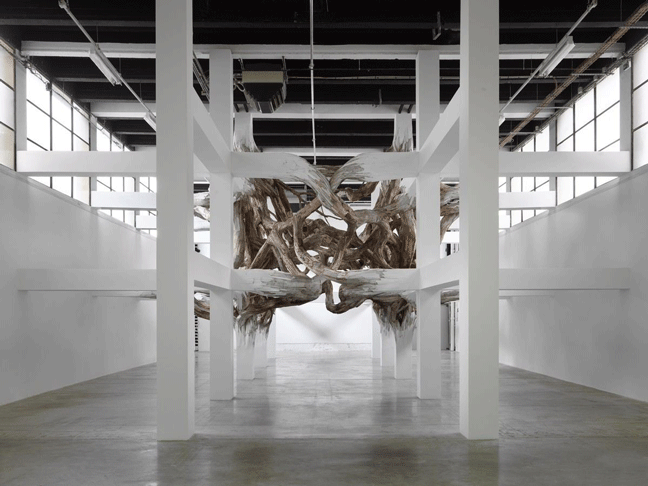 For the viewer, walking under the branches, it is hard to see where artificial ends and the natural begins and this is his vision for this type of work, to express the push and pull between humans and the natural world.
For his first show in New York, Henrique created Devir (loosely translating to 'constant change'), a 25 foot long tree made of branches, foam and plywood. It rests on its side but seemingly grows into every side of its box.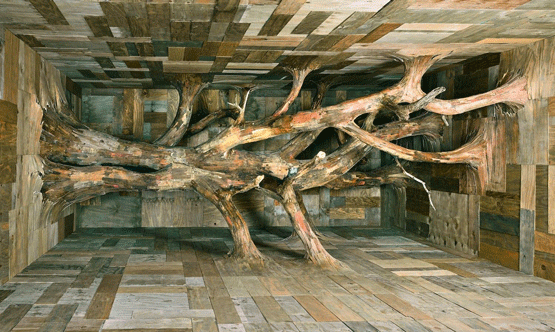 Again, we witness the conflict of the natural and manmade. But because the visitor can interact with the structure, with no special knowledge of art, the message is more accessible. Henrique's art has been showcased on almost every continent allowing even more people to join the conversation.
Henrique does not state his sculptures are intentionally environmental but through the subject matter and size, they cannot help but be immersive and thought-provoking. And that is the point. On the World Economic Forum website, in a post titled Why Art has the power to change the world, artist Olafur Eliasson writes;
"Art does not show people what to do, yet engaging with a good work of art can connect you to your senses, body, and mind. It can make the world felt. And this felt feeling may spur thinking, engagement and even action."
Similarly, in an article in The New York Times titled Can Art Save the Planet? Karl Kusserow curator of American Art at the Princeton University Art Museum is quoted as saying;
"There's a crescendo of interest in both art that is itself about the environment and art that is self-consciously environmental, and I think that's entirely understandable and good because it draws attention to these dire situations we're facing."
The forest fires that devastated Australia and California in 2020 and currently in BC are nature's way of saying we need to change our ways. Artists like Henrique Oliveira have the power to promote that voice to people around the world to make sure we keep listening.
To view more of Henrique Oliveira's unique work, visit his website.