Allison Janae Hamilton (b. 1984) is a multi-disciplinary artist working in sculpture, installation, photography and video. Hamilton's work features natural materials such as recycled wood, animal hides, and feathers. It weaves together land-centred folklore and personal family myths to create compelling epic mythologies that discuss contemporary social and political issues such as land degradation, environmental justice, climate change and sustainability.
Hamilton's work combines the physicality of the environment with the lived reality it carries, placing landscape as vital to experiencing both history and modern society. Her dedication to the land is motivated by her own migrations across the United States. Hamilton's art investigates the historical links between African American life and nature, highlighting many United Nations Sustainable Development Goals such as Reduced Inequalities and Climate Action.
Hamilton obtained her MFA in 2017 from Columbia University. At her thesis exhibition, she debuted her video Floridaland (2017), which features many women walking along misty forest paths while wearing animal masks. The soundtrack includes a wordless melody sung in unison.

The video includes footage of a church service as well as the artist riding a white horse along a beach while wearing a bird-skull mask, which is intercut with panning views of the gray-green Southern winter landscape. Animal imagery appears often in Hamilton's work. Hides and masks allude to hunting and storytelling, two activities central to her family history.
Allison Hamilton's sculpture The peo-ple cried mer-cy in the storm (2018) is a massive stack of tambourines named "Florida Storm", a hymn composed in 1928 in response to the Great Miami Hurricane of 1926, which devastated Hamilton's home state of Florida and southeastern Alabama. The tambourine represents celebration, war, storytelling and spirituality.
It evokes the various ways in which Southern black communities have experienced storms both natural and manmade. The piece raises concerns about how people of colour are treated in the wake of natural disasters. As climate change disasters become more common and serious, it is critical to recognize that climate change disproportionately affects people of colour.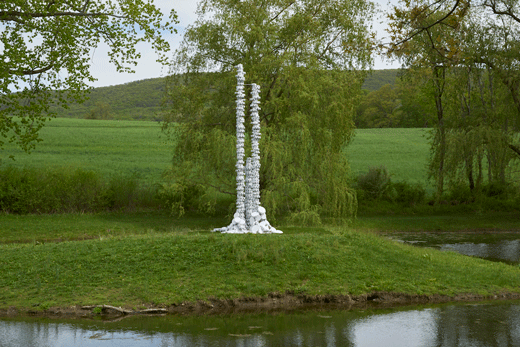 Wonder Room (2017) on display at Recess Art, was a participatory installation that turned the gallery into a hybrid of a treehouse, resource center, creative think tank, and community environment. Images from the real world, such as trees, animal matter, and other organic artifacts, were used to activate the installation.
It encouraged visitors to immerse themselves in a built, multi-faceted landscape and to investigate the social implications of geographic space. Inside the natural landscape, Wonder Room acts as a tool for personal and spiritual transformation. It emphasizes the effect of migration on our relationships with the landscape, as well as the challenges of addressing rural space within an urban context.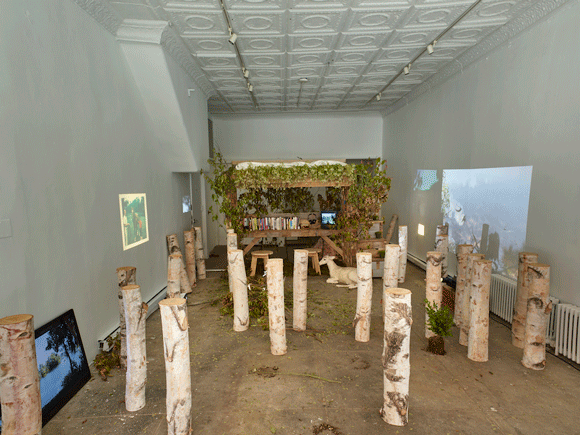 Hamilton's photographs originate from a place where the intangible and daily balance between the romantic and the uncomfortable is deliberately built into Southern cultural understanding. Her use of romantic forestry and nostalgia contrasts sharply with the eerie nature of masquerade and animal skulls.
Some of her acclaimed photographs include Three girls in sabal palm forest (2019), The Hours (2015), and Brecencia and Pheasant III (2018). These photographs put racial inequality at the forefront. The individual snippets of Southern life help viewers understand the effects of climate change. Hamilton employs the drama of the scenery as an important mechanism to elicit an emotional reaction from the audience.
Her work is inspired by very specific landscape narratives and attempts to address challenging problems through absorption and affective resonance. She photographs in places she enjoys with close friends and family. Each photograph contains the anticipatory gesture of a grand adventure.
With darkness and animal skills, Hamilton's art contradicts the charm and nostalgia of Southern culture. This is what makes her work so intriguing and nuanced. The subtle undertow of aggression and tragedy lurks underneath the beautiful allure of strangeness, touching the fact that many troubling issues which exist in our world today are covered under the film of normalcy.