Based in Los Angeles, America, Elena Stonaker has a highly intricate multi-media art practice. Working through textiles, painting, and sculpture, she creates interactive installations and participatory experiences for all audiences. Aspiring to become an artist since she was young, she's realized just that.
She focuses on themes of creation and transformation, and in doing so, allows her works to evolve by reworking, cutting, and sewing things back together. Considering this a type of spiritual growth, she also allows mythology, ritual, and ceremonial matters to inspire her work which touches on themes of gender equality and weaving the feminine form through nature.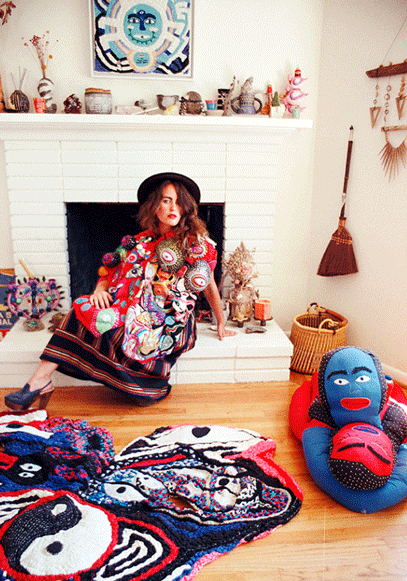 Born in Northern Colorado, Stonaker spent her youth exploring the outdoors and was continuously surrounded by a world of art. Clay figurines, colourful weavings, and handmade textiles made up the fabric of her world. She also spent much of her time reading and her imagination led her to weave inspired stories growing up. Nowadays, the artist finds that creating physical artwork helps connect these dreams to the real world.
Stonaker has said she appreciates art that empowers her and tries to find joy in simple things, both of which her work, no doubt, displays. Art is what gave her this confidence, so it makes sense that she is able to approach different mediums with such conviction. She loves the connection between beauty, humour, and surprising relationships that result from the creation of art, all of which are evident in her work.
As she now lives and works in LA, her inspiration comes from the natural elements within the "desert" city. The textures, colours, and smells of the plants that thrive in such a climate inspire her, touching the United Nations Sustainable Development Goal, Life on Land, with her representation of flora through art. A few of Stonaker's favourite artists include Hiëronymus Bosch, Keith Haring, and Yayoi Kusama.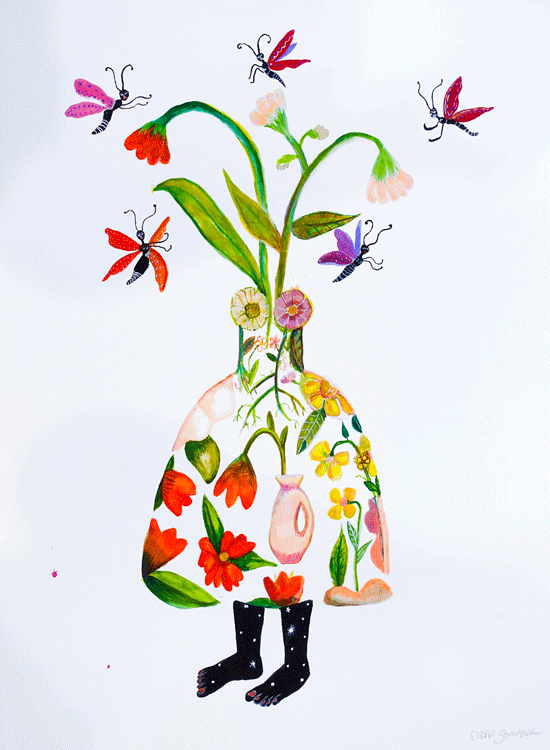 Creating her work by hand, Stonaker creates wearable art that she beads and stitches herself. This process is highly physical and, being so labour-intensive, can be demanding. Interestingly, she has shared that she does very little planning before creating these laborious works, but rather, prefers to move with intuition.
In addition to this, the artist also creates paintings, creating new universes on paper and canvas. She focuses her time on creating surreal worlds that are hyper-feminine and works to create safe spaces to explore discomfort. To carefully explore this discomfort, she incorporates softness and beauty into her artwork.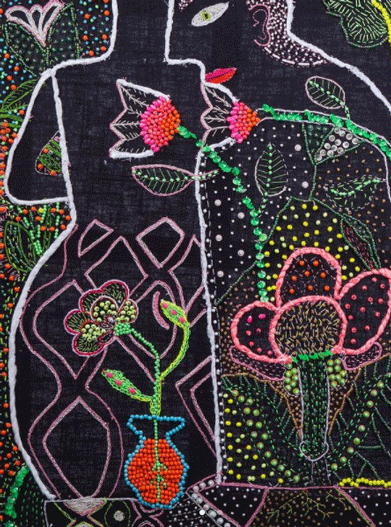 Stonaker's work can be seen as embracing the United Nations Sustainable Development Goal of gender equality. Specifically, this goal actively works to achieve gender equality and empowerment among women and girls. In relation to creating a foundation for a more peaceful, prosperous, and sustainable world, Stonaker supports and uplifts females through the creation of her work.
Moving back into feminine power through her work, she explores how we can help our earth heal by giving and receiving equally among genders. Stonaker shares this crucial balance through quite literally stabilizing soft sculptures together with their joined arms and by visually balancing colours and textures.
More information about the Sustainable Development Goal on gender equality can be found here.