With extensive training in art, Stewart Jones is a Canadian artist with a four year Associate Diploma in Drawing and Painting from the Ontario College of Art (1995) and a graduate of Sheridan College's three year Classical Animation Program in 2001. Jones' work highlights the sidelines of the city and the connections between light and shadows within the urban environment. His art focuses on seemingly inconsequential places and moments that are often overlooked and forgotten within the cities he paints. His work is quite unique; illustrating different angles and outlooks, evoking a feeling that his viewers wouldn't naturally perceive in the environment. Jones' composition between buildings and streets displays a confident and fearless ambition in his work, making these settings feel both familiar and foreign to viewers.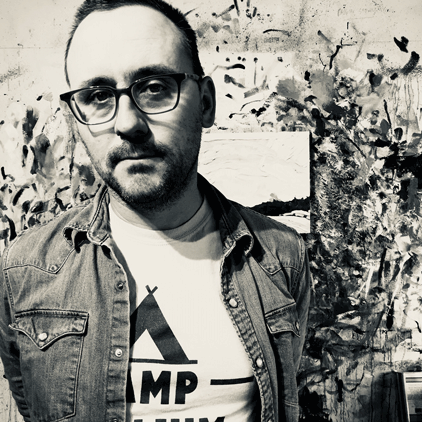 Jones is an active founding member of The Canadian Art Collective and City Field North Shore painting collectives. His work is represented in galleries across Vancouver, Ottawa, Kingston and Prince Edward County. He is also involved with music and commercial work, and plays the guitar and makes storyboards. Jones has been involved with creating record cover art and music videos for some great Canadian musicians such as Sarah Harmer, Justin Rutledge and Cuff the Duke. In 2012 he received a JUNO award for video of the year with Mike Roberts for RUMBLESEAT by The Sadies. Since 2013, Stewart Jones has been living and working in Wellington, Prince Edward County where he is also involved with a Midtown Brewing Company.
Art is something Jones has always considered himself to be good at. He doesn't believe in waiting for inspiration to hit him before getting started on a new piece. Instead, he focuses on the landscape around him, slowly making it transform into his miraculous art. Whether it's a shadowy cityscape or an open snowy country road, Jones does not wait long before capturing its alluring beauty with his paintbrush. He does not paint to reach a specific audience. His expertise and proficiency give him the ability to "paint on a canvas and have people say really lovely things about it".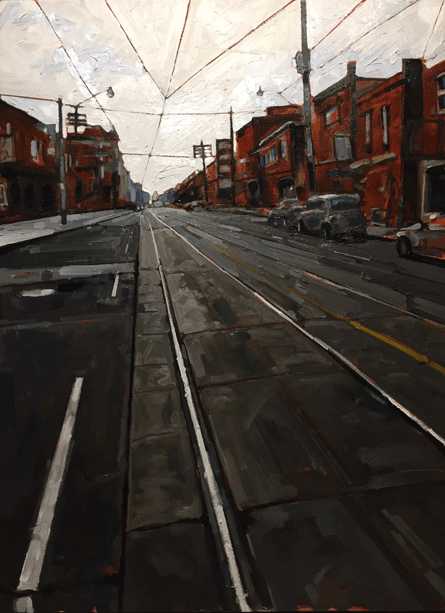 Jones hopes to evoke a sense of place and belonging for the individuals viewing his art. His work focuses on creating a familiarity with being a person involved both emotionally and spiritually in their own lives. His art illustrates a feeling of comfort in the reality of their surroundings, whether it be eerie or serene, it is still a reality. Jones' favourite art pieces are the ones that don't find a home of their own. He believes that those are the best works of art he has accomplished even if they don't necessarily sell at exhibitions. These overlooked pieces provide him with comfort, sitting with him and teaching him more about his work.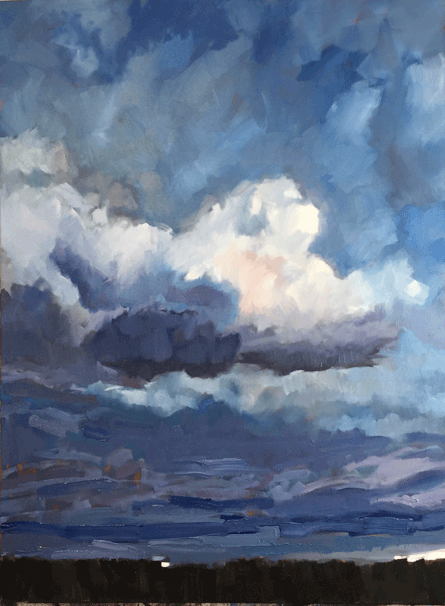 In his work, Jones encourages young artists to learn all the materials before searching for their own styles and artistic voices. He believes that in order to create compelling and transformative art you must look inside yourself for the subject matter. Paint and draw personal interest and stay away from the idea of sales as a driving concept of success. In the end, the work will sell itself to the right people who appreciate it. Even though this may be a tough road to walk, it will end up being the most rewarding.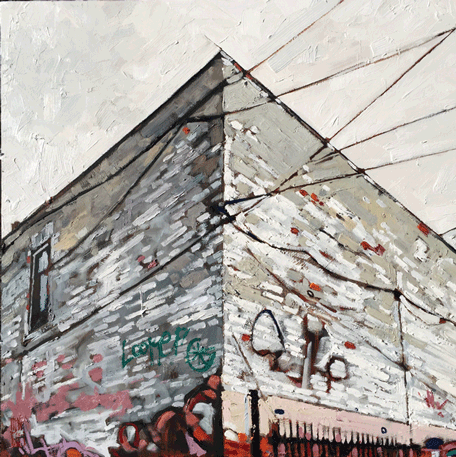 Stewart Jones' work portrays itself as more than just art on canvas. With less focus on major landmarks around cities, Jones highlights the hidden stories on side streets and alleys capturing the soul and reality of the places around him. This provocative lens he paints of the city invites viewers to wander down every street searching for revelation.
Readers can find out more about Stewart Jones' incredible artwork at:
Facebook: https://www.facebook.com/Stewart-Jones-Painting-246504538396
Instagram: https://www.instagram.com/stewj72/?hl=en
Website: http://www.stewartjones.ca/