Worldwide, masks are being used daily in an effort to curb and prevent the spread of  COVID-19. Historically, however, masks have been used for several reasons beyond medical protection, including identity expression or theatricality, and cultural celebration. With the COVID-19 pandemic reigniting the use of masks across the globe, artists like Jase King are inspired and creating light and expression during a time when many are experiencing great darkness.
The English word "mask" can be traced back to the 16th century, originally defined as "a cover for the face, a false face". English as a language is a conglomerate of several languages evolving over time into one. For instance, the etymology (the origin of a word and its historical development) of "mask" is fairly muddled and goes back to before the 14th century. "Mask" is derived from several sources: the Middle French "masque" meaning a dramatic and festive theatrical performance from Europe or a face covering, the Old Italian "maschera" meaning disguise or character, the Medieval Latin "masca" meaning mask, and the Arabic "maskharah" meaning buffoon or mockery. The English Etymology of "mask" shows that the word is commonly linked to theatrical performances.
Jase King, an artist living in Paris, France during the COVID-19 pandemic has begun making elaborate masks as a form of expression and creativity. King has an extensive background in theatre, specifically stage work, which has inspired much of his photography and now, masks. For instance, his mask "PUCK" is inspired by the famous Shakespearean play "A Midsummer Night's Dream". Puck is an English mythological character who is a mischievous fairy who plays pranks on mortals. Jase King created a modernized mask to symbolize the whimsical Shakespearean spirit.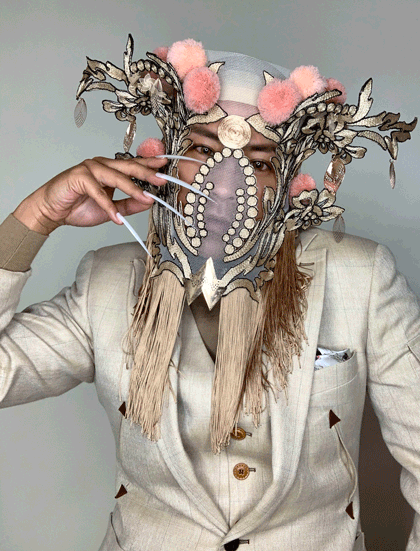 The horns are a great representation of the "woodland" aspect of Puck. The pink tufts and gold curtain tassels bring a sense of whimsy. The mesh and decoration in front of the facial features create a sense of wonder and mischievousness. In the above photo, Jase King is self modelling "PUCK", and also wears a gorgeous light gold suit that he designed. The photo is featuring an overall image of Puck's modern identity; King's background in performing arts taught him to see the bigger picture and create a story with the mask. He did not just create a mask, he created a persona.
In addition to building characters in theatre, masks have been used in other parts of the world as important pieces in cultural celebrations. In many precolonial African societies, cultural celebrations similar to a masquerade took place. Music, dance, costumes, and masks were used by those participating, creating a festive spirit. In "West African Masking Traditions and Diaspora Masquerade Carnivals" by Raphael Chijioke Njoku, he explains that these masked celebrations acted as a type of living history. For instance, Njoku writes, "...among the Yoruba of southwestern Nigeria...the Gélédé masquerade purportedly honours the earth spirits and the ancestors, and celebrates "Mothers". Later on in the piece, Njoku explores the historical theory that masks used in later African societies are inspired by the masks made in Venice, Italy. It is suggested that African slaves mimicked the white planters who practiced masquerades.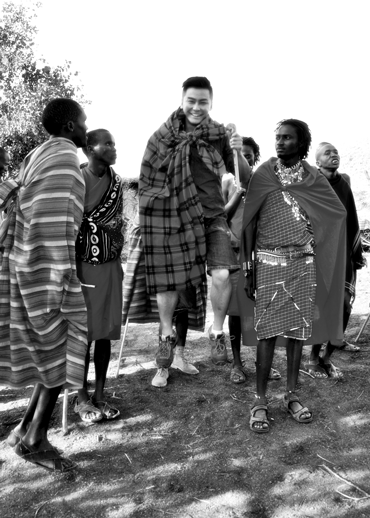 Jase King's artwork has taken him all over the world. As a photographer and an artist who is passionate about bringing communities together, King immerses himself in the cultures he documents. For instance, during one of his travel photography projects, he learned about the culture of the Maasai tribe (a Nilotic people mainly living in Kenya and Tanzania). Looking back on his travels, King feels masks are what stuck out to him in each place. Every country, every culture, has its own unique masks and interpretive use of masks. Jase King's fascination with our forefather's tribal masks is a factor in his present-day mask making. King's work shows an appreciation for the history and stories behind traditional masks, yet brings the viewer into a contemporary context by using materials that can only be found in present-day society. "Tribal Spaghetti Mask" is a perfect example of King's appreciation for traditional masks in a contemporary context. The gold swirls are made from pasta, inspired by Venetian masks. The swirls, green circles, and nose piercing all point to traditional tribal patterned masks. "Tribal Spaghetti Mask" is a clever piece that shows a contemporary connection between two cultures.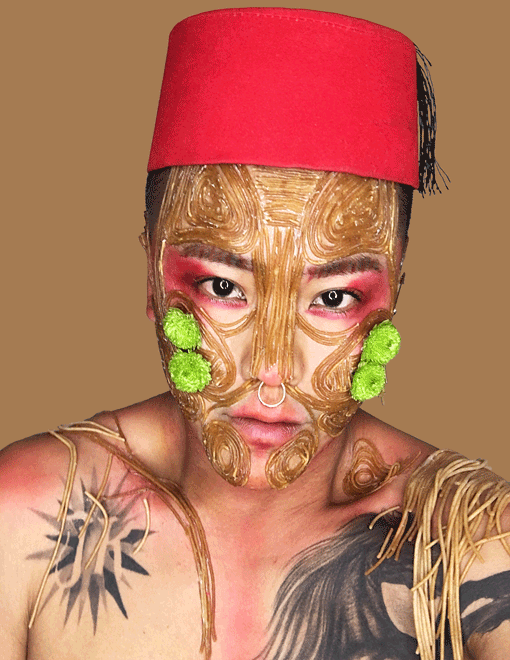 In the literary and artistic circles, masks are often considered disguises with the potential to build characters and stories. A person's stories are their identity. When someone listens and truly hears a person's stories they are validating the teller's life. About a year ago, Jase King met a group of refugees at the Paris Welcome Center for Refugees through a theatre performance at the center. He arranged meetings with them weekly to simply listen; he had no artistic agenda, he simply wanted to be there. After a few months, he recognized, "there was a common thread of kindness to humanity" between the group. Some of the refugees were teachers, some factory workers, and others,  peace promoters. He decided to ask the group if they wanted their stories to be recorded to tell their truths. King said this experience was very emotional for the storytellers, some cried at the end of filming; they were tears out of relief for they said "This is the first time somebody listened to us". The refugee's King met had been displaced for a long time, some moving for years. This was the first time somebody asked about their story.
King has a passion for bringing together communities; he believes one way to achieve unity in a society is ensuring that all voices are heard. Through his experience in the fashion industry, King noticed that persons with physical disabilities are not featured in photoshoots. Jase King believes masks are a great way to show a person's character and voice. Oualid Salh is a French model who is also an amputee. Recently, Jase King conducted a photoshoot with Oualid Salh, (@robot_style) a model who is an amputee. Salh wore King's masks throughout the shoot to touch on the topic of hiding his inner voice. Jase King's intention is to diversify expression and to translate the senses.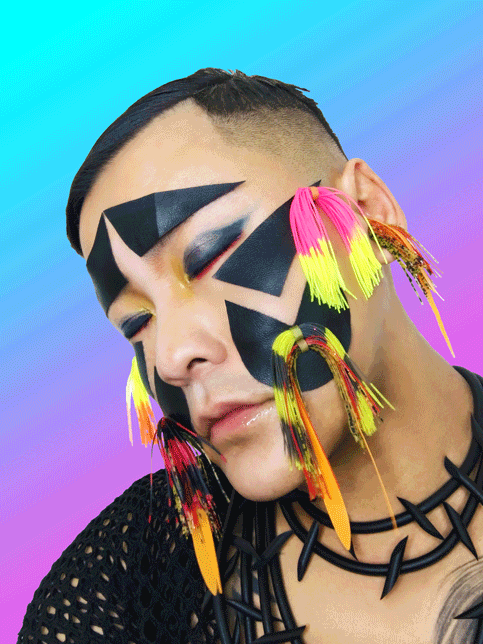 In addition to entertainment and expression, masks are also used as medical gear. Masks used as a disease spread prevention technique have been utilized for centuries, including the infamous Bubonic Plague or the Black Death in Europe during the 14th century. Italy was a hot spot in Europe for the Bubonic Plague, inspiring the creation of the plague doctor mask. Today, masks are currently being used to slow and stop the spread of the COVID-19 pandemic. Medical professionals are urging everyone to social distance and wear masks in public spaces or when around people outside of your immediate household. In March 2020, societies were asked and enforced to quarantine or lockdown. Those living in cities were only permitted to leave their homes for food and medicine. Jase King was living in Paris, France during the first lockdown. As an artist who travels, this was not easy. King decided to express his emotions and release some creativity in mask making. However, there is a catch; because of lockdown, his art supplies were limited to what he had in his home. This restriction pushed him to think outside the box and develop a more environmentally friendly form of multimedia artwork, for he used items that were made for a previous use and repurposed them into beautiful masks. He feels this experience will encourage him to think more intentionally about the mediums he uses in the future. Mask making was a form of remedy to his isolation.
The COVID-19 pandemic has caused tragedy and sorrow among individuals and families across the globe. Each experience is unique and heartbreaking in its own way. From cancelled graduation ceremonies to virtual weddings, milestones are not the same. Hugs are unhealthy and greetings are in the form of elbow taps. We are gradually developing new normals but change is not easy and can be overwhelming especially when in isolation. Through all the darkness there have been signs of light, signs of community, signs of humanity. Italy sang and danced on balconies, math teachers came to student's doorsteps in the US., and artists like Jase King are tasked with telling their stories. King advises, "Don't be afraid to take the scenic route". Everyone has their own unique path in the face of great change; be patient. Tell your story, lift your voice, and maybe even make a mask.