Our very own Arts Help Artistic Director, Sophie Brussaux, was invited to speak at the first-ever Urban Economy Forum. The forum was hosted in Toronto by UN-Habitat, International City Leaders (ICL) and the Urban Economy Forum Association during World Cities Days. The event served as the first global platform for representatives from international cities and the financial and private sector to discuss ways to improve urban economic efficiency through sustainable development and sustainable markets.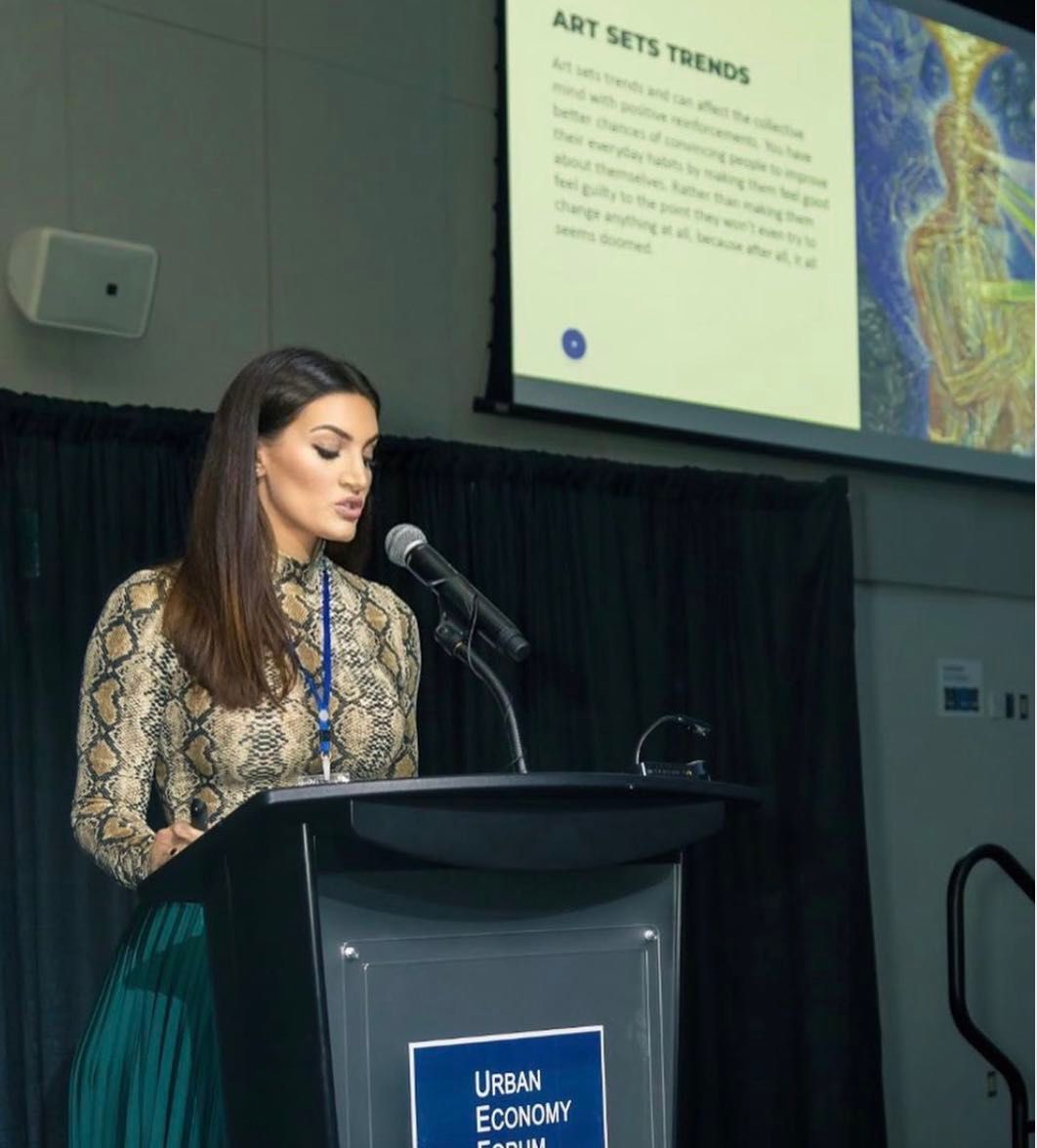 In her speech, Brussaux outlined our planet's dire situation alongside sustainable solutions being spearheaded by artists, the UN and Arts Help. She highlighted how "we are facing a self-inflicted extinction" due to unsustainable lifestyles, industries and mass inequality. She suggested we look towards art to help fuel innovation and set trends to create positive change. "Through the eyes of an artist we can inspire to a reality that doesn't exist today".
In particular, Brussaux critiqued fast-fashion, calling fashion "one of the most polluting industries in the world". Even so, a recent sustainable fashion alliance between the UN and multiple brands is working to correct some of the industry's pitfalls and develop better practices. On a similar note, Brussaux touched on the sustainable backpack line made from entirely repurposed materials created by our team at Arts Help. She also announced the newly launched collaboration between Arts Help and UN-Habitat. The collaboration, named World Art House, will bridge the concepts of urban economy and art.
Our Artistic Director, Brussaux, was joined by notable keynote speakers from diverse backgrounds including Dr. Jose Etcheverry and Governor of York University; the Mayor of Kitchener Berry Vrbanovic; Julie Ward British Member of the European Parliament; Megan Reddick from Habitat for Humanity; Patricia L. McCartney, President, and CEO of the World Council on City Data; and Mitchell Cohen President of The Daniels Corporation and Douglas Ragan from UN-Habitat's Youth and Livelihood Unit Head.
The Conference announced Urban Economy Forum's 2020 collaborations, including the highly anticipated Regent Park United Nations Urban Pavilion, a partnership between The Daniels Corporation and UN-Habitat; World Art House in collaboration with Arts Help; SDG Global Pioneer UniverCity with York University and the Global Re-Thinking Housing Pilot Project.
More information to be announced in September 2020.