The theatre is an important platform that brings pertinent issues to life in a way that captivates the audience. People are more receptive to learning about history when they are entertained in the process. "Audiences tend to understand better what they see than what they are told. The story becomes close, and instead of being confronted by dates and facts, you get drawn into the story, become emotionally involved and experience events unfolding right before. You laugh, cry, squirm, or cringe primarily because you feel connected to the play" Dr. Siphiwo Mahala stated in an interview with Arts Help.
Bloke & His American Bantu which was written by Dr. Mahala is an enthralling, thought-provoking and engaging masterpiece which is as equally educational as it is entertaining. "This is a pocket of our history that is not very well known." The audience witnesses their friendship evolve from a simple friendship to a cultural exchange and international solidarity against fighting for equality for black people in their respective countries. Additionally, this play draws parallels between South Africa's anti-apartheid struggle and the civil rights movement in the United States and most importantly, it also highlights the role of intellectuals and cultural workers in the struggle against apartheid Dr. Mahala stated in an interview with Arts Help.
The word "Bantu" has gone through various shifts in meaning. It has had both positive and negative meanings, depending on the "historical moment, social positionality and experience of users." In the 1960s, the word was used as a derogatorily divisive word. However, these two disruptive intellectuals took ownership of it by using it as a term of endearment amongst each other. Reclaiming words and spaces that were previously used as a tool of repression is used as a coping mechanism for those who were at the receiving end of these injustices.
This two-man play is based on the lives of Bloke Modisane and Langston Hughes and reimagines the cross-cultural friendship that helped close the divide between Sophiatown and Harlem in the 1960s. The play centred around the letters that they exchanged with each other. These two black men took comfort in each other and helped keep each other sane during a time of turmoil. Even though these men lived on different continents, they shared similar struggles where both lived in a country that did not deem them worthy of being treated as human beings. As brilliant as they were, they were treated as lowly imbeciles and their respective oppressive governments reminded them of their inferiority to their white counterparts.
Sophiatown which was located in Johannesburg was a black cultural hub, and it was dubbed little Harlem, an equally historically significant cultural heart for prominent African- American movers and shakers. Sophiatown produced well-known writers who were dubbed the Sophiatown Renaissance writer which included but is not limited to Can Themba, Bloke Modisane, Nat Nakasa, Todd Matshikiza, Henry Nxumalo and Eskia Mphahlele. These brilliant writers were outspoken about the injustices done to black people across the world and as a result of that, kinships were built among black writers and activists across the African diaspora. This sentiment highlights the United Nations Sustainable Development Goal of Global Partnership along with Reduced Inequalities, which was practiced by virtue of black people across the world fighting for freedom and equality for all black people.
This play is very significant because it highlights the often-forgotten comradery and similarities between South African writers and African American writers. These similarities permeated throughout their lived experiences under apartheid South Africa and the United States during the Jim Crow laws. These two men formed a close relationship/ allyship and its trajectory is followed as well as highlighted in this play. The exchanging of the letters took place from 1960 until 1967 when Hughes passed away.
These letters gave them hope in a hopeless situation. They shared about their personal lives and exchanged gifts and their local jargon. Modisane taught Hughes a few phrases of words in Isizulu ad Sepedi amongst other languages. The letters highlight a critical part of history that illustrates that the fight for liberation was not with obstacles for those who fought for it.
"I was fascinated by the sheer camaraderie between Bloke Modisane and Langston Hughes. I think we don't celebrate the love between man and man enough, and this is a simple example of pure love between two men. Our world will be a better place when we love each other more," stated Dr. Mahala in an interview with Arts Help.
These two men were comfortable enough to be emotionally vulnerable with each other, this goes against the image of a Black man who is supposed to be always stoic. They went against the norm by putting to paper their hopes and dreams and expressing feelings of longing for people that they lost or left behind. The beauty of the play is that the unpacking of these multifaceted men did not strip away their masculinity which was also intricately done.
This also demonstrates that even during times of chaos, turmoil and unpleasantness people still have hopes and dreams, followed by a glimmer of fleeting happiness. Additionally, oftentimes, historical figures achieve a demigod status once they pass away, however, this play humanizes them, and touches on their flaws and daily challenges, which makes it easy for the audience to establish a parasocial relationship with these characters.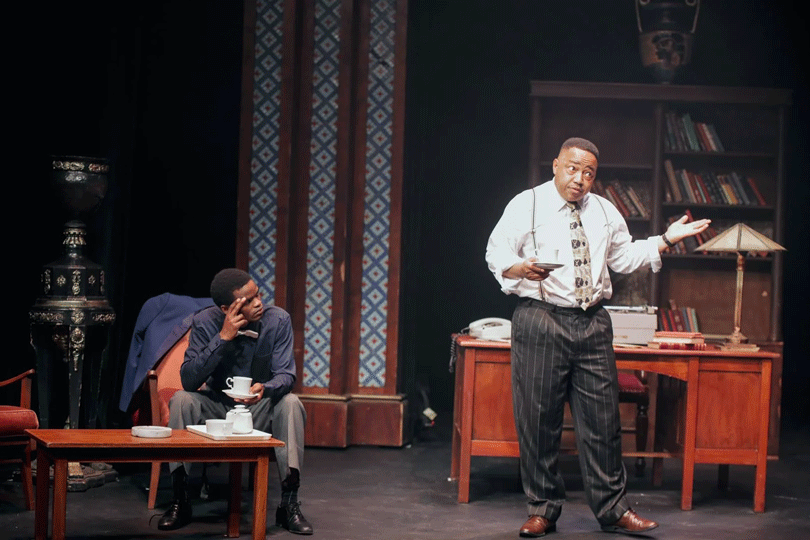 Theatre plays an important role in keeping and preserving history as well as historical information. The theatre is considered to be for affluent people and sometimes the public feel intimidated by it and this ensures that they are left out of these pertinent conversations. This hinders important messages from being heard by young people.
Theatre opens us up to experiencing different perspectives that we may not be aware of. These different perspectives create a nation filled with young people who are curious about nature and this in turn will seep into all facets of their lives. When people think differently, they become innovative key thinkers and thought leaders in a very divisive world.