"If we are made in the image of the creator, what does that mean? It means that we are creative, but the talent, I think, is in each of us,"—Buffy.
Buffy Sainte-Marie is an Indigenous Canadian-American artist and one of the most prolific singer-songwriters of the past century. Besides, she is a visual artist, educator, pacifist, social activist, and she has worked on television and written children's books. Through her artwork, she has given a voice to the Indigenous community that has suffered so much from colonialism issues. Justice, reconciliation, peace and Indigenous resilience are part of her call and struggle. Likewise, it can be equated with the United Nations Sustainable Development Goals such as Peace, Justice and Strong Institutions and Reduced Inequalities.
The artist has spent her whole life creating, and her humanitarian efforts and Indigenous leadership have made her a unique force in the music industry. In 1982, she became the only Indigenous person to win an Oscar.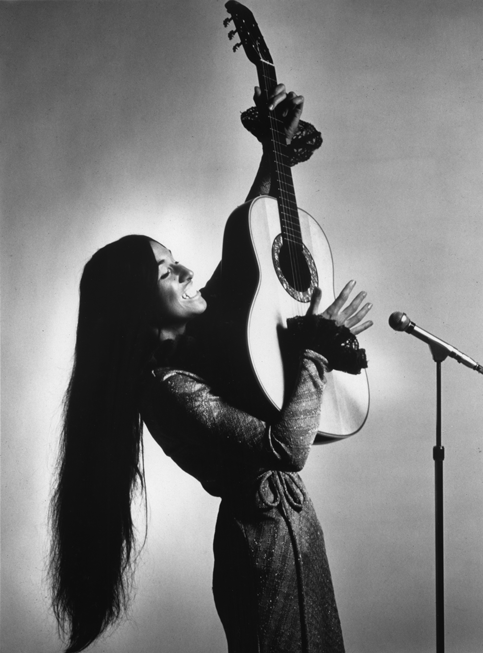 Even though Buffy Sainte-Marie was born in a traditionally Indigenous community in Saskatchewan, Canada around 1940, she grew up far away with an adoptive family in a small American town in Javex, USA. Between 1883 and 1997, "Children were kidnapped from their own families and put into jail," Buffy said. Most of her family were in a residential school, a place where slavery, genocide and racism was imposed.
Having been removed from her Indigenous family and identity, and throughout the loneliness and pain that sheltered her, she found refuge in music.
She aroused a curiosity to learn more about her native heritage. In search of answers, she traveled in 1964 from Saskatchewan to a Pow Wow, where she learned more about her Indigenous tradition and where she saw an opportunity to start talking about Indigenous rights through music.
Her music reverberated throughout pop culture. Her lyrics have talked about the environment, social justice, alternative conflict resolution, Indigenous realities, greed and organized crime, Truth and Reconciliation, traditional values, healing, among others. It has led her to the blacklist, but her fight and communication have been continuous.
Among many songs, two of them became hymns in the world, such as the definitive anti-war anthem of the 20th century, "Universal Soldier," and one politically charged, "The War Racket." Sainte-Marie doesn't sugarcoat the truth nor shies away from complex realities. She makes us see the world around us clearly and encourages resistance.
Buffy Sainte-Marie is an innate pioneering and inspiring artist. In 1975, Buffy participated in Sesame Street, making her Indigenous identity visible, such as her languages and culture, through child pedagogy. She decolonized the stigmas of them. Besides, recently, taking her lyrics as inspiration and with Indigenous illustrators, she wrote children's books such as Still this love on, Tapwe and the Magic Hat and Hey little Rockabye - A lullaby for Pet Adoption.
Buffy's artworks also approached the digital medium with trailblazing ingenuity, mixing pixels and classic oils, that is to say, combining digital art with handmade art. "For me, the pixels are like blobs of paint, almost like beadwork that is not ever really perfectly in a line, it's more like handwriting, it is very personal," she said. For instance, Ayahuasca Jaguar is a combination between the Kodak Metallic VC and digital paper.  This piece depicts a woman and a Jaguar describing their connection to an Ayahuasca consciousness.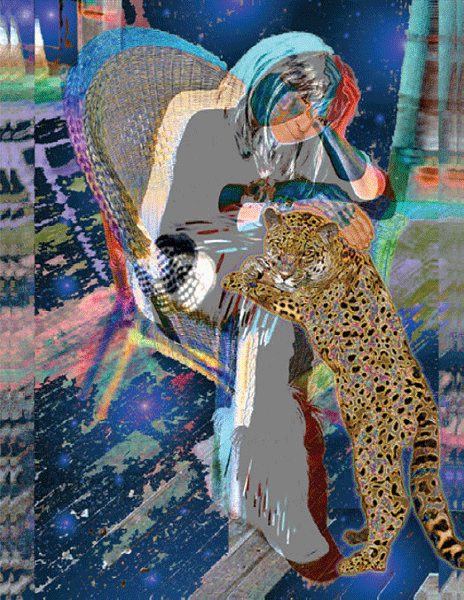 On the other hand, she has operated and helped different Indigenous educational programs while proposing new curriculum from Indigenous perspectives.
On the whole, Buffy's artwork is a call to action to safeguard a cultural heritage that takes up an invaluable identity that must be taught and shared. Decolonization plays a crucial role here, as it invites us to build from our concepts, appropriate our heritage, and highlight our identity as part of a specific territory. It leads to linking and creates bridges and knowledge exchange.
---
For more information about Buffy Sainte-Marie, visit her official website, or we invite you to listen to the podcast Buffy on CBC podcast.