In 2020, the planned social events to celebrate Alchemy Garden, an educational garden exhibition exploring our relationship to food and nature by Australian chef and artist Andrew Rewald, had to be moved online.
The lockdown brought on by COVID-19 made it impossible to walk through the garden and actually touch and experience the environment Andrew had created. The garden was developed to "highlight food-plant-people relationships and processes that provide alternative narratives around sustainable practices."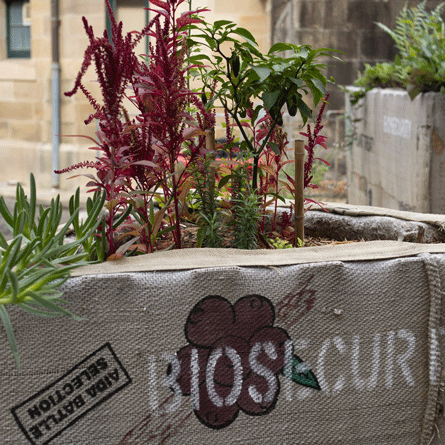 The mission of this project aligns well with the United Nations Sustainable Development Goal #15 of Life on Land which outlines how nature is not only critical to our survival but that human agricultural processes are threatening our ecosystems. This goal sets out to educate, restore and protect the environment we depend on.
The Life on Land goal also emphasizes how human encroachment into fragile ecosystems may have led to the spread of deadly zoonotic diseases like COVID-19 - or could lead to that of others. How we interact with nature and our demands on the land for food is impacting our ability to survive as well as contributing to the climate crisis.
All the more reason for artists like Andrew Rewald to develop creative, interactive activities that bring the viewer closer to nature. Through his various events and exhibitions, Andrew attempts to educate his viewers on the history and importance of plants in our daily lives. He wants us to reconnect with where our food comes from and ultimately encourages us to re-examine our relationship with nature.
In 2018, Andrew developed Beyond the Pleasure Garden where he presented a series of interactive demonstrations with food and drink made from the weeds in an abandoned field. The goal was to show how something as common as dandelion, stinging nettle or goldenrod was full of nutritional and medicinal benefits. Bringing in the history and original location of each plant, he also discussed how non-native species (plants moved around by human settlement) can have destructive consequences on the local environment.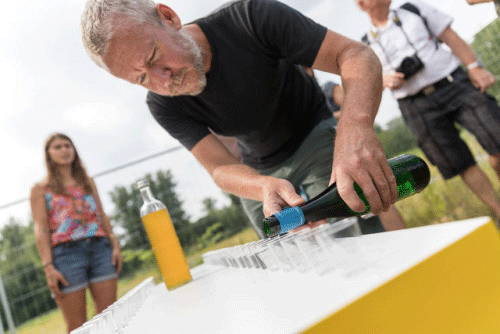 On his website Andrew is quoted as saying,"through interactive public events presented as cookery and/or meal sharing performances, I provide embodied experiential engagement for audiences to ingest information on the ethical, political and environmental implications of modern foodways"
For the biennial of Sydney in Australia in 2020, he created two exhibits. With Mineral Garden, a joint exhibition with Canadian artist Randy Lee Cutler, they demonstrated, through walks, videos, books and displays how essential minerals are to our daily lives both in what we eat and the tools we use. Featured in the exhibit are books such as Dark Ecology by ecological philosopher Timothy Morton which inspired Andrew to see modern agriculture as a force that alienates us from nature through mass consumerism.
Many ideas are explored in this multi-faceted exhibit including the futuristic vision of a different world, one in which humans are not considered to be on top of the food chain but on more equal standing with all the other animals and plants in the world.
This exhibit was also cancelled due to COVID-19 but did eventually reopen to the public.
The second exhibit, Alchemy Garden, was created as a direct response to the climate crisis. Working with the National Art School, he created a community garden of edible and medicinal plants that shows how a simple garden could manage drought and floods with planning and ingenuity. By using natural materials, recycling containers from the area, and redirecting wastewater from the school, he was able to create an interactive and lasting example that demonstrates when we work with our environment rather than against it, we can actually accomplish what we need to survive.
Luckily, due to the ever-transforming nature of this community garden and the fact it will be maintained by a local group of volunteers, the Alchemy Garden will survive long past the pandemic. For years to come visitors will be able to learn from the past and develop "sustainable practices into the future".