The task to assure gender equality is one that takes many forms and dimensions. This is surely the direction Canadian artist Cassils takes as they use their art to illustrate the ways in which everyone's bodies, especially gender-variant individuals, are categorized and controlled with harmful consequences. With social expectations as their focus, Cassils, a transgender and non-binary artist, largely uses performance as a social sculpture to communicate back to and unwind power structures around gender norms.
With LGBTQI+ individuals facing issues around the world regarding violence, representation and survival, Cassils has decided to contribute an art piece on the subject to Arts Help's ZERO GRAVITY: Is This Our Earth? exhibition in space that released on June 29, 2021.
The world's first digital art exhibition in space, the performance artist brought forward a piece directly in line with the United Nations Sustainable Development Goal 5 on Gender Equality. This art gallery is part of Arts Help's wider initiative to showcase art and creatives that bring a positive impact to the world.

"As an organization, we aim to showcase the global challenges we face with the need for creative ways of addressing them. Our goal with the Zero Gravity exhibit is to connect humanity in a moment of harmony," said Adiam Gafoo, Chief Development Officer of Arts Help.
Among the works Cassils has contributed to the exhibition are Inextinguishable Fire and 103 shots. Inextinguishable Fire is a vivid performance where the artist uses techniques from borrowed Hollywood stunts to set themselves on fire and illustrate the "real human terror of being lit on fire". 103 shots is a short film created following the mass shooting at the Pulse Nightclub in Orlando, Florida. Inspired by the testimony of one of the survivors who initially believed the gunshots to be celebratory "fireworks and ballons popping", the artist featured couples and friends bursting balloons between their bodies.
Much of Cassils' artwork is done with their own body and focuses on the transformations and instability between the masculine and the feminine. Among their most famous works is Cuts: A Traditional Sculpture (2011-2013) in which Cassils goes on a 23-week journey to gain 23 pounds of muscle. Documenting the process through photography and video, Cassils' performance deliberately contrasts with the feminine expectation of weight loss.

"Cassils's cuts are precise and technical, mobilizing intense physical labour and a frenzy of consumption bordering on the abject," said Julia Steinmetz in the Transgender Studies Quarterly. "This twist on 'getting cut' queers the trans body by showcasing the cut of musculature as opposed to the cut of the surgeon's knife."
Cassils further critiques the unsustainable desires for a certain physique based on gender expectations in their performance Tiresias (2011). By recalling the Greek myth of Tiresias, a mythical figure famous for having been transformed from a man to a woman for seven years, Cassils presses their body against an ancient Greek male ice sculpture. The artist then melts the ice sculpture, and the figurative gender expectations, with purely their own body heat.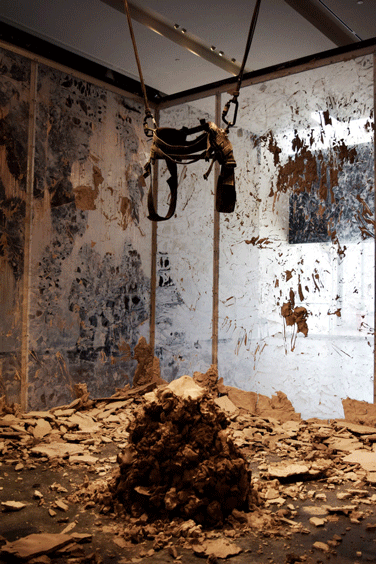 However, a direct confrontation with the political reality of gender expectations is also the focus of Cassils' work in their piece commissioned by the Gardiner Museum in Toronto, Up To and Including Their Limits. In it, the artist claws at the walls of a plexiglass box filled with clay to bring their attention to how "increased trans visibility is coinciding with growing violence against trans people and challenges to trans rights."
According to a study by the Human Rights Campaign, the year 2021 is setting to be the deadliest year in the United States for transgender people, with 29 killed so far.
Putting a spotlight on these issues, Cassils has had recent solo exhibitions at the Station Museum of Contemporary Art, Perth Institute for Contemporary Arts, Ronald Feldman Fine Arts, NYC; Bemis Center for Contemporary Art and the Philadelphia Academy of Fine Arts. They are the recipient of a United States Artist Fellowship (2018), a Guggenheim Fellowship and a Creative Capital Award (2015)
To see Cassils' artwork in Arts Help's ZERO GRAVITY: Is This Our Earth? exhibition, click here.
To see more of Cassils' artwork taking a look at gender inequalities and discrimination, visit their website, here, and Instagram page, here.
To see more artists tackling issues pertaining to poverty and economic inequalities, visit Arts Help's homepage.