Drawing is often known to be an artistically laborious process that can require the use of multiple different lines, shapes, shading and elements to create just one figure. However, artist Salventius (formally known as Niels Kiené) brings forth minimalism in his art by using just one continuous line that evokes the expression and raw emotion of both the subject and the one behind the canvas. He calls this art form 'momentalism'.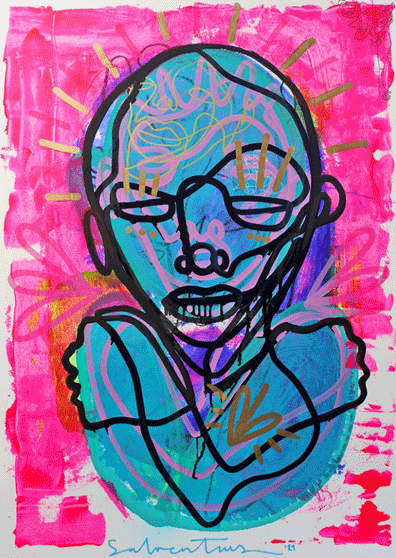 Freely drawing without a guide, sketch and sometimes without paper and pen, Salventius uses just a connection between an idea and his hand in order to use the least amount of materials to create just the same amount of art. This momentalist art of conscious use of objects and resources has led him to contribute an art piece on the subject to Arts Help's ZERO GRAVITY: Is This Our Earth? exhibition in space that released on June 29, 2021.

The world's first digital art exhibition in space, the Dutch artist brought forward a piece directly in line with the United Nations Sustainable Development Goal 12 on Responsible Consumption and Production. This art gallery is part of Arts Help's wider initiative to showcase art and creatives that bring a positive impact to the world.
"As an organization, we aim to showcase the global challenges we face with the need for creative ways of addressing them. Our goal with the Zero Gravity exhibit is to connect humanity in a moment of harmony," said Adiam Gafoo, Chief Development Officer of Arts Help.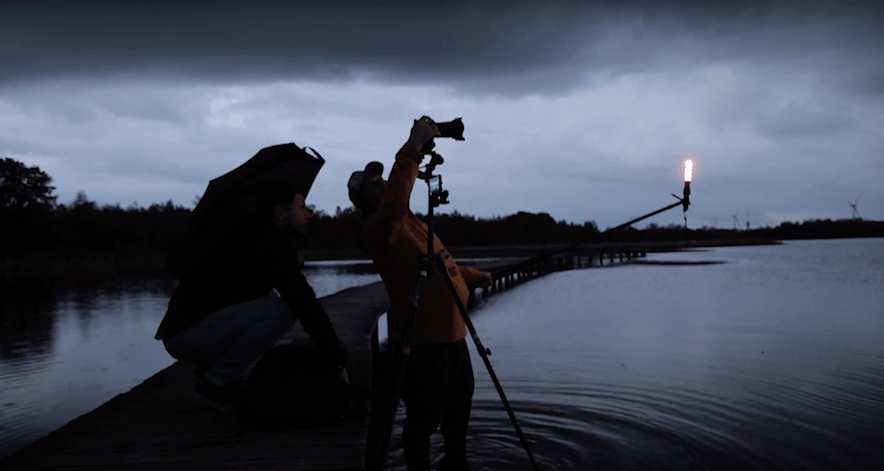 When not using paper or canvas to create his continuous one-line portraits, Salventius uses light-painting, photography, VR, sculpting or 3D printing. The former mediums were used in his artwork for Arts Help's space exhibition. He simply used a video camera to capture and still the movements of a red light he attached to a pole and used as a long pencil to draw two faces. With a dark lake as his background, the two bright faces were created with the least amount of materials and waste. Simply a digital recording was captured that will last forever and a wireless lamp was put to use.

Concerning his work, Salventius said in an interview with Arts Help, "we should break from our habits and start to balance our needs with nature's resources."
Currently, the world continues to use resources and materials unsustainably. In 2017, the global material footprint was approximately 85.9 billion tons. From 2010 to 2019, electronic waste grew by 38%. Fast fashion, an unsustainable branch of the fashion design world, contributes more to climate change than international aviation and shipping combined.
It is known that we have a large waste and resource management issue, with conscious and intentional decisions replaced by impulsive and materialist ones. It is part of the reason why minimalism - and momentalist art - presents such a sustainable alternative to our current impulses, by reducing and being intentional about what we are using.

This is not Salventius's first time partnering with Arts Help on the United Nations Sustainable Development Goals. For Earth Day on April 22nd, 2021, the artist contributed a one-line drawing on a sandbank featuring a family of people within a large circle representing the earth. The work is titled One Earth, One Line to highlight how co-dependent we are as a species to one another and the planet.
Salventius' other momentalist artworks include one-line colourful portraits of Leonardo da Vinci's Mona Lisa, one-line tattoos and temporary drawings on dry pavement with a water spray. To see more of his artwork highlighting the conscious use of our planet's resources visit his website, here, and Instagram page, here.
To see Salventius' artwork in Arts Help's ZERO GRAVITY: Is This Our Earth? exhibition, click here.
To see more artists tackling issues pertaining to responsible consumption and production, visit Arts Help's homepage.