Chris Booth (born 1948) is a New Zealand environmental sculptor who creates large-scale artworks using land, earth forms, and Indigenous knowledge. His work focuses on the connection and exchange between Indigenous and colonial cultures, as well as the development of significant environmental artworks.
Booth's work is heavily influenced by the relationship between art and nature. He grew up on an organic orchard surrounded by a tropical bush and a river that was scattered with rocks. His parents inspired him to read the land, its ecology, and human history through his eyes. This is important in Booth's work as it highlights the United Nations Sustainable Development Goal of Life On Land.
As Booth looks at the world with big eyes, what he creates in his sculptures is often big as well. However, when you look closely you find the little details that characterize the world. One of his remarkable works is Echo van de Veluwe, an installation for the park of the Dutch Kröller-Müller Museum. The artwork consists of 310 small stones mounted horizontally that are then lifted over the trees by a massive truck-mounted crane and repositioned at a precise location in the park.
From afar, the sculpture seems to be a large mound of rocks, but as visitors get closer, they see that the individual stones resemble grains of sand that were joined together eons earlier. The artwork is instilled with a sense of natural time. Although many of the stones are kept in place by wooden supports, they will eventually decompose.
The woven stone 'blanket' will fall to the ground over time as the supporting wood rots, until one day it is completely flat on the ground. Echo van de Veluwe represents the notion that nothing lasts forever; just like the rocks emerged from grains of sand one day, they will eventually revert back to their natural state.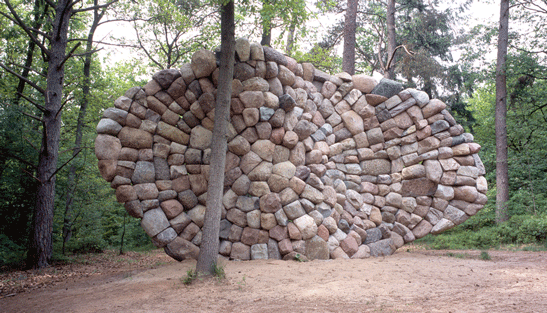 Booth's Transformation Plant, created in 2012 is a living Earth art collaboration with nature and community. The sculpture was created in consultation with elders and members of the Musqueam Indian Band in Vancouver, Canada. Transformation Plant takes advantage of fungi's immense recycling abilities to produce a long-lasting kinetic living Earth artwork. The cedar will grow into a majestic tree over time while the fungi break down the wood and recycle it into hummus. The stone slabs will eventually open up resembling a flower.
In this work, Booth aims to illustrate the wonders of fungi. The ancient plant-like organism is essential to life on Earth, but it is being endangered by human activity. As global warming continues to be a threat to all life on land, Booth's living Earth artworks will educate visitors on how to be wiser and more involved in reversing the effects of climate change.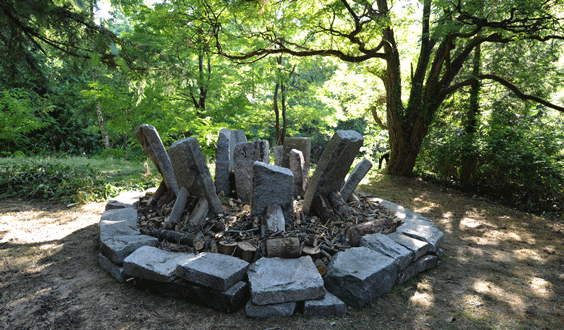 Wurrungwuri (2008-2010), a waveform sculpture situated at the Royal Botanic Gardens in Sydney, Australia is made up of 250 sandstone blocks weighing 350 tonnes. It also features a monolith constructed of 16,000 threaded quartz pebbles and adorned with a pattern from a rare Aboriginal shield known as the Sydney shield.
Plants, insects, and birds are able to live in the environments created by the wood and adobe blocks, gaps within the sculpture, and the wave troughs. The sculpture depicts the cultural history of the cove where Aboriginal people and the Europeans first met. The installation is intended to attract local flora and fauna, and the quartz monoliths also include boxes for small bats to live in.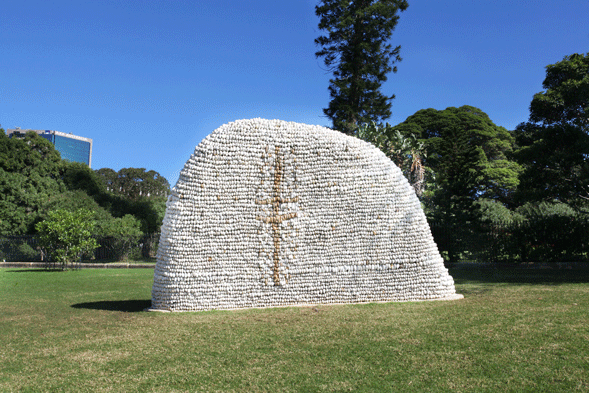 Booth's art is notable for its originality. His creations are based on the story of the land and its inhabitants. His work is inspired by the surrounding environments, research, and history. He demonstrates that life requires habitats to survive, and his work is designed to ensure that the plants and animals that colonize them are protected for several years. As climate change continues to be a global threat, Booth's living Earth art encourages us to protect the communities and ecosystems around us.