When Nina G. was 11 years old, she wanted to be a stand-up comedian but she thought her disability would get in the way.
"I gave up on my dream because people like me were not on TV. People like me were not supposed to do comedy," she says. "I thought you could not or I thought you had to be fluent in order to do comedy."
Now, Nina G., who stutters and has dyslexia, has not only pursued her dream of stand-up comedy, but she uses her disability to her advantage on stage. Many of her jokes incorporate disability as a way to use humour to help people understand disability and confront their own preconceptions about it.
"How many disabled people does it take to screw in a light bulb?" she asked the audience at the Invisible Disabilities Comedy Show in Sacramento. "One to screw it in and five able-bodied people to say, 'You are such an inspiration.'"
Nina G. is part of the Comedians with Disabilities Act (CWDA), a group of comedians in the United States who live with a variety of seen and unseen disabilities. As an ensemble, the group made it their mission to use comedy not just for laughs but to normalize what it's like to live with a disability.
Both with the group and on her own, Nina G. travels to comedy clubs across the U.S. and speaks at various conferences where she seeks to dispel the stereotypes of disability.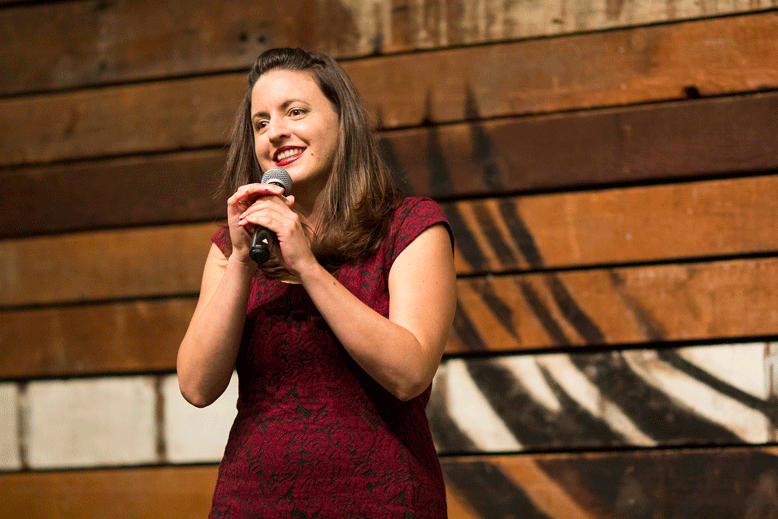 Although there has been an increasing amount of representation of disability in film and TV, the representation specifically in the comedy scene has been sparse. The purpose behind the work of Nina and her group is to highlight authentic experiences about living with various disabilities. By doing so, they also aim to create space for marginalized voices, which echoes the United Nations Sustainable Development Goal of Reduced Inequalities.
"We need better representation in all forms of media," Nina G. said, "but especially in entertainment. It is important that audiences and comedy producers see disabled comedians spotlighted and, hopefully, they will see that we are hilarious and can sell out a show."
The group spotlights a broad spectrum of disability by highlighting a range of disabilities such as Dwarfism, amputation, addiction recovery, OCD, depression, anxiety, PTSD, Autism, Tourette's syndrome, spina bifida, spinal muscular atrophy, multiple exostoses, hearing loss, cerebral palsy, epilepsy and blindness. In addition to Nina G., the group includes comedians such as Mean Dave, Jade Theriault, Willie Travis, Tut McCulloh and Steve Banner.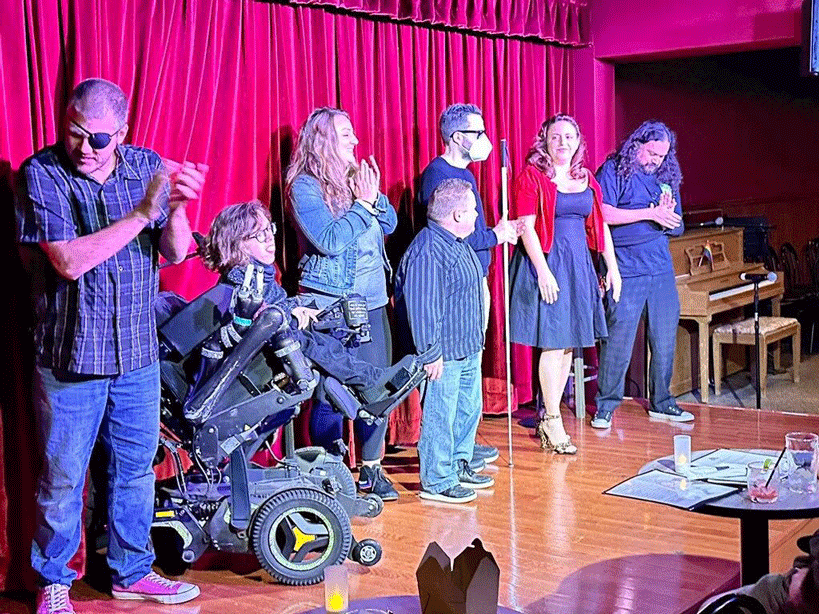 This month alone, the CWDA has highlighted more than 16 comedians with disabilities on stage. The shows have disabled and non-disabled audience members, including professionals who work in the field of disability.
"It's cool to have an audience of people who are expecting disabled comedy and they have a basis for it," Nina G. says.
The 48-year-old comedian also hopes to normalize disability and break down stigmas through her memoir, Stutterer Interrupted: The Comedian Who Almost Didn't Happen, which was released in 2019.
After receiving encouragement to pursue her dream when she was younger, Nina started professional comedy about 13 years ago through the San Francisco Community College. From there, she started performing at open mic shows and clubs.
A year later, she joined the CWDA, which was established in 2010 by Michael O'Connell, a Sacramento-based comedian with a mobility disability. "He wanted to highlight disabled comedians and their perspectives as well as to educate audiences," Nina G. says.
The name, Comedians with Disabilities Act, is a play on words, based on the Americans with Disabilities Act.
O'Connell passed away several years ago unfortunately, but his legacy lives on through the work of Nina G. and the rest of the CWDA.
They are among many comedians who use the stage as a platform to normalize disability. Instead of making jokes at the expense of those who are disabled, these comedians are instead turning the tables by using humour to shed light on disability.
In fact, seeing so many comedians not only accept their disability but fully embrace it on stage had inspired me to pursue a similar journey in comedy.
A few years ago, I decided to take comedy classes at Second City. Soon after that, I found a budding interest in stand-up comedy and I started performing. Similar to Nina G., I also stutter. Being neurodivergent too, I use my comedy as well as an outlet to talk about my lived experiences with disability.
"First off, I should mention that I stutter. I have a speech impediment. So, if you have plans tomorrow, cancel them."
This was often how I began my comedy sets as a way to desensitize audiences to the way that I talk. It was also my way of letting the audience know that I'm not ashamed of my disability and that, in fact, I'm quite open about it.
Comedy is a great mechanism for educating and raising awareness of issues such as a disability. Nina G. echoes this sentiment as well.
"One of my friends, Michael Beers, says that the quickest way to connect with someone is through humour. Humour and disability is a great way to connect with people and I really take what he says to heart," she says.
For Nina G. and the CWDA, comedy serves as a platform not just to entertain, but to bring marginalized voices into the forefront, to break down stereotypes and to normalize authentic experiences among people who live with a disability. "There is no filter in comedy," she said. "With comedy, there is an ability to speak in the way that you want your experiences to be represented."
---
You can visit the CWDA's website at comedianswithdisabilitiesact.com to stay in the loop of their upcoming shows.