Over the years, one of the biggest concerns regarding climate change has been the spike in temperatures and how it would impact life on earth, and recent investigations show that these concerns are quite grounded. As a consequence of rising temperatures, the permafrost ground of the Arctic region is melting, leaving chaos in its passage — cracked homes, ruptured pipelines and bucked roads.
As part of the northern hemisphere with 80 % of land surface covered by tundra and permafrost, the Arctic region is severely impacted by climate change, including Russia, North America and Scandinavia, with temperatures warming two to four times faster and affecting nearly five million people. The new study shows that 70% of infrastructures and 30-50% of critical infrastructures are at high deterioration risk by 2050 — foreseen to threaten life for both civilians and the natural population inhabiting these areas.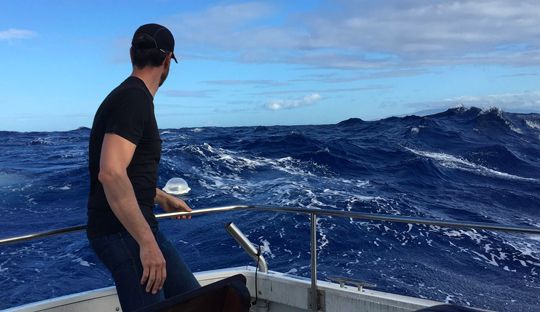 Many Arctic communities are now cloaked in a veil of uncertainty as the recurrent environmental damage affects both the traditional foundations in indigenous villages, with limited land and few options to move, as well as the cities of the Arctic, many situated in Russia, where  80% of buildings are compromised.
As it stands in this region, land degradation is impacting food security, accessibility and traditional lifestyles at an accelerated rate, risking tremendously the well-being of the population.
Moreover, Arctic geologist Louise Farquharson, emphasizes the already dire situation: "If you think about the Arctic, the whole landscape stability is dependent on the threshold of zero degrees Celsius. And as the ground temperature approaches zero, we are seeing huge waves of problems."
In most communities, houses are becoming unstable, water mains are rupturing, and the situation is making it dangerous to be outside. These same communities have lived on this land for thousands of years — their identities, families and sustenance are connected with this landscape, so picking up and moving is not a possibility.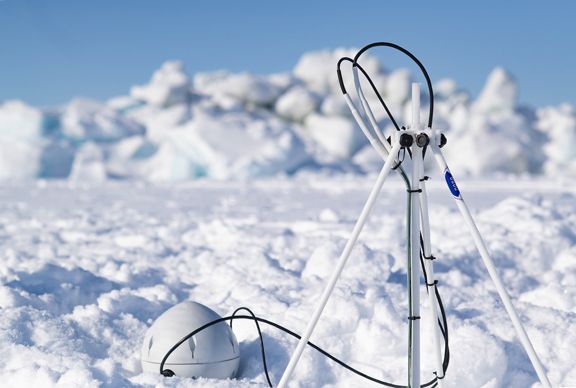 Confronting this issue head-on, interdisciplinary artist Cy Keener illuminates the importance of the topic by blending science, art and technology to convey the situation on land. Since 2018, in collaboration with the research scientist Ignatius Rigor, Kenner developed a project using multiple sensors that provide meteorological and oceanographic real-time data of the arctic glaciers, later used for his art installations.
Kenner is seeking to develop a low-cost buoy device that could enhance the critical database being used in the Arctic Ocean to monitor climate change advances. In the spring of 2019 Keener traveled to the Arctic with the International Arctic Buoy Program (IABP), whose members maintain the network of buoys across the Arctic Ocean. During the trip, the artist was able to install measuring instruments that he later used to create a series of art pieces.
"It's an honor to be involved in this work," Keener explains. "And to use my art to get people to understand what's happening up there."
One of his most emblematic pieces is called Digital Ice Core, a sculpture piece that links a remote field site with a digital light sculpture made of one thousand LED lights, merging electronics, data and satellite communications. The viewers are immersed in a real-time recreation of the ambient light in the air, ice, and ocean.
Keener's art installations breathe and undulate the rhythms of the Arctic land. Sea Ice 71.348778º N, 156.690918º W, which consists of hanging 6-foot-long, blue-green strips of polyester film is a searing reminder of the situation, as its aesthetics reflect the thickness and color of the Arctic ice using collected daily via satellite from the buoys. In this way, Keener's artistic practice perfectly aligns with the United Nations Sustainable Development Goal for Life on Land and Climate Action.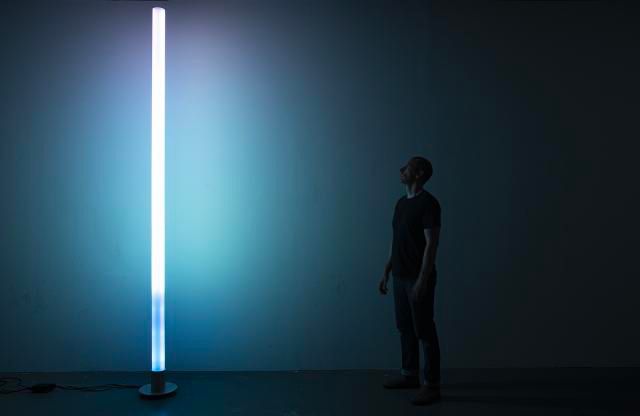 "I think the focus of my art right now is really on trying to find these moments that I experienced outside," says Keener. "These moments of abstract beauty; just trying to find a way to share those with the audience, make those more accessible, bring those into a gallery setting or to a museum setting. To enable people to experience these things, or a version of these things that I have seen outside."
Currently, after winning a grant from the National Science Foundation, the artist is striving to enhance the code and custom circuit being developed since 2016, which will go into the sensors improving his overall project.
Major projects are being developed in the arctic region, from art collectives to science programs, in the hope to revert or prepare for the fast-approaching consequences of climate change. I believe that the collective power of these bright and creative minds can and will be the answer for this alarming crisis, and our individual action will be the missing piece.