The resurgence of textile art in social media sites like Tiktok, Instagram and Pinterest has reignited Generation Z's, or Gen Z's, passion for knitting, crocheting, and other crafting hobbies. The younger generation had found solace in the flexibility and versatility of yarn as a form of creative release.

Aside from fashion garments or decorative home goods, crocheted and knitted items can also manifest themselves as works of art or monumental exhibitions, something that Indonesian textile artist Mulyana showcases in his work.

Mulyana was educated at UPI (Indonesian Education University), Bandung and at Darussalam Islamic Studies Institute (ISID) Gontor, Ponorogo. He took up crocheting in 2006 because it sparked his interest and curiosity. He found the intertwining of science and creativity in crochet to be deeply immersive for him, and has developed his creative process around it.

When asked about his chosen medium, he answered, "I use crochet as it has power and flexibility. It is very good for making shapes. The texture is flexible; it can be as tight and sturdy as needed, depending on how the crocheter uses the hook and materials."

From that point onwards, he made enormous crocheted installations that are inspired by the ocean.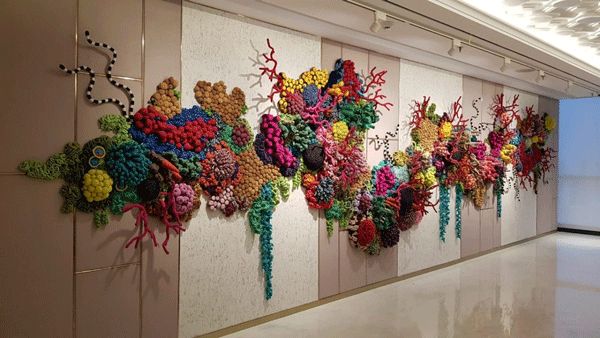 The ocean's diversity makes up 50- 80 percent of the total life on earth. According to the United Nation Sustainable Development Goal on Life Below Water, marine and coastal biodiversity supports over three billion people's livelihood. Undeniably, the impact of the ocean and its biodiversity have very strong influences on mankind.

However, the climate crisis threatens both marine biodiversity and human's dependence on the ocean. An estimated 8 million metric tons of plastic enters the ocean every year. By 2100, there will be a projected 100-150 percent increase in ocean acidity if there are no alterations in our industrial practices and waste disposal.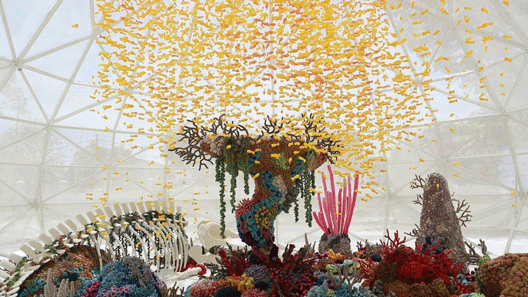 Sea Remembers is an installation that mimics a lively coral reef, full of interesting and colourful sea creatures. Mulyana perfectly captured the intricate details and fascinating textures of the ocean, immersing the audience to this ocean-like exploration and awakening their child-like wonder.

Aside from the ocean, Mulyana derives his inspiration in Divinity. In this work, he reconciles humans' incapability of reaching perfection and the need for God's guidance.
Mulyana said in an interview, "The concept of Divinity is my benchmark, a place to hold on and find balance. We must face up to 'the reality' and 'the unseen'; reality being the neural processing of what the senses receive and the unseen being the processing of feelings."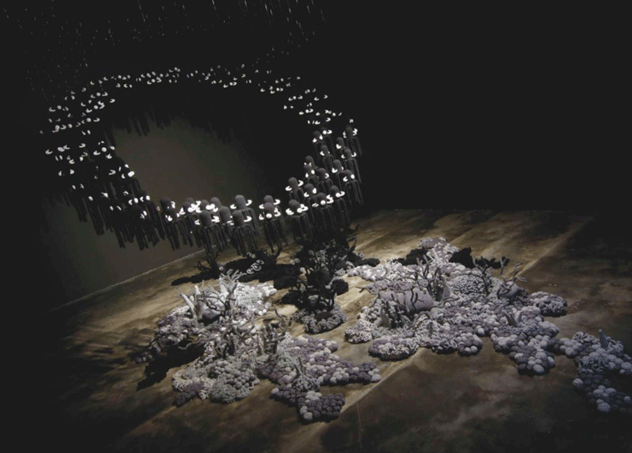 Kosong is a moody and semi-monotone exhibition of Mulyana that juxtaposes his recurrent flamboyant style. The illuminated ring of octopi and the quasi-dark coral structure mirrors the twilight zone of the ocean, in which little light can penetrate.

Truly, this installation is another interactive byproduct of Mogus World, the name he uses to refer to his cultivated biosphere. As Mulyana explains, "I call my work 'Mogus World'. A new mogus will be born, and the coral islands become a habitat where the mogus lives will keep on growing and expanding. New forms of mogus friends will keep on coming, or perhaps mutate into something prompted by an exhibition or by the story I want to tell."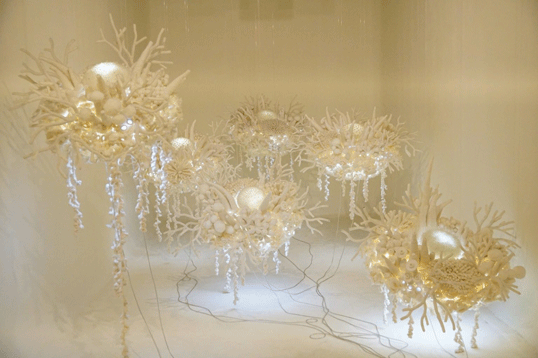 In contrast with his usual colourful and explosive works, Silent Prayer features an all-white exhibition of bleached coral reefs accentuated with dimming lights on a timer. This monotone exhibition displays the deadline for humanity to reflect on their action and the suddenness of death, as he reminds the audience, "Once the lights are off, there's no more hope and no more prayers."

The bleaching of coral reefs poses a big problem for the marine ecosystems that are dependent on it. The International Union for Conservation of Nature noted that 33 percent of reef-building corals are threatened by climate change. This data was affirmed by the UNESCO's World Heritage Centre through their analysis, predicting that all 29 coral-containing World Heritage sites would be gone by 2100 if no intervention towards unsustainable gas emissions is provided.

Besides tackling the urgent need to reassess human's action and its consequences towards coral reefs, Mulyana also incorporates the irony between prayers and inaction.

He said in an interview: "In real life, prayer can be a suggestion preceding meaningful action. With 'Silent Prayers' humans pray for sustainability, but then do the opposite with their destructive actions. Prayer becomes a useless chant. I wanted to convey a message that prayers need a follow up action."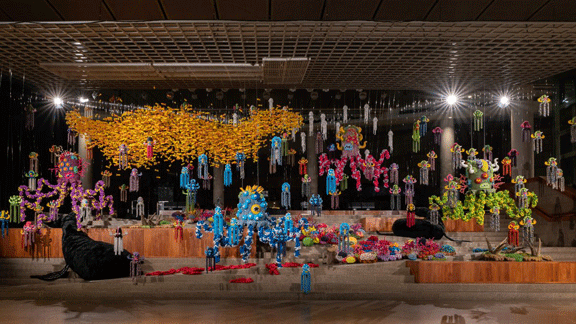 Hopefully, the future generations can still interact with these marine biodiversity out in real life and not just through exhibits. After all, it is not yet too late. The COVID-19 pandemic provides a window of opportunity to cut back overfishing, marine pollution, and ocean acidification. What happens after the pandemic, is entirely up to us.

Mulyana has many other interesting installations. For more information, visit Mulyana's page by clicking here.