Humans hunger. We hunger for excitement, fulfillment, love, success, and freedom. In a more literal sense, we hunger for food. Everyone has, without thinking, said, "I'm starving." Many then have access and means to quickly fulfill that need. Many never know what starving really feels like. Others do.

Hiram Larew started the Poetry X Hunger Initiative in 2017 after retiring from the U.S. Department of Agriculture. He wanted to unite his two passions — poetry and the fight against hunger — in a way that would spark awareness and change.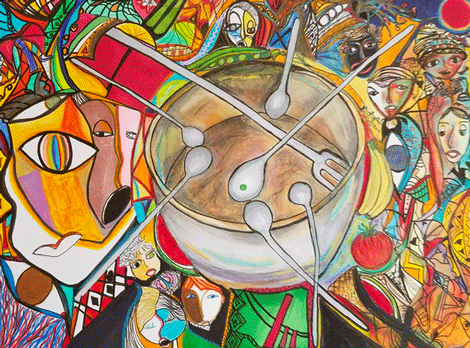 This initiative focuses on poetry's ability to touch hearts and minds and to rally public support to fight against hunger. As an informal initiative, they provide a wellspring of content for anti-hunger organizations.
Larew states, "We hope that anti-hunger organizations will use these poems, free of charge, during their meetings or for their messaging efforts — or even in fundraising appeals."
In 2018, just a year after the initiative was founded, Poetry X Hunger implemented the 2018 World Food Day Poetry Competition, sponsored by the Food and Agriculture Organization of the United Nations.


Vimlendra Sharan, Director of the United Nations' Food and Agriculture Organization's North America Office, said, "Rising hunger and widespread prevalence of food insecurity globally call out for our urgent intervention. Poetry is language at its most distilled and strongest, and thus ideal to inspire empathy and action in the fight against hunger." Hunger is silent, but the initiative is only getting louder.

The second of the 17 United Nations Sustainable Development Goals is Zero Hunger, a goal that takes a hard look at grim statistics. One such statistic states that current estimates show nearly 690 million people are hungry, or 8.9 percent of the world population – up by 10 million people in one year and by nearly 60 million in five years.

According to the World Food Programme, 135 million suffer from acute hunger, largely due to man-made conflicts, climate change and economic downturns. The COVID-19 pandemic could now double that number, putting an additional 130 million people at risk of suffering acute hunger by the end of 2020. The UN's Global Humanitarian Response Plan lays out steps to fight the virus in the world's poorest countries and address the needs of the most vulnerable people, including those facing food insecurity.
The Poetry X Hunger site includes poetry about being hungry, the impacts of hunger on a broader scale, malnutrition, food waste, scavenging for food, and even pandemic-caused or related hunger. Many of these impactful pieces include the poet presenting their work in audio or video format. Larew asserted, "We want the poems to be used to speak back to hunger."

As a worldwide initiative to solve a worldwide problem, the poems themselves are diverse and moving. Poetry can make people understand change is needed in a more personal and intimate way than statistics ever could.
---
Visit Poetry X Hunger to experience the poems firsthand, or click here to learn more about the Sustainable Development Goals.