Amanie Illfated says her name means "to be hated against" in her village language, Kakwa, but when she began her music career, she took on her presumed "ill-fate" in her chosen last name.
"It was supposed to be sarcasm towards those people who think 'you're going to have a bad future,' 'you're going to have a bad fate,'" she says.
"I'm still going to do it anyway, and maybe I'm just going to be this ill-fated person," she tells Arts Help. "But it turned out to be a lot different from that."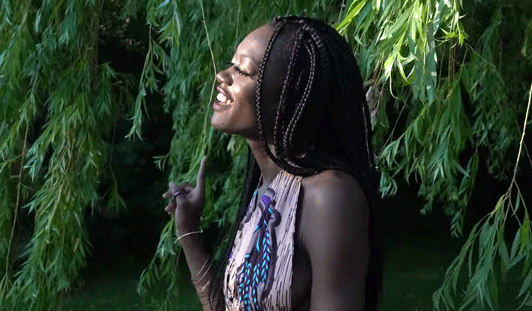 Born in Kaya, South Sudan, and now based in Toronto, the 31-year-old began her career in modeling, but music was always her first love. She also sells handmade necklaces to raise money to educate girls in Ugandan refugee camps like the one she emerged from as a child.
"I got all these opportunities here being in Canada, and it always haunts me to know that there are people who have not gotten those opportunities," she says. "Once that girl gets an education, she will be able to contribute to the community, and you can upgrade a city. You can upgrade a whole country."
Her work embodies the United Nations Sustainable Development Goals for Quality Education and Gender Equality.
When the second civil war broke out in South Sudan, Amanie's family moved to a Ugandan refugee camp in 1992. Fortunately, a church soon after sponsored their move to Regina, Saskatchewan, where Amanie lived for 13 years.
"We got the golden ticket to get out of the country to be able to live in Canada, but a lot of people didn't make it out of the refugee camp," Amanie says.
Living in Regina was, according to Amanie, both a blessing, and a curse. "We had freedom, and we could do a lot of things we couldn't do in South Sudan."
"The one thing that just made it really bitter was the racism," she says. "If you're a poor Black family, you're already at the bottom rung."
Amanie remembers being cut out of birthday parties when the host's mother met her in person. Initially, the parents thought Amanie was white because at that time she went by an anglicized name: Joy.
"When I showed up, the mother looked so concerned," Amanie says. "She said that the birthday party was canceled, but you could see the kids in the back of the house having fun."
Amanie recounts how when she'd be walking down the street with her younger sister and two younger brothers, people in cars would pull over and verbally harass them. "People were intentionally swerving into you," she adds.
Unfortunately, the family of five had many internal conflicts as they struggled with PTSD from the civil war and adjusting to a new country.
"It wasn't safe for me to be there, and I really, really, really wanted to make this music career," Amanie says. "I had to take my chance at Toronto."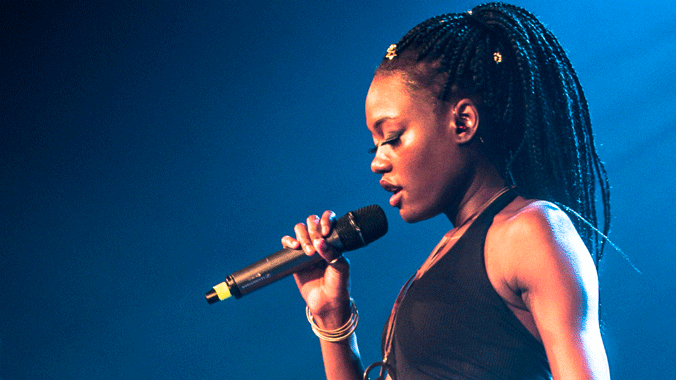 At 16, Amanie moved in with her aunt in Toronto and began attending Scarborough Academy for Technological, Environmental, and Computer Sciences at W. A. Porter Collegiate Institute, where she studied digital music production.
"One of my greatest barriers were my parents and the cultural belief that a girl is not supposed to be doing what I do," Amanie says. "The other is just being Black in the industry."
Amanie says producers expected her to sing specific genres like gospel, but she wanted to make pop music. "I just tell them I should be doing whatever it is that makes me feel comfortable," she says. "If I make the music that I enjoy doing, you'll see my eyes light up, and it's a great performance."
NDO Magazine has praised her performance. "Her music consists of thought-provoking lyrics mixed with spacey R&B synths and fused with rhythmic reggae, afrobeat, and trap-inspired drums and are combined with her signature clear-toned vocals," the magazine reported recently.
In September, Amanie launched her Dreams Collection handmade necklaces, and half the proceeds will go towards educating girls in Uganda. By the end of 2022, Amanie hopes to raise $19,000 to provide high school tuition for 100 at-risk girls, and one year of university tuition for five.
"I want to inspire girls to be able to stand up for themselves and know at least one person from their village or their area did it, so they can too," she says.