Contemporary British visual artist, Donald Rodney (1961-1998), suffered from sickle cell anaemia throughout his life and used art to express his disease as a metaphor to foreground the nature of societal ills in Britain, particularly the treatment of the Black community. This metaphor represents the "disease" of racism. Here disease emerges as an actual affliction of the body and as a social malady of a bereft society attributed to the social construct of race. Using the notoriety of racism as his foundation, Rodney embarks on an exploration of racial identity, slavery, the African diaspora, heritage, police brutality and the precariousness of racial and ethnic minorities.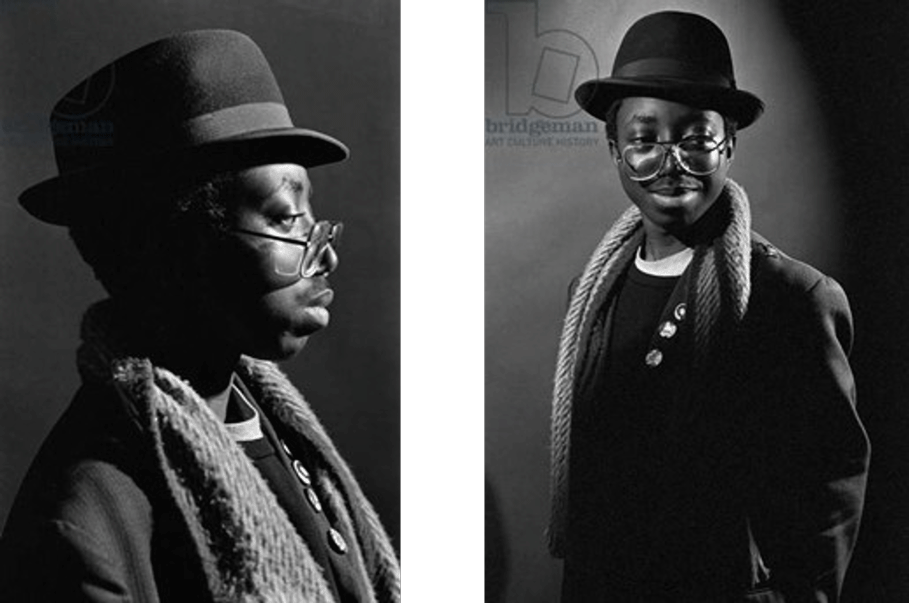 Sickle cell disease is a comprehensive term that includes a group of hereditary disorders, namely, sickle cell anaemia, sickle cell trait and sickle cell variant. Sociomedical racialism framed Black bodies, and the blood of people of colour, as inherently diseased. Multiple sites of racial, political, and economic oppression ensued from this paradigm on the basis of that which was deemed "biologically and scientifically factual."
The demonisation of certain racialised bodies as vectors of disease is dangerous as it not only results in the erasure of bodily suffering when such bodies are confronted with actual disease, but it also generates feelings of fear and dis-ease, that is, discomfort in other populations that they may be (falsely) "contaminated" by these bodies that have been framed as diseased or likened to disease.
In the House of my Father is a photograph of Rodney holding a generic house made from his own skin, following numerous operations for the treatment of sickle cell anaemia. The house itself is a separate piece titled My Mother, My Father, My Sister, My Brother. The house signifies the artist's own disease and the fragility of his body, that if it were to be exposed to anything other than tenderness and great care, it would succumb to damage.
In Rodney's In the House of my Father (1996-1997), the ontology of interdependence then displaces independence and undermines it on the basis of its fictionality; a fiction that all bodies cannot bear. Care as a concept and the act of caring, demands that we embody an interconnected way of living that cultivates softness and solicitude. The work is a reflection of life as characteristically finite and delicate, while also delving into the substance of kinfolk, inheritance, race, illness.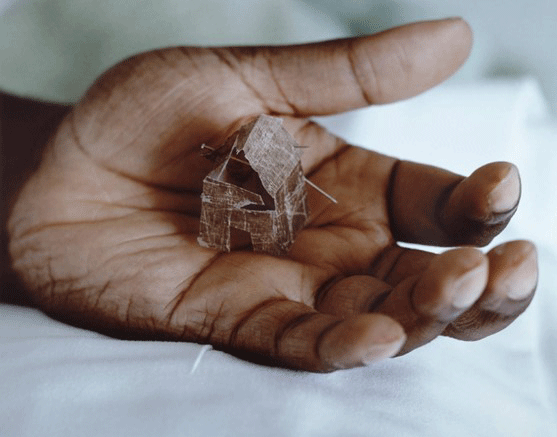 Psalms (1997) is a motorised wheelchair supplemented by a computerised programme, intended to serve as the personhood of Rodney who could not physically attend the opening of his own solo exhibition due to being hospitalised for sickle cell anaemia. The motorised wheelchair embraces various absences and a substitute presence concurrently. The wheelchair symbolises general disablement and the manner in which ableism and systemic racism intersect to engender the invisibility of disabled persons and pathologize Black and Brown bodies of colour. Psalms confer importance to spatial accessibility and being in place for those bodies that cannot be in a particular space at a particular time.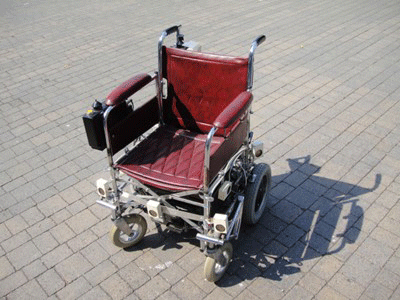 Transitional states of hope and atrophy are represented in Land of Milk and Honey (1997). This artwork of copper coins, milk and honey encased in glass formed part of Rodney's final exhibition, 9 Night in Eldorado, meant to serve as a eulogy for his father who died 3 years earlier. Land of Milk and Honey references the expectations of greater social and economic opportunities that often accompanies immigration to developed and wealthy Western countries, while also representing those processes of decay that relate to the physical alteration of an ailing and moribund body.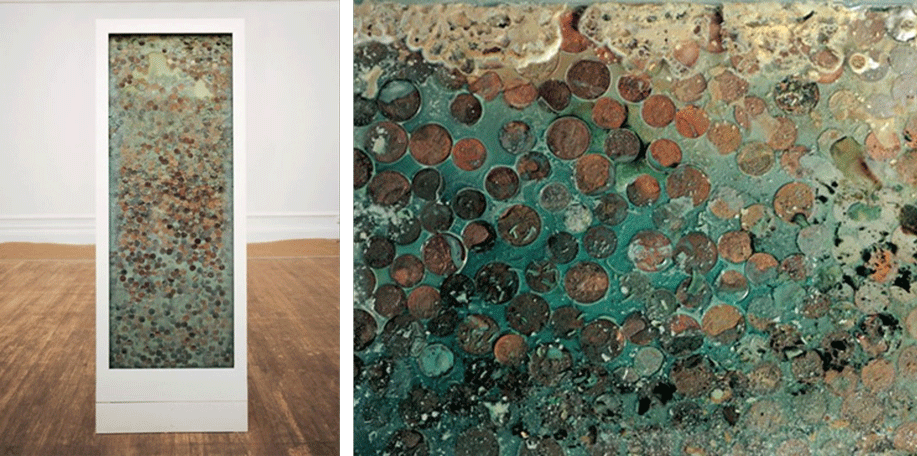 "When I take in Rodney's images, I can feel and hear my own blood flowing and rushing. His art creates this irrepressible sense of human connection: the personal perspective; the collective fight for equality; the infinite potential to flourish," says George The Poet in an interview with Elephant.
By subverting the racial specificity of sickle cell anaemia and capturing the intersections of race, class and disability, the artworks by Donald Rodney emulate the United Nations Sustainable Development Goals of Good Health and Well-Being and Reduced Inequalities.
The oeuvre of Donald Rodney possesses a dualistic denotation, incorporating themes of sickness and vulnerability while simultaneously highlighting the marginalisation of Black bodies, and mourning the loss of Black lives. Rodney's artworks specifically present a counter-visuality of sickle cell anaemia, that invokes racial justice and destabilises problematic racialised tropes which have rendered sickle cell anaemia as a disease of the Black body.
See more artworks by Donald Rodney here.