Ever since she was a child, Nora Wylie has been drawn to tiny things, collecting everything from tiny accessories for her dolls and stuffed animals to miniature furniture for her dollhouse. Wylie, a second-year student in fine arts at the University of Ottawa, started to refurbish her childhood dollhouse around the fall of 2020 while making a positive impact on the environment.
Textile waste is a growing issue. North Americans send over 10 million tonnes of clothing to landfills every year, statistics from Waste Reduction Week in Canada show. 95 percent of these clothing items could either be reused or recycled, according to the same data.
To reduce her environmental impact, Wylie repurposes her old clothing— an eco-friendly technique known as upcycling—to build a collection of furniture for her dollhouse. Wylie's approach to design making aligns with the United Nations Sustainable Development Goals, namely Responsible Consumption and Production and Sustainable Cities and Communities.
In an interview with Arts Help, Wylie talks about her project and the importance of making art that is sustainable.
---
The details and precision that go into tiny furniture are really fascinating. I really enjoyed browsing your Instagram page. How did you learn to make and design miniatures?
Honestly, probably YouTube when I was a kid. That definitely helped, watching other people do it. When I got into it a bit more seriously, I liked playing with different fabrics and how stuff fits together. I really like to do mid-century pieces, so looking at like old catalogues of furniture from the time period that I like to make things from.
Often, I'll do a pattern with some cardboard and do just a mock-up version first to see how it will fit together. And then once I have that, I can start using the actual wood.

What's a specific time period that inspires you when making furniture?
I really love 1950s furniture. I think it's super, super cute and super fun. I love all the colours and the really wild textures.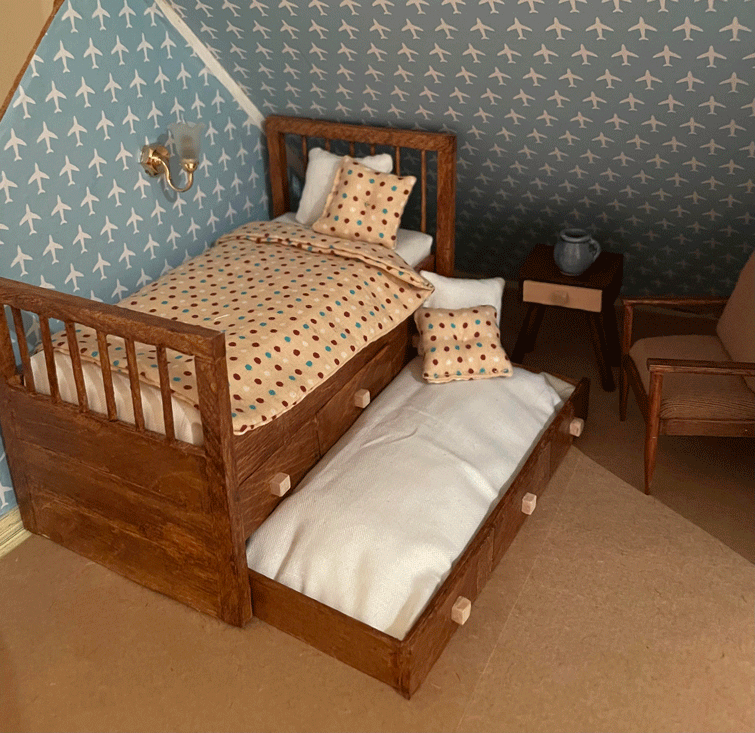 Let's talk about your dollhouse. What made you take on this project?
So, I got a dollhouse when I was young. My first dollhouse I think I got when I was probably about eight and it was really, really beautiful. It was a dollhouse kit kind of thing. My parents bought it, I think, from Kijiji or something second-hand. So, the person had half-filled it and the rest of it still had to be built. I guess when I was little my parents didn't have a lot of time to work on it with me. So, we never really got to actually finish it. So, that's kind of always been like a childhood dream to finish it and have it look really good.
Another thing that got me into making furniture was that furniture is so expensive for dollhouses, really nice furniture is quite expensive. So, it's nice to make your own and customise it to how you want it.

How do you make sure this project is not having a negative impact on the environment, in terms of reducing waste?
When I'm creating, I like to look at the things I already have and what I can make out of them. I think about what piece a material could become rather than thinking of a design and then looking for the materials to fulfill that design.
As far as sustainability, I try to eliminate my textile waste, which is a huge problem. Wood can often be recycled again, which is nice, but oftentimes, textiles can't really be recycled and they get thrown out into the trash. I try and save my scraps from things and use those.
I also really like to go second-hand fabric shopping as well. If there is something that I don't have that I need to get, then I'll often do that. And I try and look for things that other people wouldn't really want to use as well, which I think is important. So, for example, if I'm looking through clothes at the thrift store, I'll try not to pick something that someone else could wear whereas things that are more stained or have rips that would probably end up in the trash.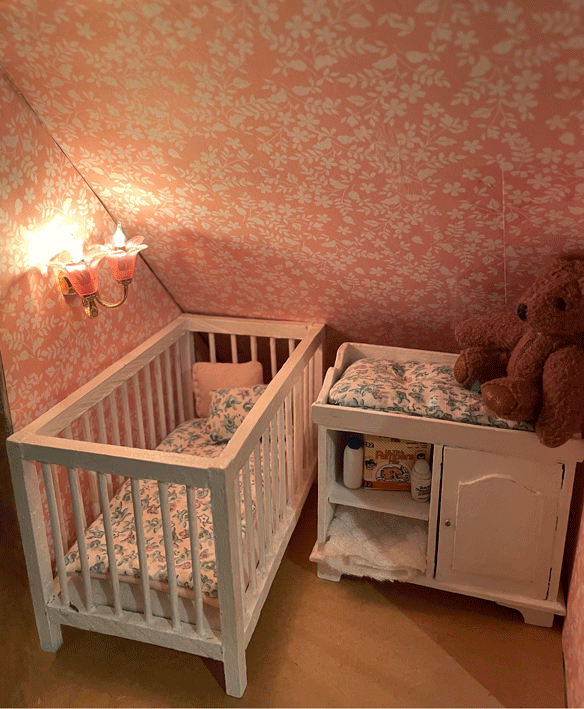 What has driven this sustainability-focused approach to making art?
The environment is really important to me. I think if we're producing something new, then we should be producing it with materials that are not causing harm to the planet.
I try to be sustainable in other ways too, like with my own clothes. So, it just feels weird to try and be sustainable in a lot of different ways. And then when you're actually going to create something to not do that.

Yeah, I understand. It's this idea of being sustainable both as a consumer and a creator.
Yeah, exactly.

What are your long-term goals with either furniture designing or creating in general?
I don't think I'll be able to get a job as a miniaturist, as much as that would be fun. But it will always be something that I'll enjoy doing for myself. I definitely would like to become a designer of some sort whether that's graphic design or web design.
---
To see more of Nora Wylie's art and design, visit her Instagram page.