In her exhibition Censorship and Autocensorship – I bite my tongue at the Vancouver Art Gallery, Iranian artist Shahla Bahrami explores how food and culture inform both censorship and oppression. In particular, issues pertaining to that of artistic freedom and the censorship of art. The two are intricately linked and indeed inform the other. The exhibition consists of 3 works: Shaer, Nevissandeh, Rooznamehnegar / Poet, writer, journalist, (2021), Hich o Pooch / Nothing and void, (2021), as well as Honar va Honarmand / Art and artist, (2021).
In each of the images, inscriptions in Farsi can be seen on each food item. Said items are then juxtaposed on a black background, devoid of any distractions. The black against the brightly lit foreground not only makes the objects stand out, but also makes them seem "cut out," as if from a magazine. The captions are from a sentence or a poem taken directly from Bahrami's journal.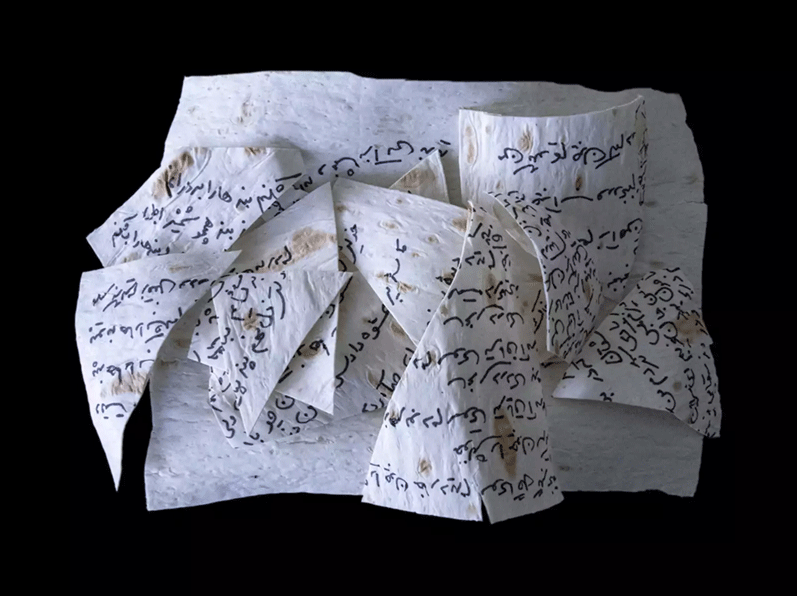 In utilizing food as her main subject, Bahrami links the mundane – the act of eating – to something much more conspicuous: cultural control, violence and suppression. As she aptly describes it, "If speech takes the form of an opening, a gift, an extraction of oneself, eating is on the contrary the movement of a return to oneself, of a compression, of a disappearance into the flesh."
Food also serves as a means to solidify Bahrami's own identity. A homage not only to her cultural identity, but also to her own experience as a diasporic woman of colour peddling the discourse surrounding censorship, surveillance and artistic freedoms.
As Zoe Chan, curator at the Vancouver Art Gallery, writes, "Through the juxtaposition of food and the written word, Bahrami deliberates on the roles of the individual and of the collective in consuming the culture of others, limiting self-expression, and, as her title starkly indicates, the censorship of language and artistic creativity."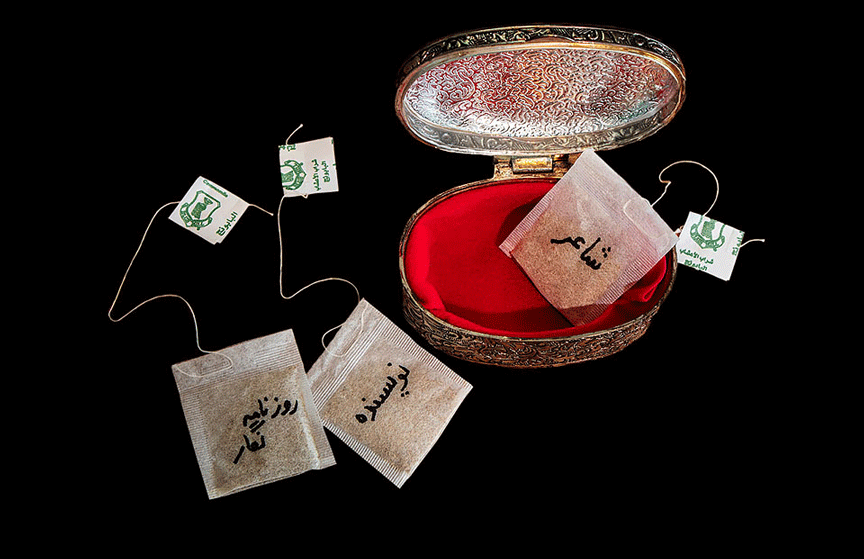 "Metal box covered with a red cloth, referring to confinement. Three tea bags, one inside and two next to it, illustrate detention and isolation," Bahrami describes. In Shaer, Nevissandeh, Rooznamehnegar / Poet, writer, journalist, the tea bags illustrate not only detention and isolation, but represent Nevissandeh and Bahrami as well and their identity as Iranian women. The red lining inside is symbolic of the female body, as it is the colour most frequently associated with fertility.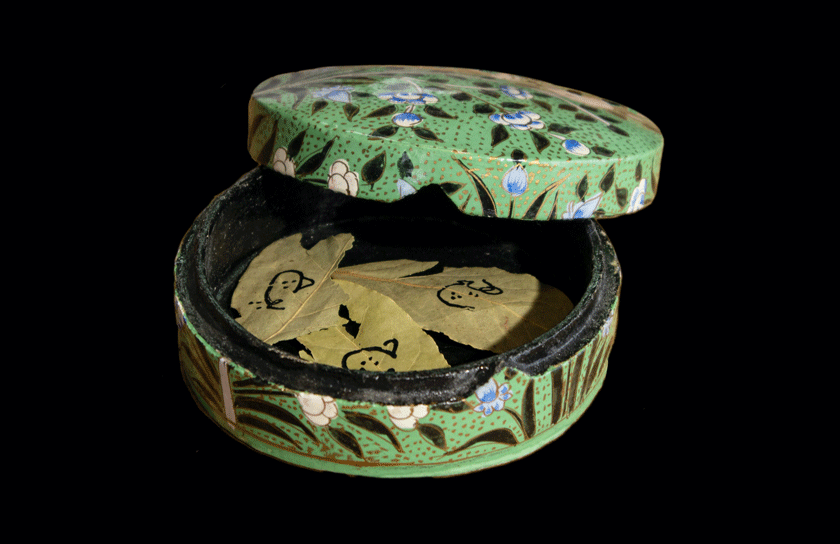 In Hich o Pooch / Nothing and void, the artful placement of bay leaves inside a circular jewelry box again symbolizes Bahrami and the many Iranian women much like herself. "Bay leaves placed in a jewelry box, 'hich o pooch' meaning worthless. Even writing is worthless if kept in a jewel box," Bahrami remarks. She likens herself and these women to bay leaves; beautiful, but without purpose if unseen and kept in a jewelry box, kept from the world.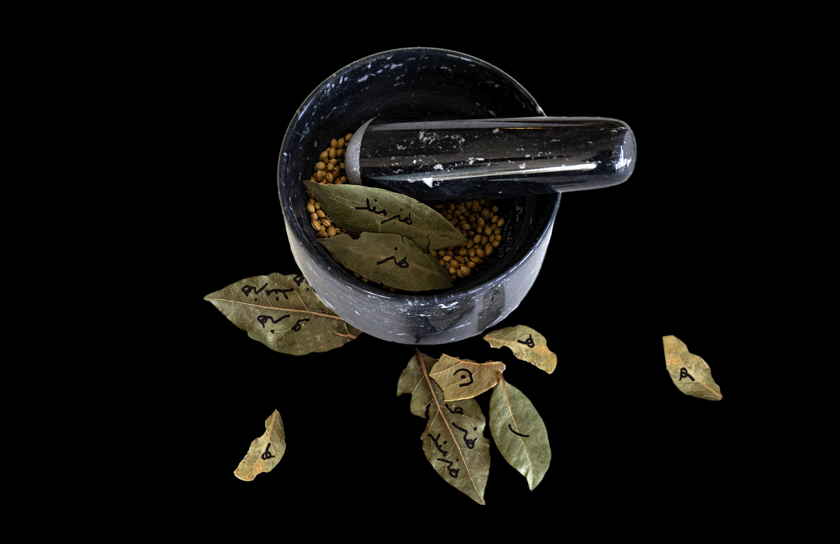 "Bay leaves in a mortar filled with coriander seeds. The censored artist feels crushed, which I have already felt with my works censored in Canada and France," Bahrami explains. In Honar va Honarmand / Art and artist, Bahrami's suffocation is made obvious with the physical representation of herself – the bay leaves – grinded along with the coriander in a mortar. Her censorship extends not only to her artistic freedoms but also to her autonomy as an individual.
In regards to the United Nations Sustainable Development Goals, the work of Shahla Bahrami relates most directly to Gender Equality and Reduced Inequalities. Her work specifically champions gender equality by overtly pushing back against the cultural oppression surrounding that of Iranian women. Art, albeit silent, has been a powerful force in opposing not only culture but political adversity. Art was and will always be used as an oppositional force, influencing not only culture but politics, religion, technology and the like.
Shahla Bahrami's work brings to light otherwise absent narratives of censorship – absent like these freedom narratives are in the Iranian context. Through a fusion of art, food and culture, Bahrami renders the otherwise unseen, seen.
---
Censorship and Autocensorship – I bite my tongue runs from Apr 1 – Aug 31, 2022 at the Vancouver Art Gallery. View more of Shahla Bahrami's work here.