Detroit, Michigan, is a tale of two cities, as many have noted. Economic rebirth and restaurant revival since emerging from bankruptcy in 2014 have received national praise and been hailed as major achievements for a city that has been shorthand for urban blight and crime. Nevertheless, as Detroit has rebounded from decades of decline, the new construction, redevelopment projects, renovated housing and jobs in the city's central cultural and tourist districts have not benefitted the city's poorest residents.
African Americans make up nearly 80% of Detroit's population. Toxic waste from landfills, power stations, and sewage systems due to racial discrimination in policymaking has run rampant especially in outlying neighbourhoods on the city's southwest side. In these communities, the homeless are even more vulnerable to the effects of environmental hazards.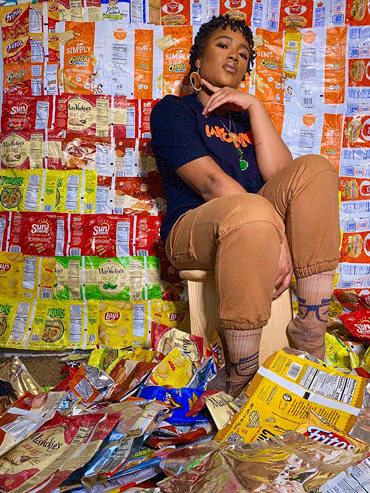 Poverty and food insecurity combine with the limited number of affordable grocery stores and fresh food availability compared to an abundance of fast-food options and liquor stores. Air pollution, toxic waste, as well as land tenure insecurity and gentrification, are issues that have long plagued the city where the poverty rate is three times higher than the national average. Environmental racism, defined by Green Action as "the institutional rules, regulations, policies or government and/or corporate decisions that deliberately target certain communities for locally undesirable land uses", disproportionately exposes people of colour and impacts entire neighbourhoods.
Working at the forefront to raise awareness of environmental racism and promote environmental justice in Detroit is Eradajere Oleita, a Nigerian-born 25-year-old environmental activist, community coordinator, businesswoman, author and social media manager. Oleita is the founder of The Chip Bag Project, collecting empty chip bags and turning them into sleeping bags for homeless Detroiters.
In a January 21, 2021, interview with Rachel Thomas of HOUR Detroit magazine, Oleita said the idea came to her after she saw a Facebook video of a woman in England showing viewers how to iron chip bags together to make sleeping bags. Inspired, Oleita decided to use that method to make her own sleeping bags and The Chip Bag Project was born in mid-December 2020. Oleita's activism on behalf of the Detroit community draws on the United Nations Sustainable Development Goals (SDGs):  1. No Poverty, 2. Zero Hunger, 3. Good Health and Wellbeing, 9. Industry, Innovation, and Infrastructure, 10. Reduced Inequalities, 12. Responsible Consumption and Production and 13. Climate Action.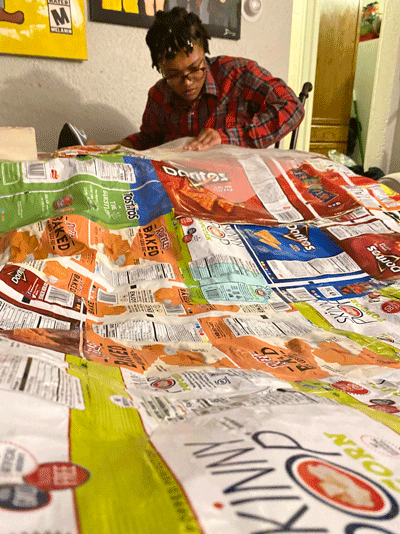 The Chip Bag Project combats local plastic waste while providing relief to those in need from the harsh cold of a Michigan winter. Since 2016, Oleita has worked to create awareness and educate Detroiters about environmental racism and inequalities, explaining the connection between environmental justice and social justice. The Chip Bag Project combines her love for sustainability and her community. For the sleeping bags, Oleita accepts donations of empty, foil-lined chip bags of all brands and sizes.
According to Oleita, chip bags are durable, lightweight and great insulators. Each sleeping bag requires some 150 chip bags and takes about four hours to produce. Initially, Oleita made the sleeping bags on her own, but she has since enlisted the help of a team of volunteers. Before assembling the sleeping bags, they soak them in soap and hot water for a day to clean and soften them. Then, Oleita and her team cut the bags open and iron them to seal the bags together. For comfort and more insulation, they line the inside of each sleeping bag with foam and padding from old jackets and coats.
To date, The Chip Bag Project has collected 9,000 chip bags and created 60 sleeping bags. In addition to empty chip bags, Oleita also collects foil-lined pet food bags and candy bags. She accepts donations of new and used sleeping bags, umbrellas, socks, shoes, hats and jackets to create "emergency packs" that she and her group of volunteers distribute around the city to people they see sleeping outside. New jackets are given to those in need while old jackets are used to line the sleeping bags. Monetary donations go toward purchasing additional items to pass out. Oleita works with local homeless shelters and youth organizations to donate and distribute goods.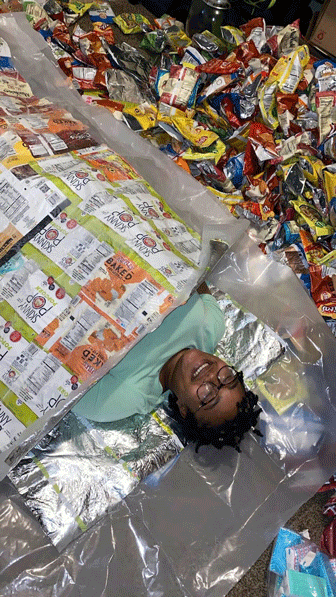 Environmental activism was an important part of Oleita's life long before she saw the video that inspired The Chip Bag Project. Her efforts have focused on air pollution in the 48217 ZIP code and the consequent health implications southwest Detroiters experience living there. Considered the most polluted ZIP code in Michigan, the area is home to Marathon Petroleum, one of the nation's largest oil refineries.
Over the last five years, Oleita has served as an AmeriCorps Green School Coordinator for the Youth Energy Squad, a program of the nonprofit EcoWorks, that educates youth on making their communities more sustainable, supporting Detroit residents, institutions and neighbourhoods in the achievement of environmental justice and sustainability.
Founded in 1981, EcoWorks is a Detroit-based environmental nonprofit that helps create just, equitable and inclusive solutions to climate change and other community sustainability challenges. Oleita also works to educate others on sustainable land and water use as a resident Ambassador for the Land and Water Works Coalition led by Detroit Future City, a non-profit think tank, implementation office, policy advocate and innovation engine founded on the principles of inclusion, community and the development of data-driven strategies to advance the quality of life for all Detroiters.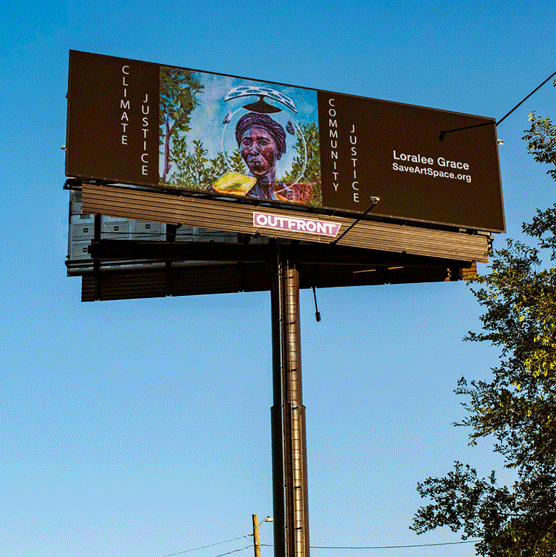 More recently, Oleita and The Chip Bag Project teamed up with the local art non-profit SaveArtSpace to launch At Whose Expense?. It is comprised of six billboard "ads" across Detroit that feature the work of six local and national artists provoking thought about both environmental racism in the city and the intersectionality of social justice and environmental racism.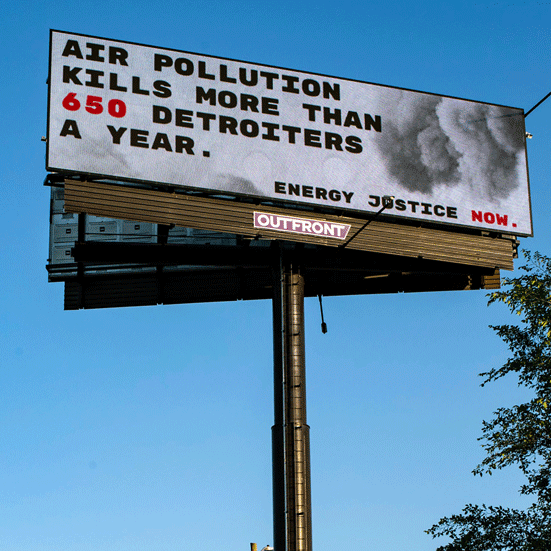 At Whose Expense? is a public art billboard exhibition in collaboration with the Detroit Chapter of SaveArtSpace, a non-profit organization founded in Brooklyn, New York, in 2015 that transforms advertising space into art for local communities by creating an urban gallery experience prioritizing culture over commercialism. The six billboards pose the question, "At Whose Expense?" directing it toward corporations, developers, government agencies, and individuals. The question implies the need for accountability, change and healing for the years of harm inflicted on historically marginalized communities with the theme of "climate justice is social justice."
"We keep using big words to explain a visual problem, if it's happening, SHOW them!"  Oleita says of the idea and the exhibition. "Now is the time for artists of all kinds from every community to come together and bring their light out into the streets."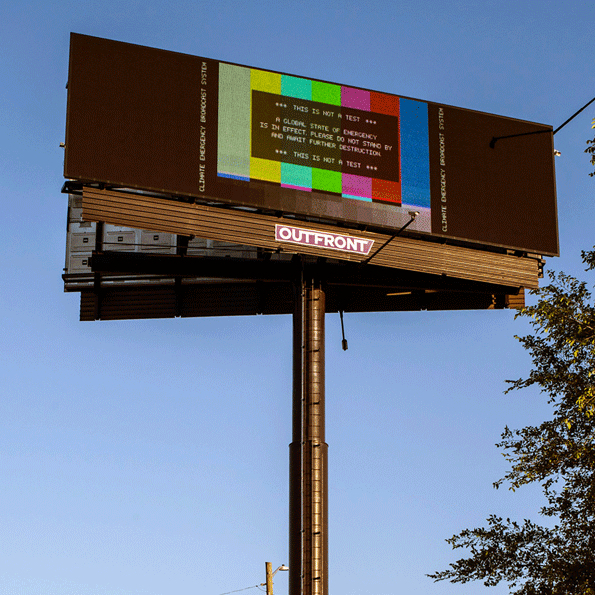 The At Whose Expense? designers are Loralee Grace, Bryce Detroit, Liz Kennedy, Nori Whisenand, Kristin Alexis Shaw, and Rosa Maria Zamarrón. Each work in the exhibition was on view from June 7-July 4, 2021, on billboard ad spaces throughout the city. Along with The Chip Bag Project, the At Whose Expense? billboard installation both reflect Oleita's commitment to raising public awareness of the injustices of environmental racism, waste and homelessness that are not always connected in mainstream conversations about Detroit.