As more and more people move to urban areas, there is an increasing need for sustainable architecture to combat urban pollution. According to the United Nations Sustainable Development Goal (SDG) 11, Sustainable Cities and Communities, more than ½ of the world's population lives in cities and those areas account for "70 per cent of global carbon emissions and over 60 per cent of resource use". Green homes and eco-friendly cities will become more and more important in the battle against climate change.
UN SDG 11 is committed to making cities safe and sustainable. The goal includes reducing the environmental impact of cities, including green spaces and paying attention to the special needs of the vulnerable, such as women and children.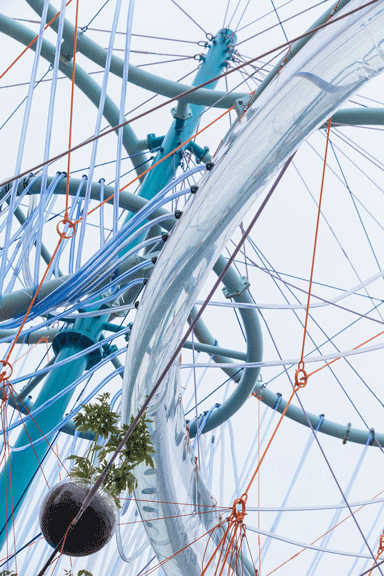 To make this happen, we need to start a dialogue around what materials we use to shape our buildings, how those structures are serviced and where they are placed. For thousands of years where and how we live anywhere in the world has been shaped by the local culture and its defining politics. But those decisions have more often been in favour of commerce than the well-being of the people or the environment.
Architect and artist Andrés Jaque has chosen to bring this imbalance to the forefront through his compelling art installations and unique buildings. His company name The Office of Political Innovation doesn't include the word architect because he sees his work as including the disciplines technology, sociology, politics as well as engineering. The company describes itself as "working at the intersection of design, research and critical environmental practices."
As the environment becomes less stable and geopolitical tensions mount, Andre feels that "architecture is in the best disciplinary position it has ever been to shape the present and propose potential scenarios for the future."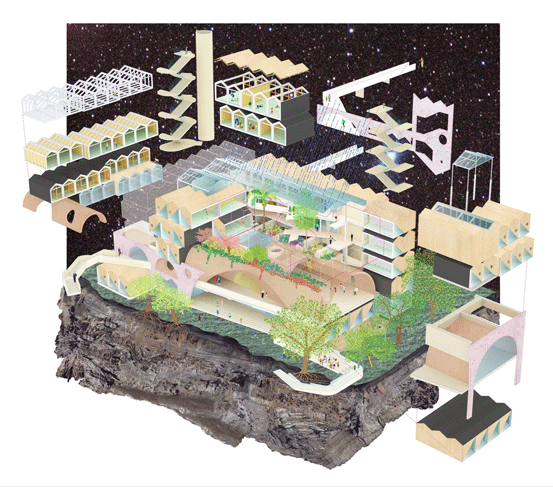 The Reggio School or Colegio Reggio Explora is an excellent example of his mission. The multi-level school, set to be completed by 2021, is built around an indoor forest and encourages children of all ages to interact with nature and to learn how the building works within that ecosystem. It was inspired by the idea that through self-direction children can learn to manage unpredictability and new challenges. He designed a perfect environment for the next generation to develop skills to manage an uncertain future.
Andrés' artistic endeavours are just as educational. In 2015, for the MOMA PS1 event, his firm produced COSMO, a massive water purification structure that demonstrated how dirty water can be purified with sunshine and plants vs chemicals. The resulting clean water is used to support a small ecosystem within the structure.
The water pipes that provide water to New York City's residents are all underground and are invisible in everyday life. Andre wanted to bring the subject of water use and how we relate to water to the forefront. He also encouraged visitor participation by developing an app for smartphones that allowed the user to track the water purification process.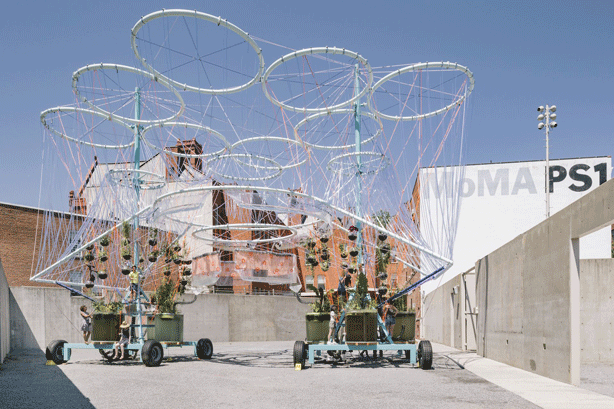 In a unique performance exhibit called IKEA Disobedients, Andrés decided to dispute IKEA's catalogue depiction of the ideal home as a safe haven from the world. Instead, he wanted to show that a typical home is a centre of individual political decisions connected to the surrounding culture. Encouraging public participation, he collected stories and pictures of real people from around the world using IKEA products in their unique way.
As a result of the media attention given to this project, stories from people facing eviction due to austerity politics in Europe in 2008 were revealed. Public recognition led to protests which led to the storytellers being able to keep their homes. By bringing the conversation of how we live to the table, Andrés was able to create social change.
Finally, in a 2019 exhibition at The Whitechapel Gallery called Is This Tomorrow?, Andrés paired with artist Jacolby Satterwhite to produce a video exposé on the negative changes to urban society in New York brought on by pollution, neoliberal practices and over-commercialization. Not one to back down from an awkward conversation, Andrés continues to push us to talk about what our societies have become and what they need to be to face the challenges ahead of us.
To Andrés, architecture is more than just buildings and boxes. It is a reflection of our culture and as such, political, economic and ecological issues need to be considered for design to stay relevant. As our cities continue to sprawl and the climate crisis advances, his work reminds us of all that we need to do to protect the cities of the future.
For more examples of his remarkable designs, visit The Office of Political Innovation's website.