September 24th marks the date that South Africa celebrates Heritage Day. South Africa is affectionately dubbed the rainbow nation because it comprises several cultural heritages and has 11 official languages - one of the highest numbers out of any country. It is a day where people from across the country celebrate their culture in many different ways, such as wearing their cultural regalia as a badge of honour, cooking the food of their ancestors, retelling old folklore stories that were passed down by their forefathers, displaying artwork that is symbolic to their respective unique cultures, and so on.
In honour of Heritage Day, this article highlights, commemorates and applauds Dr. Esther Mahlangu, an internationally renowned artist who paints in her signature Ndebele style. Mahlangu is one of Africa's most prominent, respected and recognised artists. Through her artwork, she has made an immeasurable contribution to the celebration of Ndebele heritage, ensuring that traditional African artwork is taken just as seriously as Western art forms.
Mam'Esther is one of the most prolific South African cultural ambassadors. Through her work she addresses the United Nations Sustainable Development Goal on Sustainable Cities and Communities. As stated in an article in South Africa History, Mam'Esther is following "traditions passed down from her mother and grandmother, [from whom] she learned traditional Ndebele wall painting and beadwork as a child."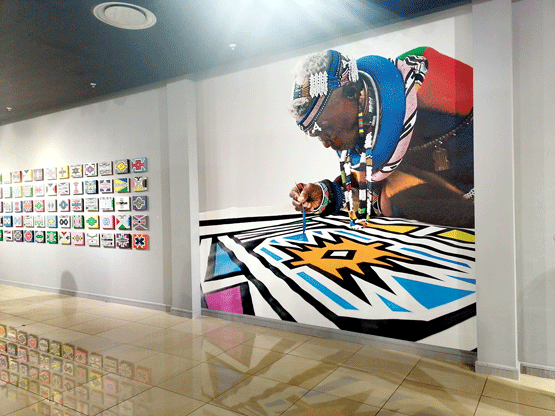 Mam'Esther has demonstrated a passion in spreading her Ndebele heritage across the world. Her work serves as an homage to her cultural heritage, adding her own unique twist. The perfect precision with which she draws her geometrical patterns freehand makes her artwork as magnificent, majestic and mythical as the pyramids of Giza or the breathtaking sculptures of the Nok tribe.
Born in 1935, Mam'Esther has been painting for over 75 years, and has had an illustrious career. She grew up under the oppressive apartheid South African regime, but against all odds, she worked hard and stayed true to the art of her ancestors, managing to make an enormous contribution to the art world. In the words of The Melrose Gallery, Mam'Esther was "a disruptor from an early age, becoming the first person to reimagine Ndebele design that is traditionally used for decorating houses on contemporary mediums."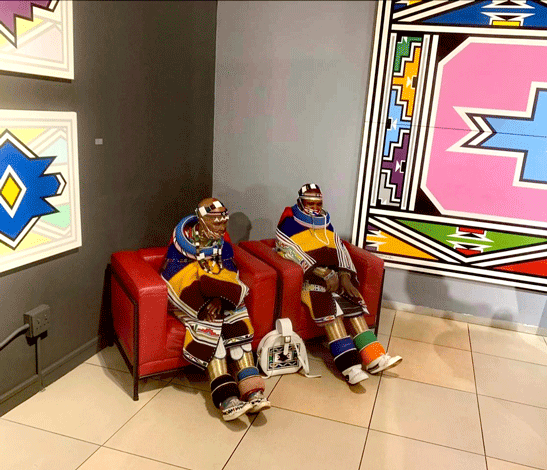 She first gained international attention in 1989 when her paintings were noticed by French researchers, who subsequently invited her to participate in an exhibition of international contemporary art called Magicians of the World. Her first international  exhibition took place in France in 1989 and since then, she has been a force to be reckoned with, and her artwork has challenged the Western standards of what constitutes good art. In addition, her individuality has ensured that she is able to get into spaces that were previously inaccessible to African artists, as a result of this, she has opened doors to upcoming young African artists.
She has always been a pioneer in the artworld. In 1991 she was commissioned to participate in the BMW Art Car Collection, she was the first woman to be bestowed with this exceptional feat. She has lived a life of a disrupter, game changer and innovator, but has remained true to her art style. She has managed to stay relevant through her career, which is still ongoing even as an octogenarian. During her illustrious career Dr Mahlangu has collaborated on various projects, including a collaboration with John Legend and Belvedere Vodka. She was also commissioned to partner with other car brands such as Rolls-Royce and Fiat, and put her magic on Eytys Sneakers for Paris Fashion Week.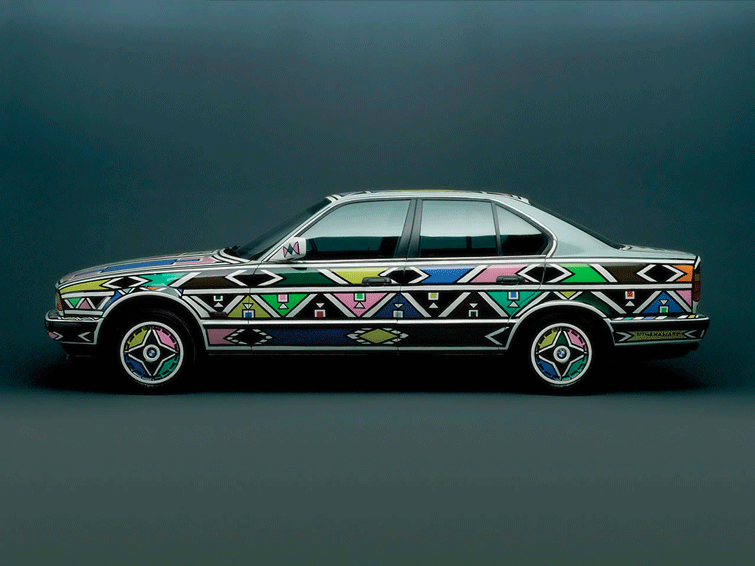 The world is heading towards becoming one big village, and amidst all of this globalization it is easier than ever for people to lose their culture. "I am surprised that people are running away from their own culture. Our culture is good," says Mahlangu in an interview with The Guardian. It is critical for young people to embody the ethos of Mahlangu by preserving their cultures and passing it down to future generations.
As a global icon who spreads her cultural heritage to all corners of the earth, she has acted as a gatekeeper who actively safeguards the art forms that have been passed down to her by her forefathers. This is done to ensure that her heritage is not distorted, appropriated or imitated by other artists who do not understand its significance and meaning.
Even with her international success, she still manages to teach young children the artwork that was also taught to her by her elders. She continuously and consistently gives back to her community in order to ensure that people within it can sustain themselves through their artwork. She is the epitome of paying it forward. As stated by Mun-Delsalle, "she spends much of her time working on community projects in Mabhoko village in Mpumalanga province teaching boys and girls painting and beadwork".
Mam'Esther has taught us that it is important that we do not forget where they come from, because it can be detrimental to future generations if their history is not passed down, our roots keep us grounded and gives us a sense of purpose, belonging and self-worth. Additionally, passing down culture to future generations is a form of community building that cannot be replicated by any technological device.
Furthermore, her work has paved the way for other young African artists, such as Nelson Makamo, who was commissioned to do artwork for Porsche. According to an article on the Car, his work also featured on the cover of TIME's 2019 Optimists issue. He is one of numerous African artists who have followed in the footsteps of the trailblazer, who has ensured that young artists spread respective cultural heritage across the world through their various art mediums.
Her artwork should not be reduced as mere arts and craft pieces, as it embodies powerful messages of hope, beauty, prosperity, and joy. Her artwork is symbolic of the daily struggles that most Black women have to go through, thriving against the odds that are stacked against them. Even in her advanced years, she still manages to retain her grace, poise and determination to share her culture far and wide, and we should celebrate her while she is still alive.