Many would say that there is nothing more beautiful than the female form, although for most they only have a narrow ideal in their mind.  For Jenny Saville, a large-scale painter, every female form is beautiful and worth celebrating.
Born on May 7th, 1970, in Cambridge, Jenny is a member of the Young British Artists, a movement created in 1987 by a group of then recently-graduated university students.  This group or movement is known for the "shock tactics" that they used in order to raise public awareness about shadowed parts of society.  For Jenny Saville, the female body was her tool to create that shock for the public.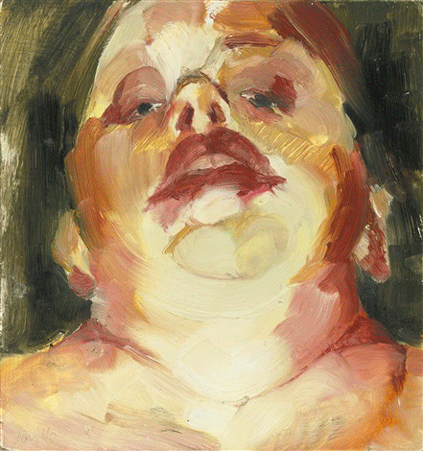 Throughout art history, the female form was depicted thousands of times in many different ways. However, there was always this sense of beauty and perfection that came with these images.  From Botticelli, to Titian, to Goya, the female form is always perfectly curved, usually pale, and seductive.
The men who painted these women seemed to forget, or perhaps ignore the true strengths of the female form.  Women are powerful — they grow entire human beings in their bodies and then bring that life into this world.  Too often, men do not appreciate what women look like after the miracle of birth, and so they do what artists have done for thousands of years, they idealize it.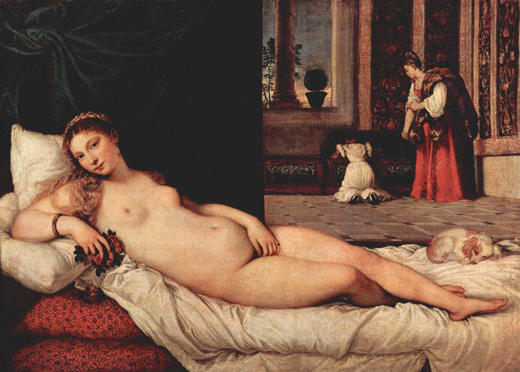 Jenny Saville focuses on the true nature of the female form not only to counter the male gaze of art history, but also to empower women of all shapes and sizes to appreciate and love their bodies for what they are.  This act of empowering women and girls draws attention to the United Nations Sustainable Development Goal on Gender Equality.  In many cases, the subject of her work is her own body, as well as those of her children.
In Saville's piece Reproduction Drawing II, she draws attention to the body of a pregnant mother and the child that sits upon her belly.  This charcoal on paper drawing goes against the norm of that privacy, or rather the isolation, that many women were, and in some cases still are, subjected to during their pregnancies. For many women, they are not only expected to carry the child in their womb, but also care for the children they have already birthed. Reproduction Drawing II is a perfect example of the sacrifices women make not only of their bodies, but of their lives to bring children into the world.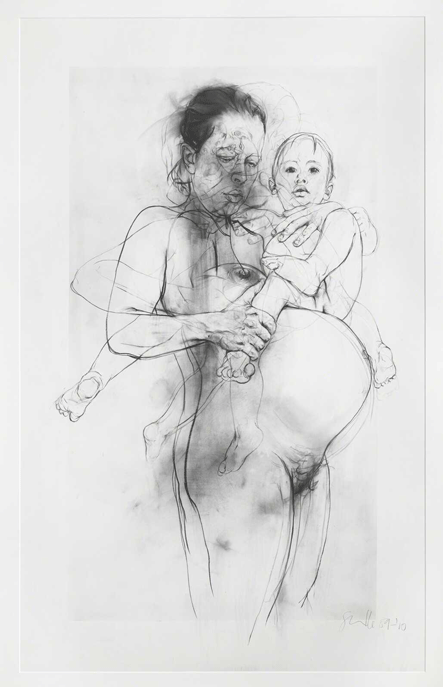 Saville's 1992 painting Propped sold at auction in 2018 for $12.4 million, making her the "most expensive living female artist."  Propped, like many of her other pieces, is larger than life on a canvas that is 7-by-6 feet, and pictures a plus size woman with great detail, from her full breasts hanging low, to her fingers digging into her plump, fleshy thighs.  
"It (flesh) is all things.  Ugly, beautiful, repulsive, compelling, anxious, neurotic, dead, alive…" Saville is quoted as saying in this 2016 article.
There is writing over the painting, a quote from the feminist writer, Luce Irigary, that reads, "If we continue to speak in this sameness—speak as men have spoken for centuries, we will fail each other." The quote only empowers the feminist ideologies of the artist and her work further.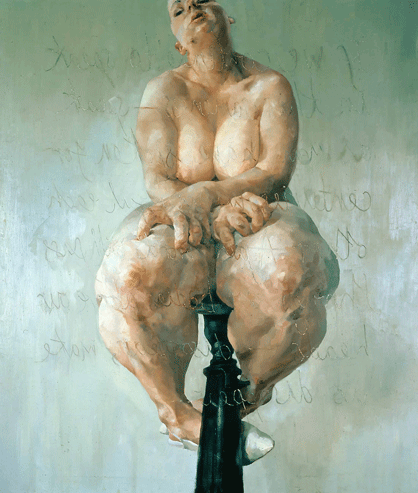 Jenny Saville has her work currently on display now through February 20, 2022 in several different venues throughout Florence, Italy.  To learn more about these exhibitions, please go to this webpage.  To see more of Saville's work, visit the Gagosian website here.