Entropy: The word conjures a variety of definitions and uses. According to Merriam-Webster Dictionary, entropy refers to "the degree of disorder or uncertainty in a system."  In physics, it is the second law of thermodynamics: "the degradation of the matter and energy in the universe to an ultimate state of inert uniformity. " In layperson terms, entropy is used to describe a large-scale collapse, "a process of degradation or running down or a trend to disorder; chaos, disorganization, and randomness."
In a new art exhibition through November 6th at Buckham Fine Arts Gallery, an artist collective and 501(c)3 non-profit organization in downtown Flint, Michigan, three artists explore the concept of entropy from an environmental perspective, measuring the patterns of disorder in response to "the intricacies of space, place, and the passing of time." Founded in 1984 by a group of Flint area artists, arts professors, and other arts professionals, the Buckham Gallery hosts gallery operations, exhibitions, and programming that are all led by artists and arts professionals in the art community.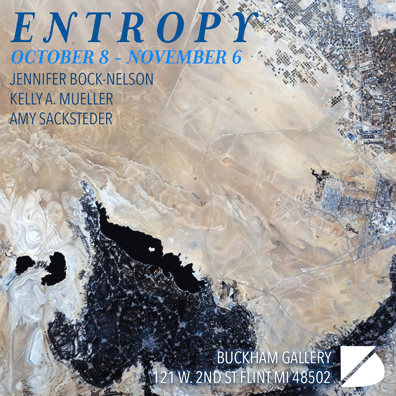 The featured artists in Entropy, Jennifer Bock-Nelson (Quincy, Illinois), Kelly A. Mueller (New Orleans, Louisiana), and Amy Sacksteder (Ypsilanti, Michigan), the latter being the exhibition's curator, have each investigated entropy in an array of work, ranging from painting, works on paper, collage, and installations, exploring the impact of human interaction and interventions on the environment. Combined, these diverse works exemplify several UN Sustainable Development Goals including: Gender Equality, Reduced Inequalities, Sustainable Cities and Communities, Responsible Consumption and Production, Climate Action, Life Below Water and Life on Land.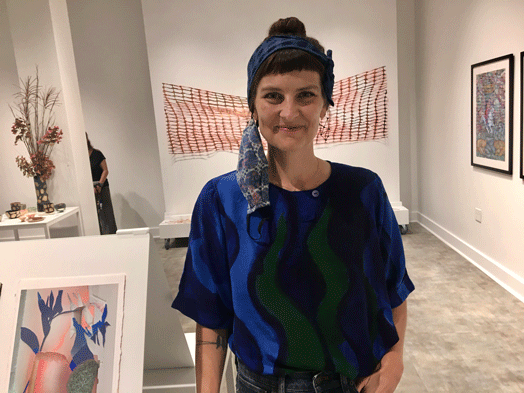 Sacksteder first exhibited with Buckham Gallery in September 2019 as part of Field Work, a show featuring eight women artists from Southeast Michigan. It was guest curated by Alison Wong, the director of Wasserman Projects in Detroit, an organization whose "mission is to promote the work of outstanding practitioners based locally and around the globe by hosting exhibitions, conversations, and supporting creativity wherever we can be useful."  The exhibition encompassed paintings, photography, fiber and mixed media works. Field Work highlighted artists who explore the natural world in their pieces using various approaches including interpretations of flora and fauna. Their focus was "the relationship between man, or woman, and nature, [and] exploring concepts inspired by the natural world"  as stated in an October 2, 2019, announcement in Flintside, a local online news magazine.
According to Buckham Gallery's then-Exhibition Director and artist Michele Leclaire, the underlying urgency of the exhibit was an effort to "invoke a commentary on resources and sustainability,"  as she explained in a September 17, 2019,  interview with East Village Magazine. Another reason behind the show, sponsored by Marylin Steele and the Dorothy Olsen Fund in Flint, was "to showcase and 'raise the value' of women's art," which is often overshadowed by the works of male artists.  While not a direct follow-up or companion show to 2019's Field Work, Entropy nevertheless elaborates on the same theme of using art to promote ethical environmental practices, sustainable use of resources, and to critique urgent ecological problems.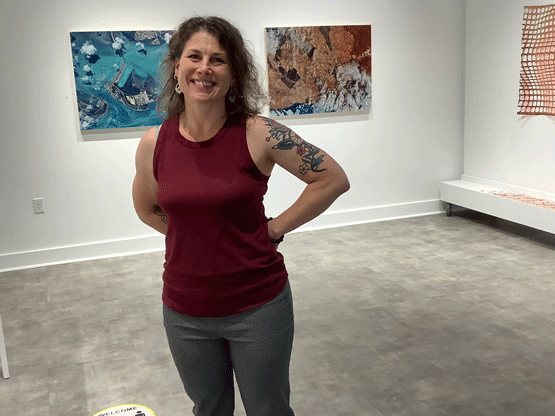 In an interview with Arts Help, Leclaire explained that Sacksteder proposed the theme of entropy for the exhibition in 2020, since she, Mueller, and Bock-Nelson all explore ideas related to entropy in their work. Leclaire, who ascended to the position of Executive Director from Exhibition Director in November 2020, said "it is the mission of Buckham Gallery to enrich the cultural life of its surrounding communities by presenting a broad range of innovative contemporary art of the highest quality and standard."  She said that the underlying message behind the exhibition is one of hope for a better world so that we can slow the process of environmental degradation and prevent collapse.
Thematically, Entropy is also related to the 2019 exhibition, Borrowed Time at Western Illinois University in Macomb, Illinois. Sacksteder, Mueller, and Bock-Nelson met in graduate school at Northern Illinois University in Dekalb, graduating in 2004. Borrowed Time, which ran from February 25 to April 3, 2020, at the Western Illinois University Art Gallery, was a three-person exhibition that "queried and examined notions of time and landscape." The paintings and mixed media works on display tackled subjects as profound as human attachment, change, mortality and existence in light of current events and global warming.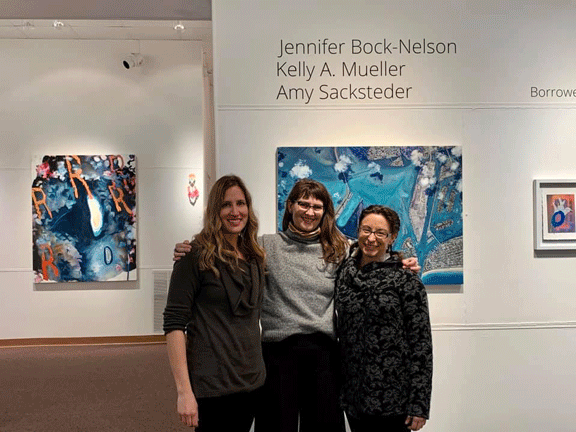 The works in Entropy consider many similar issues as Borrowed Time– environmental degradation, reflections on living through the COVID-19 pandemic, climate change and social politics. The idea for the exhibition originated from the definition of entropy as a measure of the disorder or randomness of a system, Sacksteder says, in the sense of the decline of ecological systems due to global warming, human intervention, and exacerbated natural disasters over time. Mueller and Bock-Nelson said they immediately responded to the call for entries exploring the concept of entropy when Sacksteder asked them to participate.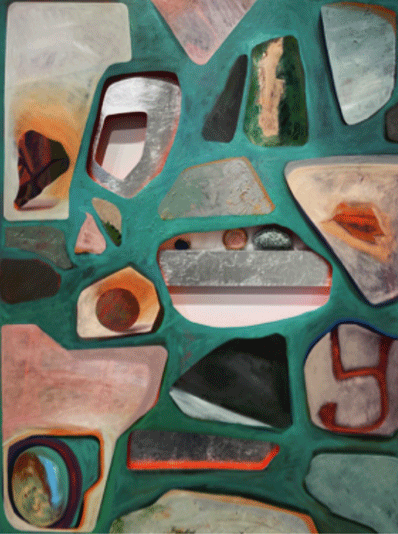 Sacksteder, born in Augusta, Georgia, and Professor of Foundations, Drawing and Painting in the School of Art + Design at Eastern Michigan University in Ypsilanti, explores personal and collective relationships to landscape and artifact in her work. Using painting, collage, drawing, cut paper, and ceramics to "explore artifacts as vehicles of human connectedness to specific places and occurrences," she incorporates found objects and organic materials collected from her travels outside her home. Mixed media works such as the paintings Pandemic Patina and What is Taken and What is Left, Revised exemplify this practice. Containing found objects and collage elements, the works correspond to those in a set inkjet prints on a center display table with coordinating artist-made ceramic objects called Tomorrow Archive.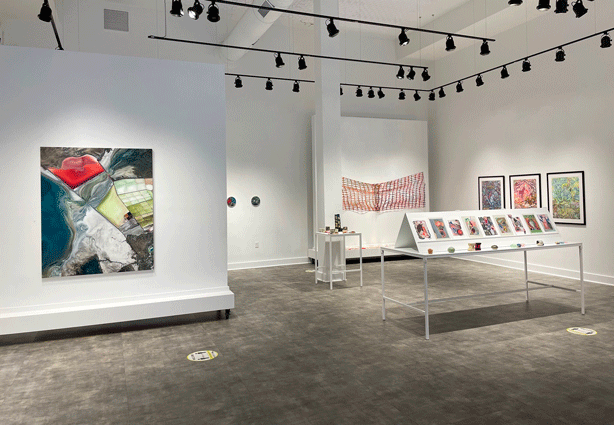 Sacksteder finds herself drawn to human intervention in the environment and how weather patterns affect the natural world. Installations such as Precipitation and The Other Side of Light made of silver leaf and acrylic on hand-cut paper glisten in the light, evoking environmental degradation with shredded fragments on the shelf below. Antidotes, a selection of artist-made ceramic pieces along with found objects on a display table, are tactile personal artifacts. Sacksteder's collages, installations, ceramics, and paintings in Entropy investigate the personal, environmental and political significance of place in a changing world, as well as our duty to protect it.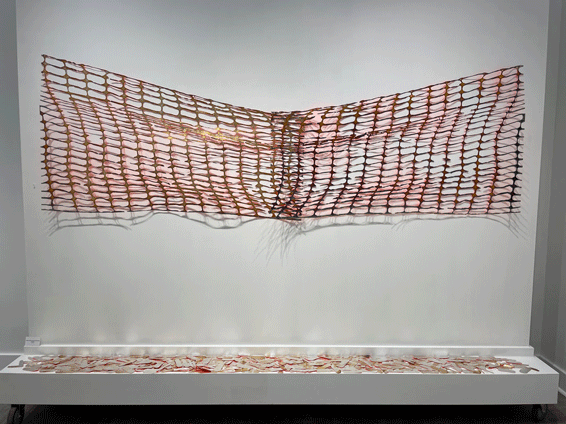 In a similar vein, visual artist and muralist Bock-Nelson also explores the transitory nature of time, human existence and collective memory in densely layered paintings that combine technology with the studio process of painting. How we see and what we see is the driving force behind her practice. Her work is guided by her interest in particularity–recording a singular moment in time by investigating imagery inaccessible to the naked eye. Using astronomical, topographical, and scientific photographs of nature and landscape captured by camera, satellite, and microscope as points of reference, Bock-Nelson visually deconstructs and reconstructs magnified details into stylized paintings examining edge, shape, line, and colour.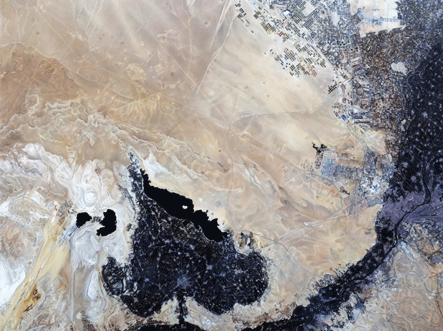 A perfectionist, Bock-Nelson told Arts Help that every painting is a time-consuming artistic process. The individually laboured parts that make up the final painting take anywhere from 10 or 12 to 225 hours to complete in the studio. For her work featured in Entropy, Bock-Nelson said nature and landscape were her primary references, starting with water then progressing to rocks and images from space. She believes that there is a human need to reiterate one's existence, saying:
"Individually each painting speaks to a specific place. Collectively, they allude to the hidden patterns that bind the physical universe."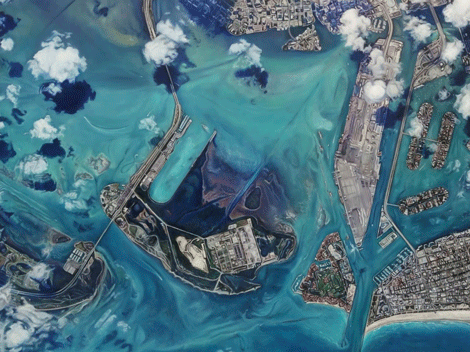 Compared to the assemblages of Stacksteder and the paintings of Bock-Nelson, Mueller creates colorful pencil and ink drawings layered with projected and painted imagery, text, and news from the Internet cobbled together. Like Bock-Nelson, Mueller draws upon her Catholic upbringing in her work. Originally from Chicago, Mueller now lives in Mid-City, New Orleans, where she teaches art at Lusher Charter High School.  Her work "centers on the tension between natural forces and systems, and the human tendency to subvert these systems," alternatively critiquing modern society and its inequalities while expressing hope for a better future. REVELATIONS 2020, Mueller's series of works featured in Entropy, is a retrospective of our current political, social and environmental status seen through a metaphorical lens and based on the biblical Book of Revelations, envisioning a new matriarchal society rising from the end of the world.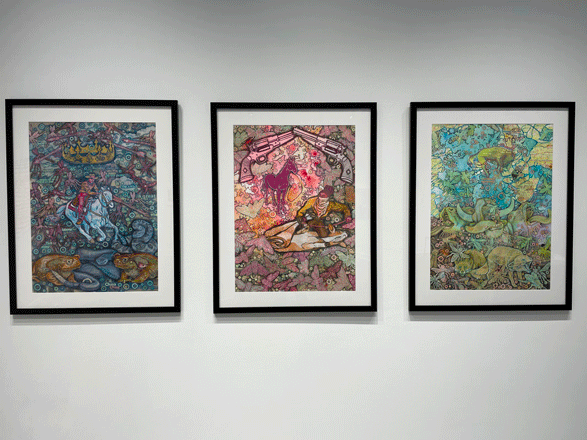 Considered together, the works in Entropy create a dialogue, interpreting and commenting on the idea of entropy in different, yet thematically related ways. Buckham Gallery Executive Director Leclair hopes visitors leave with increased environmental awareness, and that they return to their communities with a better understanding of destructive environmental practices, using that knowledge to teach others to take steps to make their lives and neighborhoods more sustainable. Sacksteder, Bock-Nelson, and Mueller want visitors to take away from the works in Entropy an acknowledgement of the problem as well as a message of hope for a better world in its call to action for sustainable living.
---
For more information on the exhibition, including artist statements and biographies, plus a virtual viewing room and inventory, visit Buckham Gallery online here. All works are available to purchase unless otherwise noted.