Five alleyways in the Alberta Avenue District in Edmonton, Alberta will receive the transformation of a lifetime through the Green Alleys initiative, a community-based program that seeks to take the underutilized and neglected spaces between residential streets and turn them into community spaces that are not only beautiful and usable, but most importantly, safe.

Such is the mission of the Green Alleys initiative, spearheaded by Arts on the Ave, a non-profit, charity organization located in Edmonton, Alberta that is working on developing the Alberta Avenue neighbourhood into a vibrant arts district with improved quality of life for residents, one alleyway at a time.

"Ultimately, we would like to have these safe, usable pathways for people that, regardless of whether you live in one of the houses or you're homeless, [is] a space that's safe for everyone to use and belongs here," explains Maggie Glasgow, Initiative organizer and a long-time Alberta Avenue resident. At the core of the initiative is a drive to improve the city by making the urban landscape not only more welcoming and beautiful, but safe and sustainable, aligning with the United Nations Sustainable Development Goal on Sustainable Cities and Communities.

In particular, the changes that Glasgow and Christy Morin, executive director of Arts on the Ave, hope to see include a repaving of the alleys to address potholes, increased biodiversity, recreational spaces for children, raised flower beds for vegetable gardens, and improved lighting that is both environmentally friendly and beautiful. Central to the initiative is also the inclusion of art through vibrant colours, murals, 3D pieces, and other forms of public art to brighten the spaces and make them more welcoming to residents.

The project is already underway, with community surveys helping identify pain points for residents. The initiative is part of a five-year project, explains Morin in an interview with Arts Help, and while the pilot project only addresses five alleyways, Glasgow hopes that it will expand throughout the city through a municipal program, saying, "There are many different neighbourhoods that could really utilize green alleys to bring neighbours together."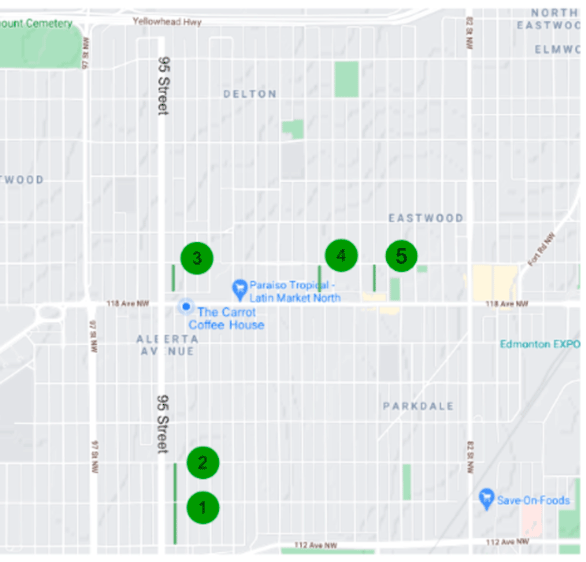 Neighbourhood Issues
The Alberta Avenue District, a core community neighbourhood located in Edmonton, Alberta, is one of the city's older neighbourhoods - having been developed primarily during World War I. While today the neighbourhood is blossoming into an artistic hub within the city, filled with community-led initiatives and spaces, the neighbourhood has come a long way from its negative historical reputation of being a neglected area, which attracts outsiders who see the area as an easy target for exploitation.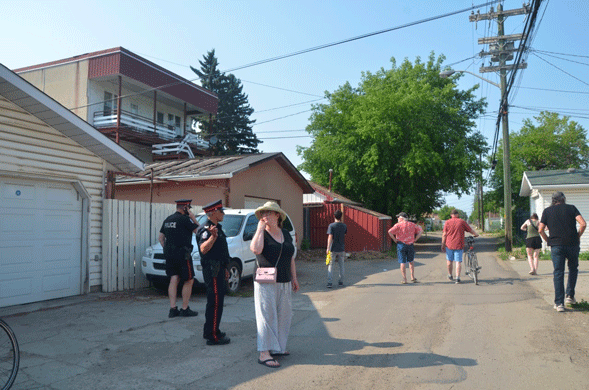 One of the largest pain points identified by residents is a lack of safety within these back alleys. Safety is a growing issue in the Alberta Avenue district, which has seen a rise in a number of activities - including sex work solicitation and drug use within the back alleys of the neighbourhood. Part of the problem rests in lack of government support for social services. "There's not a lot of support for vulnerable people, and there's probably an element of a higher-level crime that a lot of [residents] aren't aware of or are not involved in, that preys on vulnerable people," Glasgow explains.

It is also a gendered issue, with local women and girls facing increased harassment. "A lot of women don't feel safe on our streets because of aggressive 'johns'" says Morin, an observation that is echoed by Glasgow, who notes, "We started to realize women, particularly young girls, were getting harassed by these 'johns' [who] are coming here to exploit people in our neighbourhood." Moreover, these behaviours have escalated since the beginning of the COVID-19 pandemic. "Now they were actually getting out of their vehicles and coming towards you or chasing you through residential streets which they'd never really done before [...] and we need to protect people who don't know how to handle those situations". It became apparent that the issue was spreading when women in the area began to share concerning stories with each other through a community Facebook group.

Local organizations reached out to CEASE (Centre to End All Sexual Exploitation) to gain a better understanding of the scope of the issue and how to address the aggressive "johns" while also considering the safety and wellbeing of the sex workers within the area. "We didn't want to put their lives in greater jeopardy, but at the same time, wanted to do something about the aggressive 'johns' using our area and scaring residents not involved in sex work...This is where [the idea for] Green Alleys initiative was developed," Glasgow says. Indeed, these sentiments align with the findings presented by Edmonton Women's Quality of Life Scorecard in their 2019 report, which found that while Edmonton ranks high in income equality, it lags behind in terms of safety for women.​​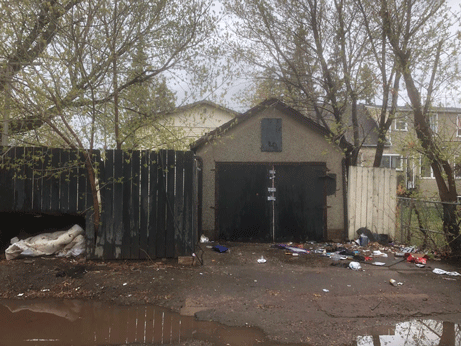 Infrastructure problems also plague the alleys, as poor lighting, improperly disposed of garbage and debris, potholes, and poor visibility, greatly impact the ability of residents to use them safely. The combined infrastructural and social issues are precisely why Morin aims to find "ways to grow and plant a different atmosphere."

The initiative was inspired by a similar initiative in Montreal, which Glasgow felt was applicable to the situation in the Alberta Avenue District as it addressed many of the same problems, including safety, good play space, social connections, preventing harassment, biodiversity, and drug use.  To address the most pressing issues (as determined through a community survey), Arts on the Ave has partnered with a number of local organizations and institutions, including the Edmonton Police Department, University of Alberta's Engineering Connects Program, and the Neighbourhood Empowerment Team.
By the Community, For the Community
Alleyways are typically not the first space one would think of when they hear the word community. Often run-down and neglected, they tend to be unwelcoming areas that have become reserved for dumpsters, rather than people. Yet, as cities grow and urban spaces become increasingly scarce, more attention is being brought to the potential of alleyways to serve as community spaces that revitalize the area for nearby residents.  

At the heart of the revitalization effort is community organization and collaboration. "We didn't come to address issues - we came to celebrate the community," says Morin. "I think the byproduct was that we were dealing with issues, so we have a whole different way of viewing community building."

The highly active community engagement within Alberta Avenue is one of the neighborhood's central characteristics."It really is a tight-knit community, so I think there's a lot of us that are really striving to make it safer, more resilient and just a better place to live," Glasgow explains.
Indeed, the neighbourhood has become a hub for artists and creatives. "The power of the arts actually supersedes any of these other stressors, because it brings people together and it brings us to a higher calling. It creates soul in the community and beauty," explains Morin, who founded Arts on the Ave sixteen years ago out of love for her neighborhood. The grassroots initiative has since blossomed and become a staple within the area, putting on two local festivals - the Kaleido Family Arts Festival and the Deep Freeze Byzantine winter festival, as well as the Carrot community arts coffee house which acts as both a community meeting space as well as an exhibition of local art.

Art as a Pathway to Better Living
Art is central to the Green Alleys initiative, as their goal is to make the alleys both useful and beautiful. Many of the residents within the Alberta Avenue district come from a creative background, prompting Christy Morin to explore how the commonality of an appreciation for art between neighbours can be leveraged to improve the lived experience within the neighbourhood. "We started thinking maybe we should do something together as artists to make a difference," explains Morin.

She realized that community building was central to this task and could be fostered by doing everything from festivals, murals, installations, and back alley parties, all of which creates an arts economy.
Glasgow hopes the initiative will bring neighbours together and allow residents to take pride in their alleyways, saying, "This belongs to them, this is their place where they can congregate and get to know one another, and we're hoping people will feel safer going back there."
Art stimulates both the community and the economy, increasing the quality of life within the area while also attracting visitors. A 2010 study published by the Knight Foundation found that the qualities that truly build emotional bonds between people and their community are not just jobs or the economy, but rather beauty, social opportunities and openness. The study makes an explicit link between community attachment and happiness, demonstrating the importance of functional yet beautiful infrastructure in fostering social ties and improving the lived experience of residents.

Perhaps what makes this initiative special is a deep understanding that community-driven initiatives are the most capable of providing meaningful, long-term change that directly addresses the needs of the community. It is also an example of prioritizing "social and human capital rather than the financial capital," as Glasgow explains - something that inner-city neighbourhoods don't often receive. In this way, the Green Alleys initiative offers a hopeful path to transforming the way residents in Alberta Avenue connect with and experience the spaces they call home.
---
To learn more about the Green Alleys Initiative, visit the Arts on the Ave website here for contact information or potential ways to get involved.

To learn more about The Carrot Community Arts Coffee House and the many amazing initiatives put on by Arts on the Ave, visit the organization's website here or call 780-471-1580.

A big thank you to Christy Morin and Maggie Glasgow for providing interviews to Arts Help for this story.