Food Justice: Growing a Healthier Community Through Art aimed to fully explore the complex issue that is the disparity in food security. The exhibition was supported by The Hamilton Company Charitable Trust. An exhibit that perfectly aligns with the United Nations Sustainable Development Goal for Zero Hunger.
Economic disparities, structural racism, climate change, government policies and geopolitics are some of the many reasons that underlie food insecurity.
"Because of the visionary, poetic, and transformative potential of art, you will see, feel, and understand the issues of food insecurity in new and meaningful ways and be moved to become part of the solution," Contemporary Craft wrote about the exhibition.
The multimedia projects highlight the complex systems that are in play in global food insecurity, in creative and concrete ways, thereby giving more tangible meaning to some very large and abstract ideas.
"I really do believe that it's a perfect mechanism to start a difficult conversation because everybody can come to it very subjectively," said Rachel Saul Rearick, executive director of Contemporary Craft about the role of art. "They can come to you from their own perspective; what they're seeing in a piece, what their understanding about that piece."
"Artists are certainly complex problem solvers," she said. "We think outside of the box a little bit, present things that might be under the surface that people aren't thinking about that compels them to kind of investigate."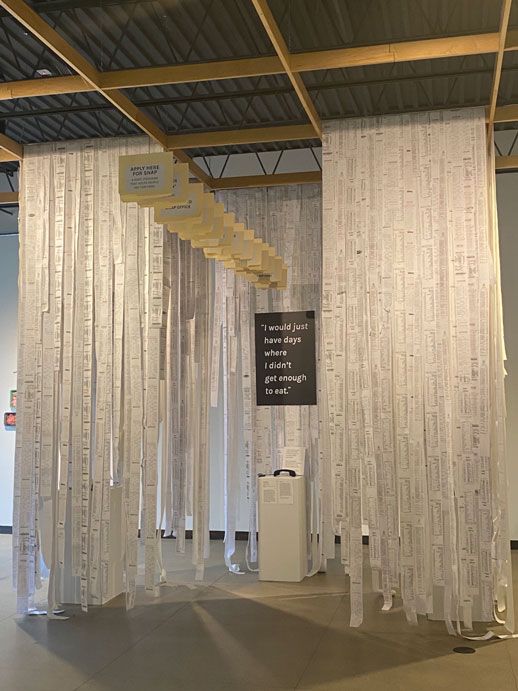 Transaction Denied was created in 2019 by Xena Ni and Mollie Ruskin. Dozens of receipts are hung from the ceiling. These receipts all come from failed SNAP purchases, a government food program in DC. They were using a computer program which hadn't been tested, and this carelessness resulted in many people being unable to buy food for their families.
The receipts are so ordinary—the very things we have lying around balled up in the bottom of our handbags or in our cars. They deliver a testament to the fact that the people who depend on food programs are just like us and that we might, by similar collisions, end up in the same situation.
One might be surprised to learn that Stephanie Herr's works are made from cardboard. The carrots and the rabbit are constructed upon layers and layers of hand-cut photographs, stacked upon styrofoam containers which create 3D foodstuffs.
The works are eery and sterile, while also being very familiar and reminiscent of our everyday sightings of grocery store shelves. Their construction makes abstractions of the familiar—distancing the viewer from the everyday act of buying food and encouraging us to see them in a new light.
This exhibition also partnered with various organizations like Just Harvest, 412 Foods, Rescue Grow etc. to bring about support and awareness of those already working to solve some of the issues causing food insecurity.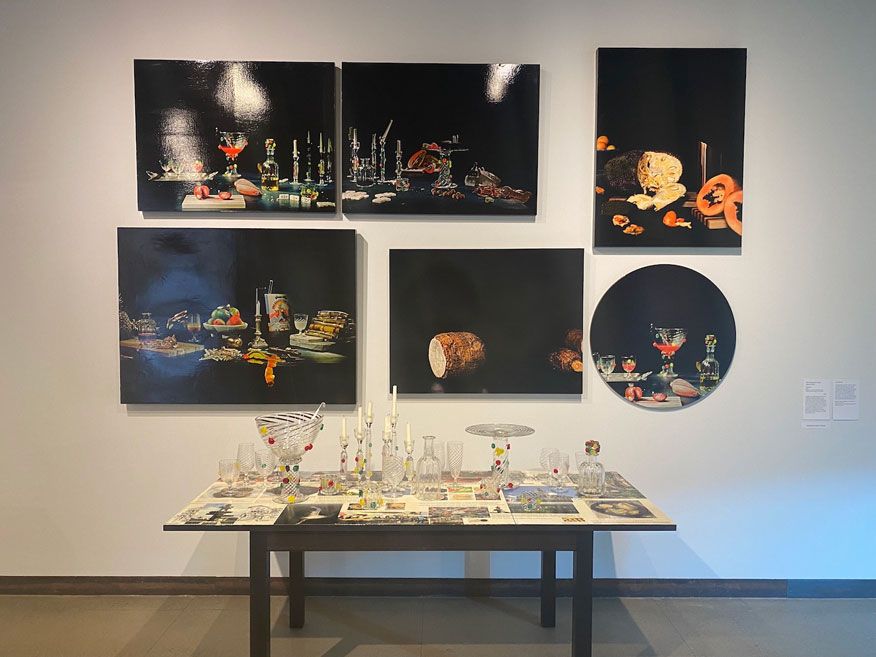 "We have the resources as a society to eliminate hunger. We have the resources to make sure that everyone's food is secure. We have collectively chosen not to do that," says Ken Regal, executive director of Just Harvest.