Worldwide, we are enduring a time of change. Small communities are not exempt from changes and conversations brought by Coronavirus, Black Lives Matter, and the environment. In early 2020, Frederick Arts Council in Frederick, Maryland U.S.A. commissioned a new mural to add to their public art collection in the small city. The council chose Gera Lozano, an artist passionate about bringing beauty and healing to communities through public art.
Gera Lozano, an artist based in Brooklyn, New York, is a descendant of healers from the Peruvian Amazon jungle. Her mother is a healer of natural medicine, and her grandmother cultivates her farm in the Amazon. Through her maternal lineage's influences, Lozano has a deep connection to the Earth and feels a relationship to nature can be healing. She did not pursue a traditional medicinal or healer career path but instead became a talented artist that uses her creations as her method of healing others.
When treating a spirit, a healer must assess the body as a whole. In looking at her murals, it is clear Lozano treats her artwork with a similar mindset. In a public art statement, Lozano writes about her artistic process, "Honoring the original spirit of the site, and transforming the history & energy of the place into pieces that exist organically and harmoniously in their surroundings." For every public art piece, she extensively researches the area to ensure it molds seamlessly into the community, while still contributing beauty and healing.
The mural Lozano created for Frederick, Maryland, is characteristic of the town and period in which the mural was erected. A brilliant sky blue blankets the background of her mural, evoking a sense of peace and hope. Young great blue herons, alluding to Frederick's connection to the Chesapeake Bay, rise in a flock up and to the right of the building, moving in a forward motion, signalling change. In a local news interview, Lozano noted, "The heron represents this transitional space in-between times…And I feel like as a humanity, as a people of this Earth we are in-between times and we can decide how to move forward in the future".
The name of the Frederick mural is "Healing Bouquet." A bouquet of wildflowers, including Black-eyed Susans, an oriole in flight, the Maryland state flower and bird, is held in a light blue hand adorned with a single eye on the inside wrist and each fingertip. The eye in the hand is intended to be a multicultural symbol with many meanings. In "Healing Bouquet," it signifies both observance (the eye), and action (the hand). This symbol emulates Lozano's idea that this mural represents a time of transition, a time when humanity can decide to move forward with the healing support of nature. Gera Lozano completed "Healing Bouquet" in honour of Mother Earth on June 15, 2020. Her 40-foot high and 60-foot wide mural located at 201 South Market Street, an entrance to downtown Frederick. Lozano's artwork acts as a peaceful and healing gesture to welcome people into the community of Frederick.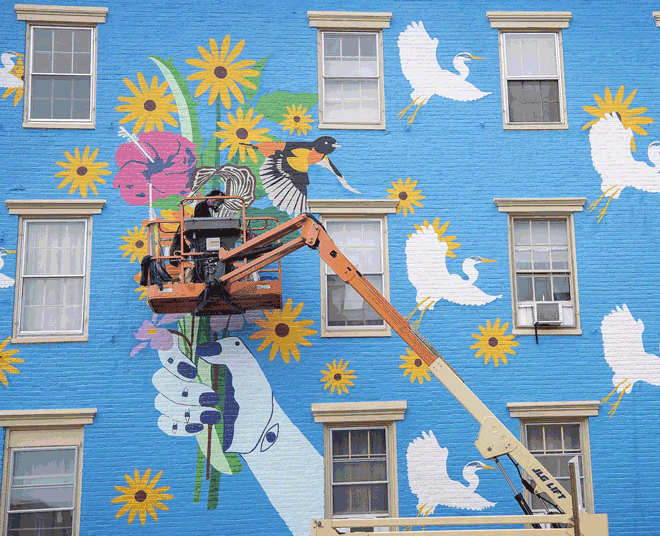 Gera Lozano's public art has been inspiring and connecting communities since 2010. Her bright colours inspire hope and happiness. In her artist statement for public art, she writes, "Public art brings forth the magic and wonder of its natural environment." Lozano acts as a translator, turning the unique spirit and history of communities into a fluid visual language. She understands how a community and its history intertwine like the formulation of a sentence. She takes her knowledge of a community and translates its beauty into masterful murals. Lozano values intentionality and her murals feel alive, telling stories to newcomers and evoking nostalgia in lifelong community members.
"Healing Bouquet" was painted at just the right time. Although Frederick may be small, it is not immune to the vital changes echoing throughout the nation and world. Change reverberates through the community in the smallest ways, ushering in a new era. Whether it is volunteers packing lunches for children who cannot get a hot meal during the COVID-19 pandemic or passionate crowds organizing supportive Black Lives Matter marches through the streets, Frederick is going through a transition. Gera Lozano's mural acts as a beacon for brighter and better days to come.