In Pittsburgh's Homewood district, a mural soars above the neighbourhood. Called Liberation Wall, this colourful masterpiece is the long-time project of Kyle Holbrook, a local muralist and activist. Created in conjunction with the Moving Lives of Kids Community Mural Project (or M.L.K. Mural) – which encourages children to contribute to their neighbourhoods through the arts – the project took over three years to complete the largest mural in Pittsburgh. The Liberation Wall chronicles over 400 years of African American history, including figures like Jessie Owens and Billie Holiday to activists like Martin Luther King Junior. Their presence serves as a reminder of how their contributions shaped America and its culture.
Liberation Wall is an ocean of colour separated into two pieces. The first covers several stories of Homebrook's Community Empowerment Association and multicoloured arrows snake through the piece, drawing the eye to different historical figures. Malcolm X stares at the viewer behind his signature glasses, while a panther at the bottom alludes to the revolutionary Black Panther Party. An old proverb ties the piece together: "You already possess everything to be great."
The left section of the Liberation Wall takes an in-depth look at African American history: W.E.B. Du Bois and Booker T. Washington, two figures who shaped black social and economic progress, are featured. Between black soldiers and famous athletes, small, blue figures intertwine their hands, connecting one mural to the next. Over 100 children and teens contributed to the mural, a reminder that children can contribute to cities, no matter their age.  
However, the wall is not just a celebration of African Americans: it is a memorial. In fact, according to the Pittsburgh City Paper, Holbrook primarily describes his work as a "tribute to victims of police brutality and racism." The Liberation Wall memorializes the men and women who lost their lives to police brutality. George Floyd, who passed on March 25th, is a cornerstone of the mural. His face is a sombre black and white, a grim reminder of police brutality that plagues the country. Ahmaud Arbery and Breonna Taylor, who died on February 23rd and March 13th, are also featured.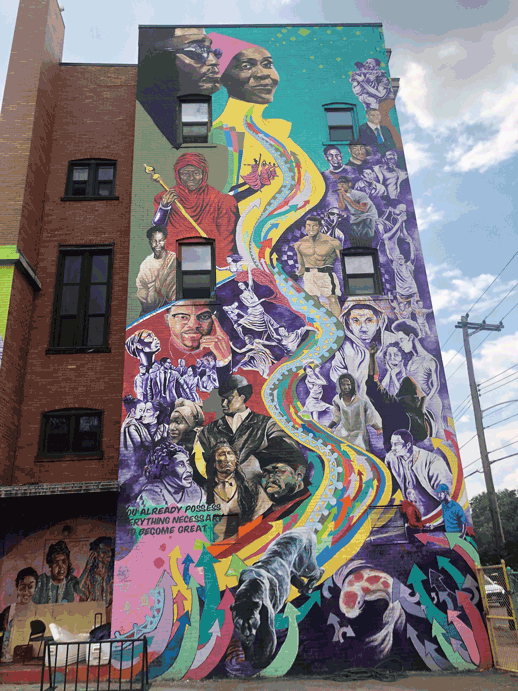 The Liberation Wall is more than a piece of art: it is an educational tool designed to teach and foster discussion in the local community. In addition to celebrating influential figures, such as activists, musicians, athletes, and military figures, the mural highlights events omitted from the history books. There are references to the Tulsa Race Massacre of 1921, where a white mob completely destroyed the Black town of Greenwood. Before the riots, Greenwood was a thriving community with a prosperous business district. Although the exact numbers are hard to confirm, The Tusla Historical Society and Museum estimates that between 100 – 300 residents lost their lives, while thousands were left homeless. Newspapers and history books spent the subsequent years suppressing or ignoring the Tulsa Race Massacre.
According to T. Rashad Byrdsong, director of the Community Empowerment Association (or C.E.A.), the local schools have "never focused enough on African-American history." Thus, the Liberation Wall is an attempt to fill a hole in curricula across Pittsburgh and the nation. As Byrdsong notes in the Pittsburgh City Paper: "Culture is very important…You have to know where you come from in order to know where you're going."So, what is next for the Liberation Wall? Byrdsong and Holbrook hope to expand the mural and transform the space into an interactive museum. Their ultimate goal is to add barcodes so that visitors can access an audio clip or short video explaining the significance behind each portrait. Both the C.E.A. and M.L.K. Mural hope that the Liberation Wall proves a useful tool in the fight against systemic racism and inspires future generations.