Mumbai-born, Toronto-based mixed media artist and arts educator Hemangi Shroff is a recently certified Canadian citizen. Shroff uses her cultural identity and experiences growing up in a progressive but conservative Indian family to engage with patriarchy and the role of women in modern society. Paint on canvas, murals, textiles and jewellery are all components of her work that has placed Shroff on an upward trajectory.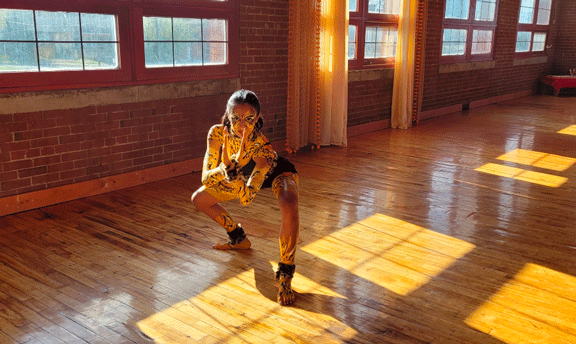 2021 has been a busy year for Shroff. Her local and international Partnerships for the Goals, one of the seventeen United Nations Sustainable Development Goals, include collaborating with Kolkata, India-based dancer Sangram Mukhopadhyay in an international pairing of eight Canadian and eight Indian artists for Nautanki Creations. Her work was shown at inPrint Collective Studio's international group exhibition The Spectre of Print, where she showcased her silkscreen monoprint Rangeen Mulmul.

Shroff also provided visual design and body art for dancer and choreographer Ankita Alemona's virtual collaboration with India-based dancer Subhashree Parthasarathy for the Toronto Dance Theatre's TD Bridgemakers Project.

In the public sphere, Shroff created a streetlight installation for North America's largest South Asian Mainstreet Marketplace in Toronto's Little India, Gerrard India Bazaar, and is a recent nominee for the RBC Newcomer Arts Award for the Toronto Arts Foundation.

In an interview with Arts Help, Shroff discusses her collaborations with other artists and what it means for her to be a new Canadian citizen as an artist of South Asian descent. I spoke to her from a shared studio space where she also serves as an Education Coordinator for the in-school visual arts programme Blank Canvases, leading workshops that teach children about local artists. What is the influence of her conservative Indian upbringing on her desire to make art that unravels gender norms and advocates for Sustainable Development Goal 5, Gender Equality & Empowerment for Women?
---
Before you came here, you were an artist, but it's almost as if you had to go to Canada to explore that. What was that like for you in India, not being able to explore that compared to how you express that today?

I was 'in the closet' as an artist in India. I've always wanted to be an artist, even as someone in the corporate world where the thinking was this is how you make money, and this is what you're supposed to do. The environment and society reinforced this mentality. I was balancing many different things, including managing a clinical practice where I treated children. You begin telling yourself that this is what you're supposed to do because art won't get you anywhere.

Bombay is a rat race, and you have to be a part of the rat race to succeed. I never interacted with artists in Bombay. Art is considered a luxury, so going to a gallery was considered an activity for the elite. I moved to Dubai with my husband and infant daughter and didn't know anybody there.
To find some semblance of sanity, I went out and bought myself a sketchbook and a pen. That's when I started drawing.
I began working with a studio called 'The Jam Jar,' where I started my career as an Artist-Educator. I finally got that taste of being part of an arts community where I worked in a studio and made connections. I'd caught that art bug. First-year immigrants will do whatever it takes to succeed. Shortly afterward, we moved to Canada, and I decided I didn't want to go back into the corporate world. We had to make some choices, but my husband was incredibly supportive of that decision.

What was that move like for you?

I had fifty students in Dubai, and I was very confident that I could find work in the arts when I arrived. I began looking for organizations that needed arts educators and thought I should also find a studio space. While looking for studio spaces in Kijiji, I found an ad for Blank Canvases, a Toronto-based arts program that uses the artistic process to inspire children and stimulate creativity. They were operating out of an artists' studio called Walnut Studios. I sent a long email to the founder, Ilene Sova, who hired me as an educator. This introduced me to the Toronto arts community, and the rest is history.

How did you become involved in the Gerrard India Bazaar?

During the pandemic, Blank Canvases ground to a halt, so I began to focus more on my art practice and applying to calls for artists. The Bazaar was something new to me. I'd just taken a course on all the basics of Adobe, including InDesign, Photoshop, Illustrator and After-effects. I submitted one design idea and the Bazaar ended up requesting two. It was the most surreal feeling to see my work on the streets. When I sent the photos back to my family in India, I think that's when they realized that this art thing was for real. My mom sent the pictures to my entire extended family. The work is still there.

What were your two designs for the Bazaar based on?

Dhol Nagaara (Drums and Sounds) was based on local folk art called *Warli art from Maharashtra, India, where I'm from. It's traditionally done on walls and depicts everyday life and celebrations in the community. I wanted to incorporate that into my design to show how the South Asian community builds a home away from home in Canada and celebrate that. The figures in the installation are dancing and holding musical instruments because I wanted to make music the commonality we share.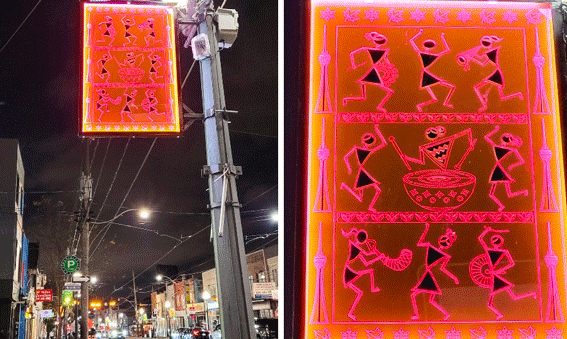 The second design, Kairi (Mango), was a mango tree. When I started making this one, it was the middle of summer. South Asians are obsessed with mangoes and believe the best mangoes come from our part of the world. We're very snooty about it.
[Laughter]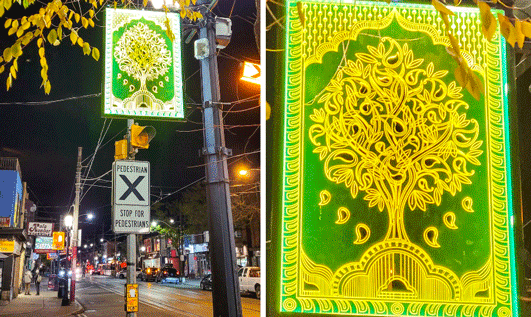 We pass our love of Indian mangoes down through the generations. The mango tree is also a motif in most fabric printing artwork. I also connected it to paisley patterns, which have mango-like shapes. Paisley is named after a town in Scotland. They took the motif from Indian fabrics and began manufacturing it under their own name. So my use of it is also a symbol of decolonization and reclamation.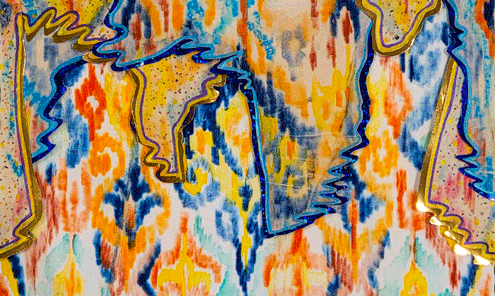 How does this lead into your group show with inPrint Studio?
The Collective put out a call for their group show Spectre of Print but didn't get many applications from people of colour. To address this, the Studio launched a monoprint screen printing workshop specifically for artists of Colour. A member of the inPrint Collective, Maureen DaSilva, reached out to me about it. While participating, I learned that you're left with a 'ghost print' of the remaining colours after your first print is done. This is what the 'Spectre' in the exhibition title is alluding to.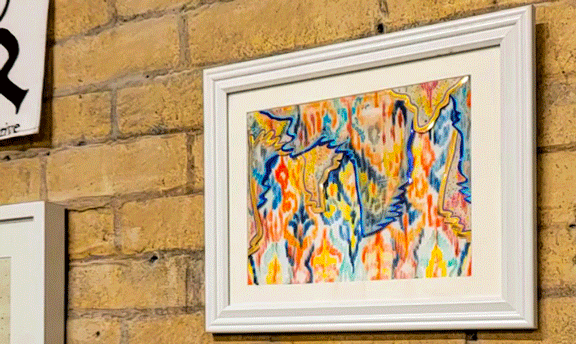 I made three prints from the same silkscreen and created the Rangeen Mulmul collage. Mulmul is a thin, pure cotton fabric worn by many widows in India and is usually very white. Growing up, I remember two of my grandmother's sisters becoming widowed early and wearing white mulmuls most of my life. There's been a debate around why women should have to wear white forever just because they're a widow. The paper used by printmakers reminded me of mulmul, so I put colour on my print and named it that.

Can we talk about your collaborations with Sangram Mukhopadhyay for Nautanki Creations?

I came across a call for applications online and thought the concept of collaborations between Indian and Canadian artists was interesting. The Nautanki Creations group was founded and run by predominantly performance artists, so they were interested in multidisciplinary work.  I was one of the few visual artists involved. I applied, was selected and got paired with Sangram Mukhopadhyay.

Sangram's performance on our collaboration (Gol) Goal is a fusion of waacking, a dance style created by the LGBTQ2s+ community in the 1970s, and classical Indian dance. Sangram's focus is on gender fluidity and the perception of gender in an Indian dance form. This is controversial because this would be seen as a male dancer performing a kind of dance that is considered very feminine in India. He also experiments with wearing saris In India, worn chiefly by women.

In India, whether you were or not, you would automatically be assumed to be a gay or effeminate man just based on performing this dance in this way.
I think we do that here in North America too. For instance, a male ballerina may be assumed to be a certain way for no other reason than the dance form and the donning of tights.

Exactly. Nautanki paired us because I come from a feminist perspective that includes work with fabrics, jewelry and traditional Indian symbols exploring gender and womanhood in society. I wasn't in the arts industry in India, so I'm very interested in meeting fellow artists in India. As a newcomer to Canada, I'm always looking for connections. I want to see how other Indian artists express their culture. The virtual collaboration resulted in a video that showed the process.

During our conversations, we realized Sangrams' dance is full of geometric movements, including circles, which have essential symbolism in Indian culture. Dance says, 'follow the lines or keep your lines straight,' but most movements in dance are circles. A lot of my work incorporates circles. So what does that actually mean? We also discussed our mutual fascination for fabrics and fire symbology.

I asked him for photos to help inspire me, and one was of him wearing a fiery yellow-red sari. This was the inspiration for the circular fire symbols I created for the video. They frame the footage with the innermost circle becoming a stage for him to dance on. Sangram was dancing in the video in a sari and making circular movements while dressing and undressing.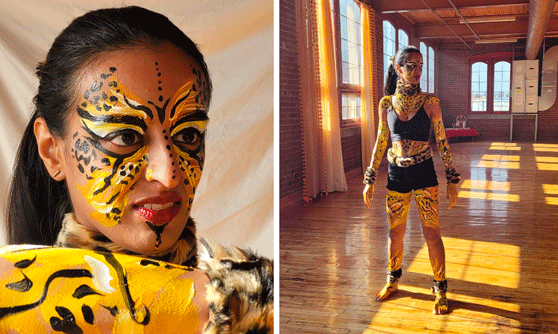 How did you end up working with Ankita Alemona and Subhashree Parthasarathy for the Toronto Dance Theatre?

Yes. Ankita is the founder of Nautanki Creations and was commissioned by the Toronto Dance Theatre to collaborate with Subhashree, based in Chennai, India, virtually. Ankita and Subhashree take their inspiration from Kalaripayattu, an ancient form of martial arts from Kerala, India. They wanted to experiment with Theyyam, a ritual dance form representing the worship of heroes and ancestral spirits, and Pulikkali, a folk art form traditionally performed by pot-bellied men painted like tigers and leopards. These art forms also originated in Kerala. They made a short film, (The Courage to…) from their collaboration, and Ankita contacted me to paint her body in Pulikkali style for the project. I was happy to do it.
The project was about the courage to be a woman in India. Subhashree was actually eight months pregnant while dancing for the film, and I watched her do the splits. As a dance form performed solely by men in India, it was powerful from a feminist perspective to paint women for this body art. In 2016, three women fought for the right to be included in the art form and won.
It's also taboo for a pregnant woman to show her belly. Subhashree decided she wanted to paint her belly because Pulikali is a dance form traditionally performed by pot-bellied men. Still, you're saying a pregnant woman can't even show her belly? The dance forms also talk about the caste system and the social construct of class in India.

Finally, what kind of influence does your conservative Indian upbringing have on your desire to create intersectional feminist art?

My family was conservative but quite progressive. I was taught as a young girl that I had to be independent and work. However, there's a whole other thing where even if you're a working woman, 'women's work' is still perceived as women's work; the expectation is that you will keep up with household chores. So if you choose to work, that's fine, but you'll still have to fulfill this gender role that doubles your work.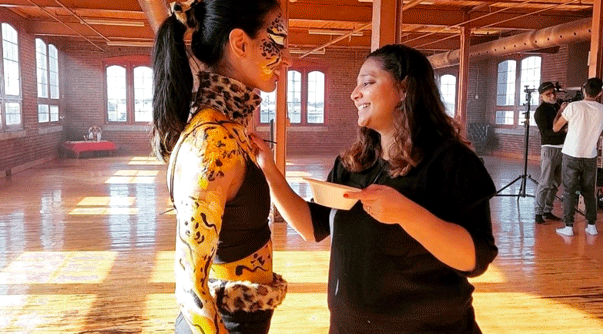 Even as a little girl, I always asked questions and challenged those assumptions, and I continue to do that today through my art. I instill this in my daughter because I want her to see what is possible through my work.
---
See more of Shroff's work here.