In the world of imagination and spirituality, Ayesha Gamiet, a British illustrator, provides awe-inspiring pictorials that reconcile rich Islamic heritage with spirituality. Gamiet voyaged on the journey of mastering this craft as she got herself enrolled in several Art degrees. She did her Bachelor of Arts in Africa and Asian Art History and Archaeology at SOAS. Later, she received illustration mentorship under Ayten Tiryaki and Çiçek Derman in Istanbul. Formal education endowed her with historical contextualization; however, she realized, spiritual consciousness was missing in traditional arts education systems. Therefore, Garmiet embarked on a path of enlightenment where she became a source of inspiration for aspirant artists and the audience.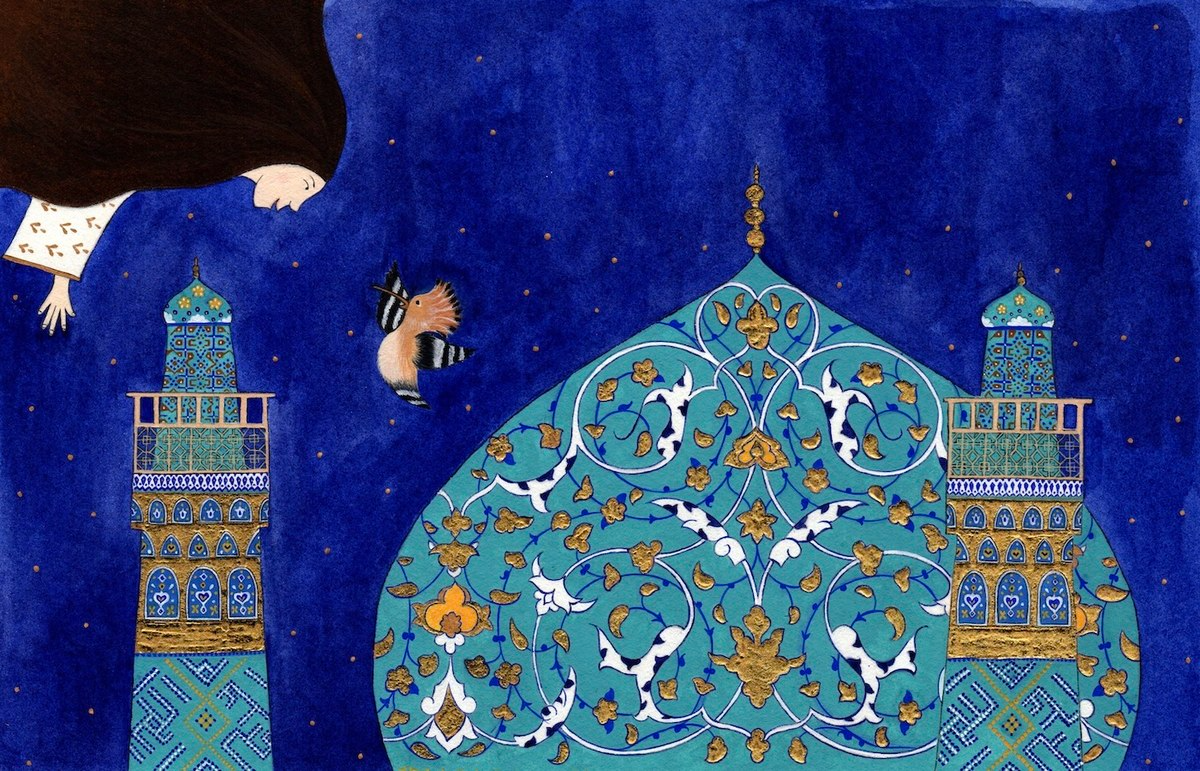 The north-south economic gap has shifted the attention of the world from Eastern cultures and their embedded beauty. Gamiet presents her illustrations as reminiscent portrayals of the rich Islamic tradition. The lost art has been revived in a way appealing to the modern eye. It restores the cultural identity of the lost Muslim traditions. Her work embodies the United Nation's Sustainable Development Goal of Sustainable Cities and Communities which calls for efforts to strengthen, preserve and safeguard the world's cultural and natural heritage. Islamic geometric design was vastly depicted in mosques, palaces and other public places for centuries. Gamiet's paintings add up to the goal of preservation and promotion of these geometric designs.
Additionally, these images portray a sense of cultural relativism, eliminating the ethnocentric nature of the polarized world. Therefore, the United Nation's Sustainable Development Goal of Reduce Inequalities has been a prime focus of her pieces where she makes traditional style available and accessible to the world.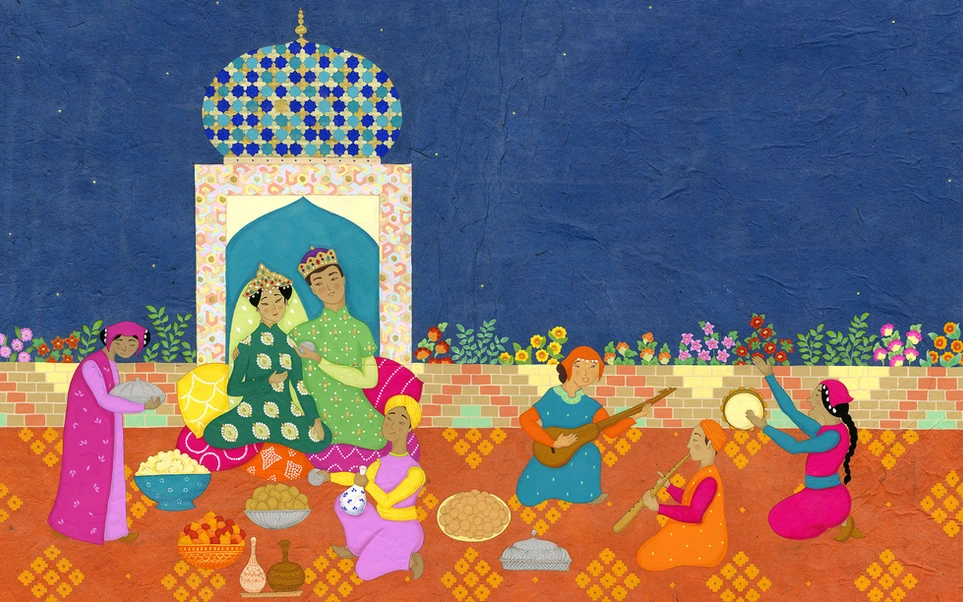 Gamiet's work shows a multifaceted approach towards art as she, on the one hand, makes religiously inspired miniatures, and on the other, she presents vibrant sceneries that instill love and inclusivity in the masses. This is where her idea of spiritual consciousness steps in. She shows coherence in the notions of love and spirituality. Similarly, the background is ornamented with a picturesque garden of flowers and a tomb-like structure that signifies the Islamic world. The scenery instills a love for traditional Islamic setups and makes them accessible to the masses. Therefore, this painting embodies the United Nation's Sustainable Development Goal of Sustainable Cities and Communities.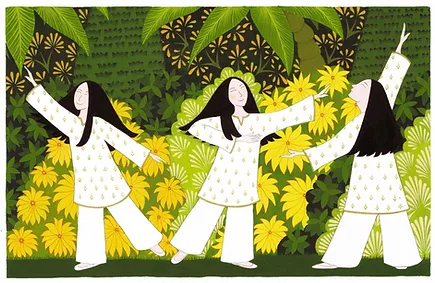 Gamiet is not only focused on one particular niche, she actively devotes herself to presenting an all-encompassing message of cultural diversity. These figures and motifs represent the Moroccan lifestyle that emits jovial impressions. Her work manifests the philosophy of love and compassion for everyone.
Islamic geometric art and illustration have been lored by many. Renowned historian Peter Frankopan asserts in 'The Silk Roads' that the Islamic Empire's emergence reshaped global cultural identity. In his chapter "The Road to Revolution," he delves into the transformative impact of this era. Although Islamic art culture has been rising, millennium-old heritage has been sabotaged, primarily, by two factors.
Firstly, the xenocentric attitude results in pessimistic overtones toward cultural history. Secondly, the lack of awareness among people about Islamic Art and cultural invasion. Gamiet has worked massively in this context. Gamiet is determined to portray the vibrant colors of Islamic geometry and illustrations to the masses through her paintings such as They Fluttered Like Two Butterflies. The mosques depicted in her paintings depict Muslim architectural elements. These geometric elements are preserved and showcased to the audience in Gramiet's work.
This revives Islamic culture that has been ostracized by the modern world. Therefore, cultural revival in the form of art reduces the fears of cultural decay and the ensuing inequality. Her efforts, resultantly, reflect upon the United Nation's Sustainable Development Goal of Reduce Inequalities.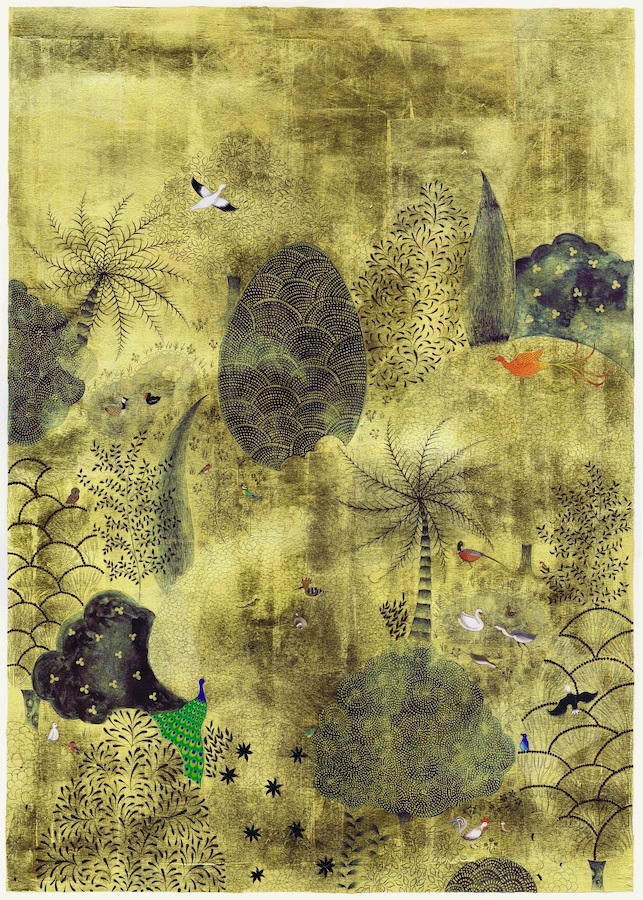 The core ideology behind Gamiet's work is, truly, inspiring for talent seekers from all around the globe. The exquisite design of miniature artwork and illustrations, on one hand, intrigues the audience with their vibrance and on the other, it provides a pathway for aspiring artists to revive the lost history through their art.
I decided that I wanted to be a part of reviving this tradition, serving the craft, and nurturing the next generation of illuminators, Gamiet said in an interview with Bayt Al Fann.
Therefore, she has committed herself to the education sector where she provides quality sessions in the form of Islamic Manuscript Illumination online courses contributing to the United Nation's Sustainable Development Goal of Quality Education. In this way, Gamiet serves as a connecting link between the history of great ideas and the young aspiring artists. Once these artists gain adequate knowledge about this unique craft, they will not only add up to the vision of 'reviving this tradition' but will also start generating economic output. Gamiet plays a vital role in achieving the United Nation's Sustainable Development Goal of Decent Work And Economic Growth which aims to provide productive employment and decent work for all.
All in all, Gamiet's journey promises a positive step for cultural revival which, in turn, leads to an inclusive approach towards the education sector. She not only enchants her audience with her art but also works to stimulate sustainable economic growth for her apprentices.