As the protests erupted in the wake of George Floyd's heinous death, many artists took to the streets and used their creativity to amplify their voices. The protests grew larger, and so did support from some city officials. In early June, D.C. Mayor Murial Browser commissioned the first street mural where huge bright yellow block letters spelled out "Black Lives Matter" across two blocks of 16th street in the nation's capital. Many other cities quickly followed suit; Oakland, Seattle, Los Angeles, and different boroughs of New York City and smaller U.S cities such as Albany and Charlotte have all painted "Black Lives Matter" across wide swaths of their downtown streets. Some continued to paint bright yellow letters while others chose to organize different groups of artists and allow them to take liberties with each letter, creating unique and colourful "BLACK LIVES MATTER" statements on the streets.
These murals have become a symbol for the movement and the progress heralded in by waves of protests. Yet, not all the murals have been welcomed. Various murals have become targets for opposing views, with some being painted over or requested to be removed. Locals in participating cities claim that the "Black Lives Matter" statement stands in opposition to their political views and that "Make America Great Again" should be painted over the streets instead. The street art organizers responded by saying that "Black Lives Matter" represents a human rights issue, not a political issue. Still, politics and other personal opinions continue to play a large role in the counterattack. On the other hand, one woman began painting over the mural in New York City, out of frustration that the mural only posed as a symbol and that not enough work is being done to actually change the issues at hand. Many BLM organizers also believe that the murals are not enough, and that real change will only come when the police are defunded and other measures are taken from the government level. Nonetheless the statement made from the street murals continues to spread a voice for change.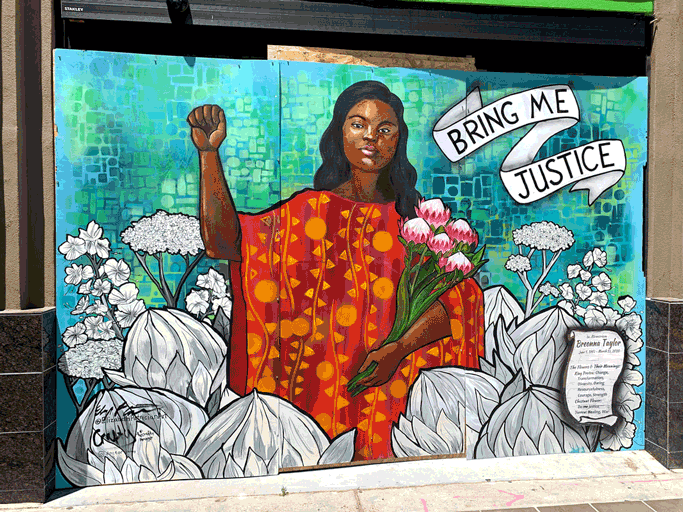 As the protests continued to grow across major cities, from Minneapolis to New York to Oakland, people flooded the streets and businesses boarded up their windows. These boards became canvases and artists quickly filled them. Oakland and New York City have been prime spots for artists. From poems and graffiti to portraits, phrases, stencils and other paintings, protesters shared their voices in paints and colours. Pieces commemorating Breonna Taylor, (an unarmed black woman, also unjustly murdered by police in her home in Louisville Kentucky on March 13, 2020)  and George Floyd dominate this new street art. Others called for an end to racism, or the demilitarizing and defunding of the police. Images of hope, beauty, and diversity sit alongside pieces depicting social and racial injustices.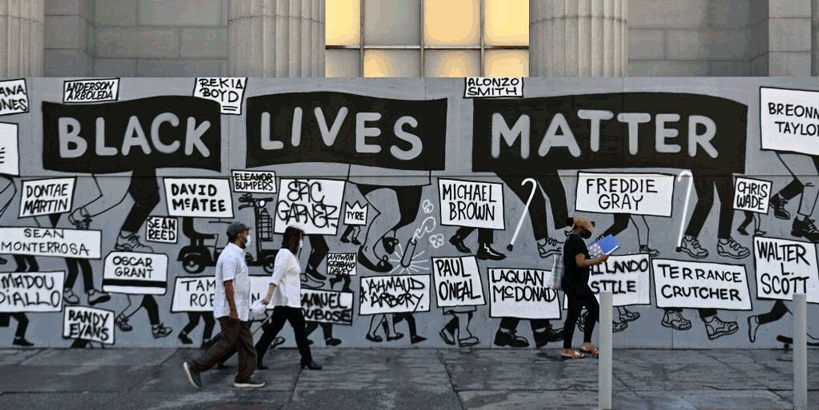 Street art and public art have always had a unique influence on ordinary people. Every day people are confronted, surprised, reminded or inspired by the work they now find on their block, in their neighbourhoods, and in the city's downtowns. One discovers the art as if it were a part of the regular landscape. And now, in Oakland and New York City, it is. The streets are covered in colourful bold reminders of a new landscape, politically, socially, and emotionally.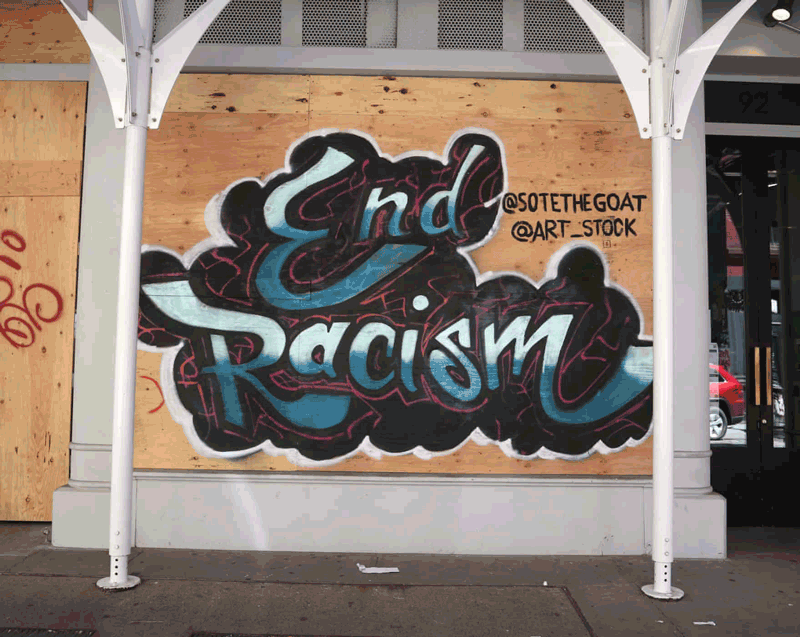 Street artists around the U.S. and the world have been showing up, continuing to show their solidarity for the cause. The Black Lives Movement has inspired creators to voice their concerns for the state of the world. Murals and graffiti are emerging right alongside the parades of protests. These colourful reminders continue to spread the message when protesters lessen, and the news crews go home. The street art statements are left for millions of viewers to see and be reminded of the fight that continues on.