From Old Celtic to Chinese writing systems, calligraphy has an ancient role as a writing technology turned into an art form.  
Although they have common roots, calligraphy, hand lettering and scripts are distinct from each other. Hand lettering illustrates letters whereas scripts are visible graphs and strokes that signify a language. Calligraphy, on the other hand, is the visual domain where art and language intersect as the result of beautiful writing done by hand.
Islamic calligraphy, in particular, has evolved alongside Islam and with the Arabic language. The calligraphy is aligned with traditional elements of spirituality in Islamic art rather than figural representation. Nature, geometry and abstract design are characteristic of this art because of Islam's connections with monotheism.
Iaman Hassan, an artist from Toronto, says that Arabic has its own visual appeal that draws her into calligraphy. "Arabic is a beautiful language and the writing itself is very unique. So when I look at that with an artistic mind, it's something I want to learn to draw myself. I get inspired by Arabic words because they are really powerful and mean something to me. Words like 'amal (hope) and sabr (patience), inspire me. Drawing them out allows me to implement those words in my life."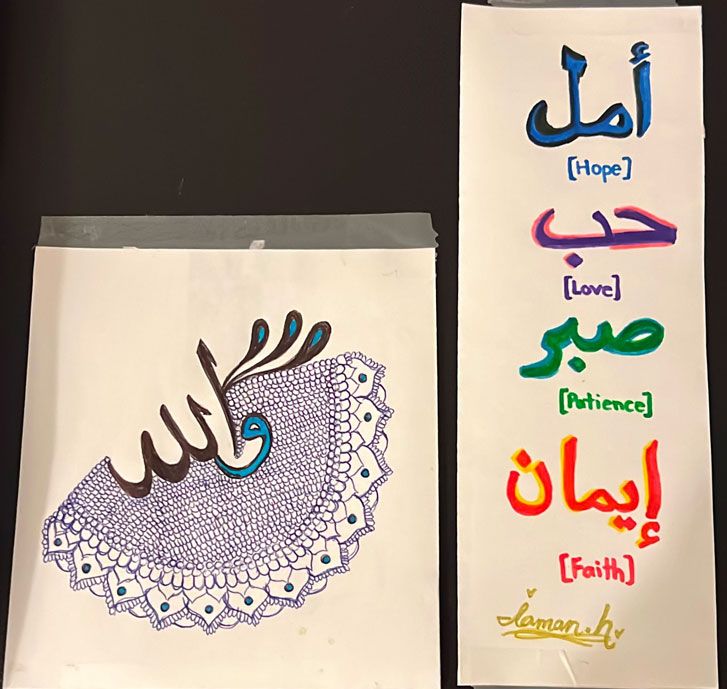 Calligraphy isn't limited to Arabic. Since themes in Islamic spirituality are so common across all of its art forms, some calligraphers incorporate passages, words, and ayah (verses) from the Qur'an into their own intricate work.
Despite not being a native speaker of Arabic, Hassan wants to improve her calligraphy alongside the language. "I usually connect my emotions with the words that stand out to me. And I put that out on paper so people can interpret it in their own way according to their life experiences, what they like and what they see in the artwork," Hassan says.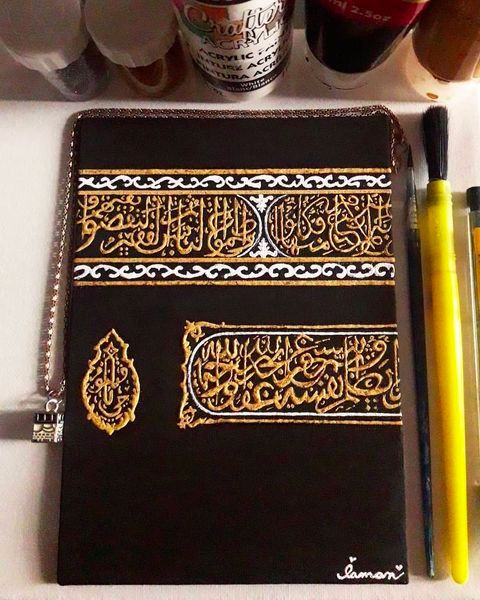 Cambridge-based artist Ayeshah Syed says her inspiration comes from dua (prayers) that are close to her heart, or how a dua impacts different aspects of her life. "I like to use calligraphy to strengthen my deen (faith) because I try to memorize the duas, learn about their history and try to implement their teachings into my life. What inspires me is knowing people all around the world value my work enough to have it up in their homes for everyone to see," Syed says.
She describes how her textured paintings represent structure and character to enhance the tactile aspect of her paintings alongside the visual appeal. "From an Islamic perspective, I like to hope that the same emotional and sensory aspect plays a role in encouraging my clients to want to delve deeper into the meanings behind the verses," she says.
Islamic calligraphy takes on many different media. Regardless of the tool—from elegant ink and gold leaf, to crackle paste and modelling paste for texture, to the classic pen and pencil, this art form is universally appreciated across time for spirituality and finding peace. Sometimes artists themselves find the process to be therapeutic: "Calligraphy to me is an escape; I can spend hours working on a painting and fully immerse myself in the process and learn as much as I can about strengthening my deen (faith)," Syed says.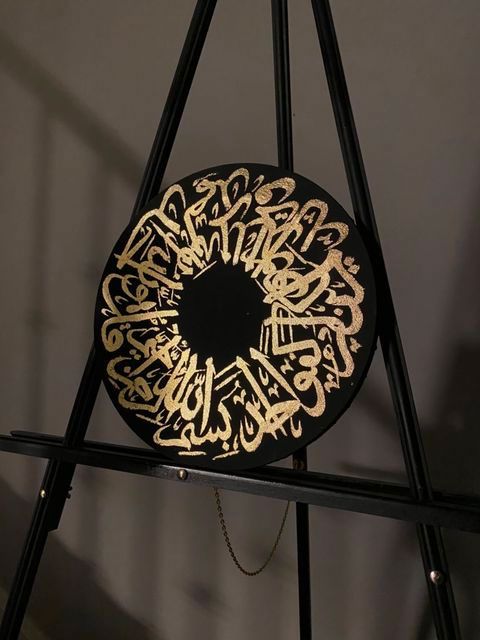 Hassan and Syed are self-taught artists who committed to learn the art through various media, and were strongly inspired by YouTube videos and social media reels. Hassan says she doesn't see a lot of Arabic calligraphy content, or even offered in classes "because it's not emphasized a lot in the media, so maybe that's why there's the misconception that it's dying. Maybe if there was more content on it, more people wouldn't be misguided."
But as popular as the art remains on social media platforms, Islamic calligraphy doesn't receive as much mainstream media coverage as it should, particularly in the West.
Neglecting the art further portrays its image as a dying art when it continues to thrive around the world, especially here in Ontario.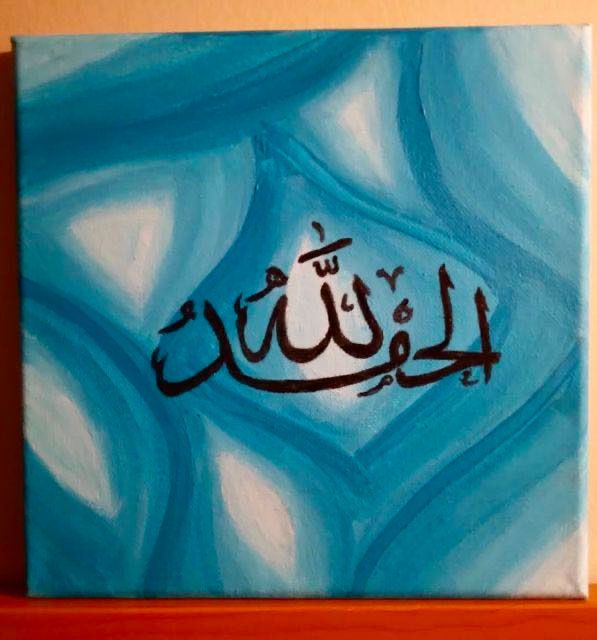 Creating and promoting more content on Islamic calligraphy refutes the misconception that the art is dying. With artists like Hassan and Syed, the algorithm is changing, and more artwork is being represented. Their works echo the United Nations Sustainable Development Goals for Reduced Inequalities and Sustainable Cities and Communities to foster an all-inclusive environment for the many heterogeneous subgenres within Islamic art, outside of Islamic countries.
In terms of what Islamic calligraphy means today, Syed remains hopeful: "In times like these where there is widespread negligence towards Islam, I think calligraphy represents hope. Part of it has to do with the fear instilled in the general public regarding Islam and the efforts to muffle it using other forms of art and media. I would just hope that our generation continues to create and display it unapologetically."
---
Check out Ayeshah Syed's work at @_artbyayeshah and Iaman Hassan's art at @i.h_artsy on Instagram!