At six years old, Jenica Lodde learned how to make jewelry. While her parents made and sold beads at local flea markets, Lodde made her first piece with the help of a family friend. From them, she learned seed beading and basic brick stitch. At home, her mother dealt with Jenica's boundless energy by directing her to a variety of crafts. Lodde's mother also taught her origami, which would have a lasting influence on her work.
From there, things fell into place: Lodde discovered Japanese yuzen paper at a shop in Boston. Known for its bright and colourful patterns, yuzen is a durable paper that's more akin to the fabric. Lodde began incorporating the paper into her jewelry and started her journey.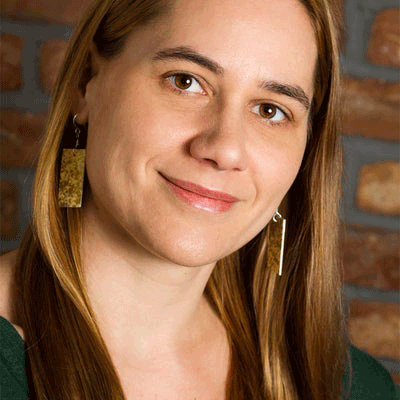 Today, Jenica owns The Paper Fuschia, where she sells jewelry made from yuzen paper. The process is intensive: it takes Lodde several days and numerous sheets of paper to complete a single process. Still, she enjoys the meticulous work and the ability to pay homage to the master craftspeople of Japan. Before the pandemic, Lodde's jewelry was available at her booth in the Scranton Public Park, which has been shut down due to the COVID pandemic. Since then, she's created facemasks for her store as well as PPE for local hospitals. Lodde estimates that she's made 250 items of PPE since March and the donated materials to make hundreds more. Recently, Art Help journalist Rachel Ezrin sat down with Lodde to talk about jewelry, the creative process, and the history of yuzen paper.
How did you discover your love of jewelry making?
My parents used to sell beads when I was growing up. They would sell them at the flea market and I would just take those beads and make jewelry out of them and sell them. That was my first foray into making jewelry. I didn't really rediscover it until I was in my twenties. I didn't plan on becoming a jewelry maker. It was the summer and I was thinking "Oh, how can I make some money?" I love origami, so I was trying to make stuff out of origami and sell it. I threw together some little origami earrings and people were buying them! I was like "Okay, I'll just make more of those!" I discovered this paper, it's this Japanese paper called yuzen paper. It has these really beautiful prints. I was like "How can I represent this in a way that really shows its true beauty?" So I would do different things, I would take a piece of paper and stick it on a wire, [make it] a little shape that looks like a fan or something.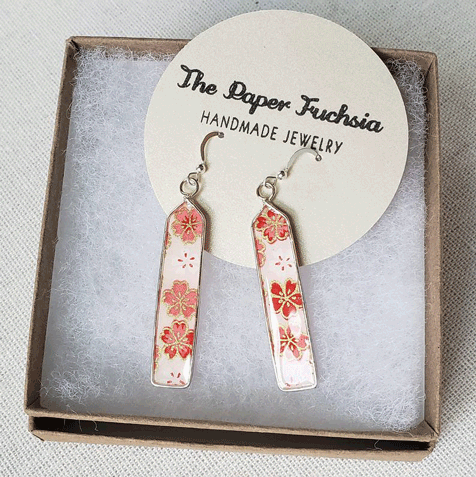 I wasn't the only one who liked them - other people would like them and buy them! And then, you know, I had kids. I stopped making jewelry for a while when my kids were young. I went through a period of Post Partum Depression so I kind of forgot about everything. People would be like "Oh, what do you like to do?" I and was like "Oh, I like to do jewelry!" So, then, I started back up again and I started looking at different techniques. I still loved [yuzen paper] and I found different ways to really make it pop. I started out doing some varnishes, and then eventually I started doing resins because they're really durable.
Your jewelry is incredibly delicate and beautiful! What elements in nature or in other cultures inspire you?
For me, I think flowers. I've always been crazy about floral patterns.! I'm also obsessed with making leaves. I can't just seem to stop! In terms of other cultures, I'm really fascinated by Japan. That workmanship, that quality that attention to detail...for me, it's the craftsmanship of the Japanese papers. For me, when I'm making [jewelery] I try to give it a good representation, in the sense that I don't want to use already made components. I see other people, they take the bezel [writer's note: the bezel is a flat piece of metal used in jewelry making] and they just put the paper on the bezel. I'd rather make my own wire forms and just kind of personify the journey.
For me, it's such a journey. The paper is made in Japan, it's actually imported, I get it from a place in Canada. And then, I make the jewelry out of it.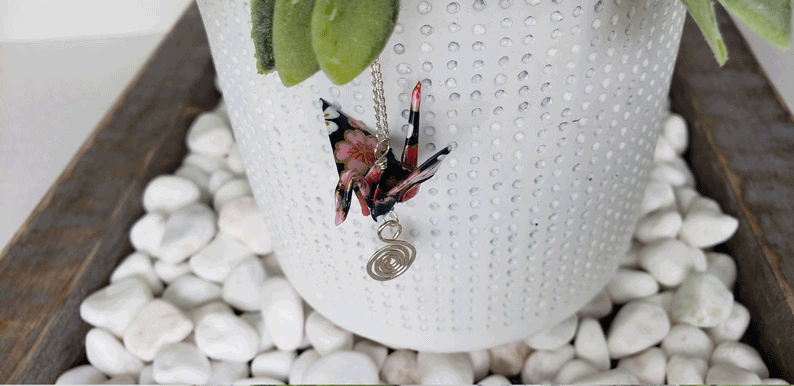 What is yuzen paper? Is it easier or harder to work with than other materials?
So, the yuzen paper is from Japan and it's made with the bark of the Kozo plant. It's called "thousand generation paper" because these skills are passed down from generation to generation. What they do is they take the paper and they hand-soak and screen the pattern...it requires a lot of different transfers of the screen because each colour has to be done individually. It takes a lot of skill and a lot of time, it's very time-consuming. The reason I like to work with it is the colours - they don't bleed or fade. I can put the varnishes on there and not worry about the colours running. It doesn't fade in the sunlight so it's good for jewelry making. People can wear it and not worry about [the colour] fading. It's almost really like fabric in a sense in that you can wet it and iron it and all this stuff so it's a very strong piece of fabric.... It's so strong, that [the Japanese] used it underneath their armour. Then, it evolved into something they would use in household items. It's really amazing fabric, you could probably make a sculpture out of it as well! It's really great to work with.
Walk me through your creative process.
I don't know what kind of magic goes into the creative process! A lot of times, it stems from my desire to create something new and different. In terms of making the jewelry, it's a really long process. I'll take a piece of wire, I'll make a form. Like a double-sided, I'll put two pieces of paper on both sides and I have to put a base layer of varnish. And then, you know, put a base layer of resin and let that dry for 24 hours, flip it over, do another layer of resin.
Recently, you made the decision to create face masks/PPE alongside jewelry. What inspired you to make this decision?
It started back in March when my jewelry booth closed. Everything happened really fast: my kids came home from school, you know, there was such a panic [about COVID]. I started reading about a shortage of PPE...anything I could do to sort of help out would be great! So I started doing masks and face shields as well. I found a pattern online where you could create the face shields really easily with some stuff from ACE help hardware.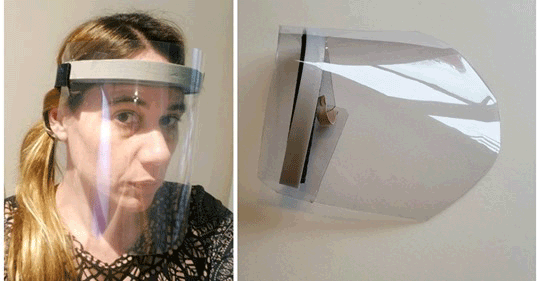 After a while, I felt like the masks were really fun to make. I could express my own personal style by doing the ones with really high-quality fabric. It was something I continued to do to put my own little take on the masks. It's nice that people are willing to buy something local, reuseable, handmade, and even produced in the United States! It's nice to be able to fill the void there.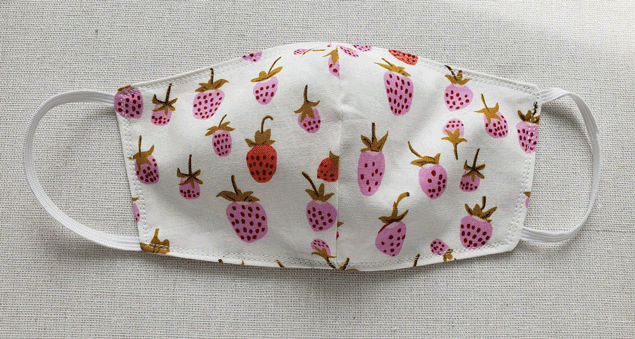 What goes into making facemasks and PPE? Is this something anyone can do?
With face masks, anyone who can sew can make it and I think it's the same with the face shields. Anyone who can use a stapler can put together a face shield...for a while, I was donating [PPE]. The face shields are so easy [to make]. All you need is some plastic and a stapler. It's pretty easy to use what you have on hand to make that kind of stuff.
Jenica Lodde's products are available on Facebook, Instagram, and Etsy.