Arts Help is an award-winning organization demonstrating that art is an essential vehicle for social change around the globe. With our advisory team's aid, a selection of industry experts and renowned individuals, Arts Help cultivates collaborative partnerships and projects with organizations like the United Nations, York University and various Art collectives. New advisors are nominated and selected every year based on their dedication to global change and community impact.
The 2020-2021 Advisory Board includes Negin Baradari, Parliamentary Counsel and Founder of Begin with Negin, a wellness community. Also a lawyer, Baradari's experience includes numerous diplomatic and consulting projects aimed at using technology to create social impact. Editorial Coordinator Hannah Chew conducted an interview with Baradari to learn more about her work.

What is your background/role with Arts Help?
My role with Arts Help is as an Advisor. My background is in law, more specifically art & cultural heritage law as well as sports, entertainment & fashion law. As an art lawyer, I feel like the roles have been reversed in that the artist becomes the art lawyer's muse and the lawyer transmutes into the artist's position. The artist and his lawyer are creatives in their own right, each with their own creativity infused onto their white canvas of choice.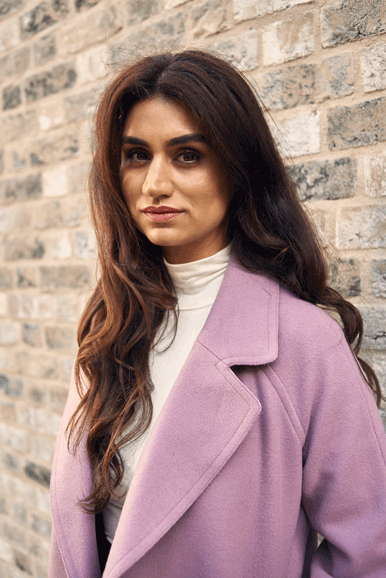 How do you see the relationship between art and global activism?
They are intrinsically intertwined. Art per se is an act of expression, revolt and activism. Global activism is "art in motion". Artists and global activists spread awareness. In these unprecedented times, the concept of awareness is as vital as our primary need for oxygen. Art can be as much of a rebellious act as also a diplomatic hidden message of showcasing your convictions.
How does art play a role in your daily life?
Art is an integral part of my daily rituals and rhythms. It serves as a tool of infusing intentionality into the simplest tasks by enhancing my experience and taking them on.
What is your favorite piece of art? Why?
This is such a dilemma-esque question! This changes all the time, but right now it is the soul-resonating art pieces of Ms. Regine Schuman. Schuman's art pieces are instant mood optimizers and a beautiful soul-buffer during this collective transitional wave we are all surfing on.
What is a common misconception about art you would like to correct?
Art not being essential to life! I would argue that art is the essence of life.
Of the UN Sustainable Development Goals, which do you relate to most?
The UNSDGs being all of equal importance, I relate most to Goal 4: Quality Education. Education is energetic ammunition nobody can take away from you. Providing holistic education to everybody is a way of creating a level playing field to raise collective consciousness if and when created by a curated team.
How can we help push forward the UN SDGs in our everyday lives?
We can create rituals around the UN SDGs and sow them throughout our daily lives. It may start with tiny tweaks such as always closing the water tap and recycling and composting.
Any final advice for young artists and activists?
I would like to suggest to all the young artists and activists to remember that they/we are becoming the ancestors to the future generations so act in integrity and get clarity on how you would like to enhance humanity.