In an increasingly globalized world, identity becomes harder to delineate. War, economic crises and global warming force people to leave the places they call home every day, displacing them to a culture different than theirs.
This experience can be enriching, but also burdensome, especially for the later generations who live perpetually between two or more cultures. This is the case of the artist Jennifer Ling Datchuk.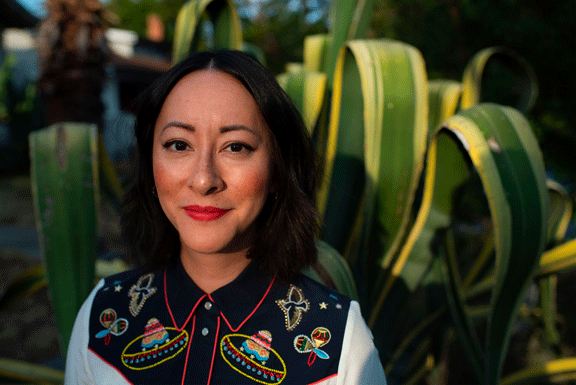 Born in Warren, Ohio and raised in Brooklyn, New York, Datchuk is the definition of a third culture kid. Her father is of Russian and Irish descent, and her mother immigrated from China in the 1970s. "Each side of my family had a set of things we did and didn't have to do, as my brothers and I were seen as too white for my Chinese family and too Chinese for my white family, so we existed in a third culture," she explains.
When she was younger, her intention was to become a lawyer — to be the "dutiful Chinese daughter," as she says. That is until she took a required art class, when everything fell into place. Since then, she has participated in residency experiences in the Netherlands, Germany and China, where she researched the origins of porcelain in Jingdezhen, the porcelain capital of the world. She currently lives in San Antonio, Texas and works as an Assistant Professor at Texas State University.
Datchuk, a sculptor, specializes in ceramics — porcelain in particular. The choice of porcelain is not accidental, since not only is it representative of Chinese culture, but it's also a great example of globalization. Porcelain has been part of the export market as early as the year 960 during the Song dynasty and has been considered a precious commodity ever since. In addition, Datchuk uses objects made of porcelain, which are perceived as delicate and fragile, but that are actually strong, mirroring society's perception of women.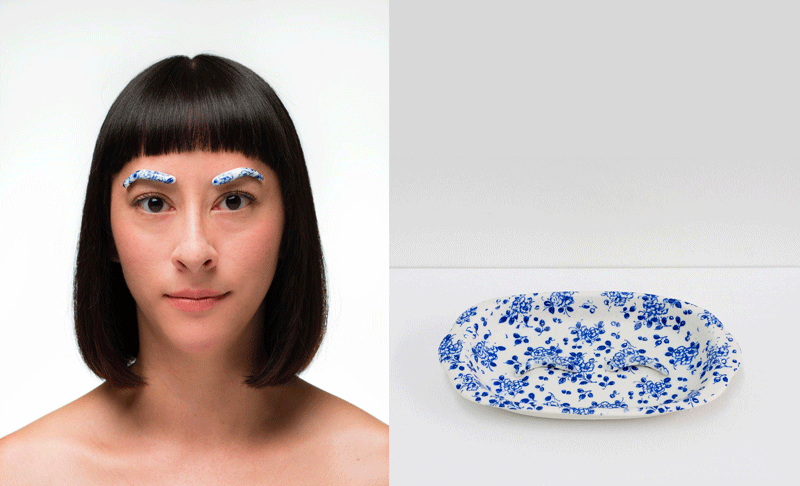 In a striking series of photographs for the 2014 exhibition Dark and Lovely, Datchuk wears two pieces of porcelain as eyebrows. "I was interested in this idea of manufacturing identity and beauty," she explains. Being biracial, she explores how a change of hair, makeup and accessories can play with people's expectations. Furthermore, by using objects related to womanhood she examines the role that society imposes on women — a sentiment she echoes in her exhibition, Truth Before Flowers (2019).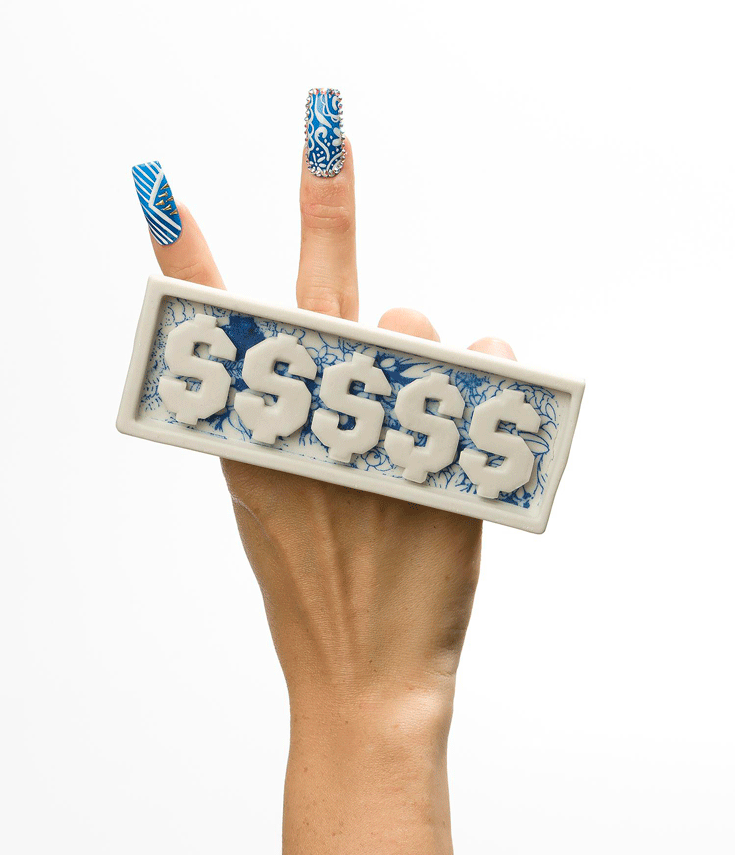 During a residency in Berlin in 2016, she noticed how people would remark on her Asian background, though not her American one, which made her pause. What does it mean to be American? What does it look like? Coincidentally, this was the same question the country itself was asking after that year's notorious presidential election.
In Girl You Can (2017), through the blend of objects made of porcelain, the colours blue and white (representing Chinese culture) and American symbols and phrases, Datchuk affirms that the answer to the question is complex and layered — and richer for it.
An activist as well as an artist, Datchuk has always been concerned with Gender Equality, a United Nations Sustainable Development Goal. After the recording of then-president Donald Trump bragging about sexual assault went viral, she felt compelled to take action.
The result was "The Porcelain Power Factory", a small line of functional works of art — a cup, a vase, and a doormat — with a message of resistance. A percentage of the sales generated from the artworks was donated to Planned Parenthood. More recently, in her exhibition Later Longer Fewer (2021), she again aims to empower women through their bodies. Appropriating the title of a Chinese propaganda poster for family planning, the exhibition echoes the current discussion about reproductive rights in her adopted state of Texas.
"One artwork will not change the world, and one artist might not, but I think collectively, we can," Datchuk remarks.
If we aim to become a more equal and inclusive society, letting every voice be heard, we will.
---
You can find out more about Jennifer Ling Datchuk on her website and you can follow her on Instagram. Her latest exhibition Later, Longer, Fewer is at the Houston Center for Contemporary Craft through January 8, 2022.