The depiction of carefreeness and self-confidence within Black culture can be used to support and inspire Black communities in the fine arts, encouraging people of colour to pursue their artistic passions.

Jewel Ham is a multidisciplinary visual artist originally from North Carolina, USA. Through her art, Ham explores the intangible realities of the African American experience by presenting chaotic imagery against commonplace backdrops to imagine how life would look when time, space and history is reclaimed by Black individuals. Ham studied fine arts at Howard University where she developed her creative and technical skills in wet and dry media, graphic design and more.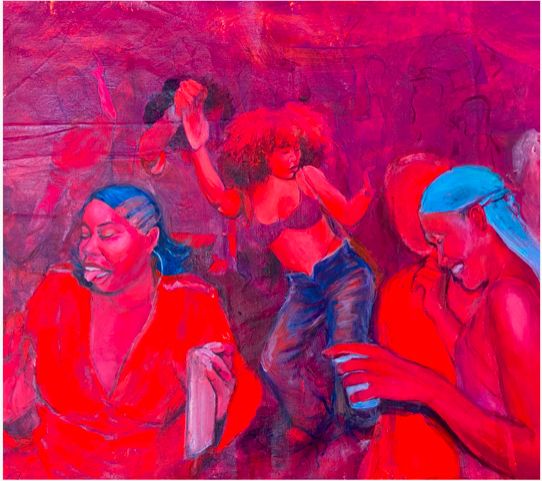 Ham's artwork often features friends and family as the subject matter of her paintings. In her 2021 work get into it, Ham portrays women chatting in intimate environments, rendering candid and personal vignettes of everyday life in acrylic and coloured pencil. A common theme in her art is Black women in conversation, dancing and laughing, evoking themes of self-confidence through the female subject's sharp gaze.

Ham's work focuses on celebrating the Black female body while also acknowledging emotional and ancestral challenges. Essence magazine describes her work, Sitting Right with My Spirit as dealing "with the importance of intuition and ancestry, and refers to the phrase often used when we try to ignore such deep-rooted feelings."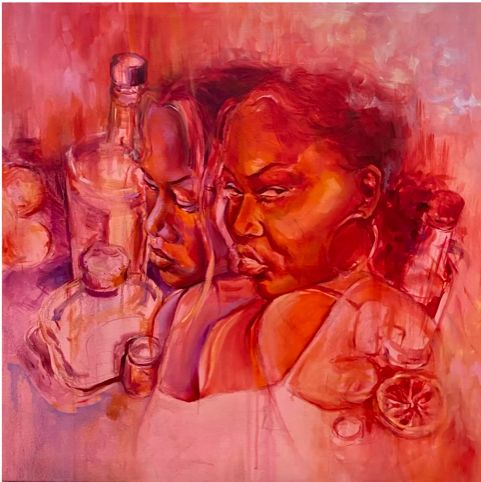 The artist's body of work not only includes figurative art, but also extends to include still lifes. What had happened, 2021, is an example of Ham's still life pieces that "visually narrate non-physical emotional states" as explained by the artist.  

Ham's love of music, specifically female rappers, is heavily alluded to in her body of work. In the words of Ham, the biting lyricism that runs through her oeuvre makes each piece feel "like talking sh*t."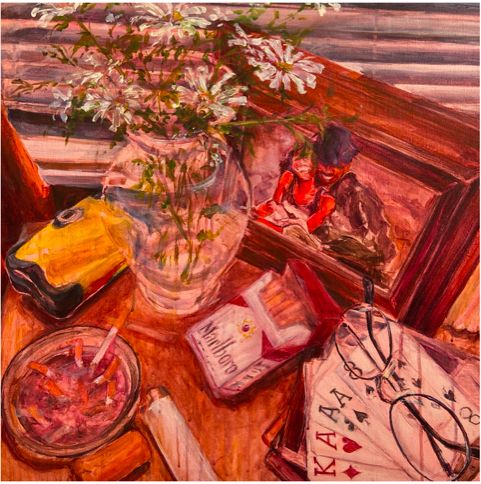 Ham pays careful attention to visual elements of skin, texture, and colour, as seen in her cohesive colour scheme of orange, red and pink hues.

Ham currently has an exhibition entitled "i said what i said" at the Anthony Gallery, a contemporary art gallery in Chicago that focuses on artists of African and Black American identity.

"In various shades of red, she alludes to the beauty and innovation that manifest from the hardships," explains the gallery.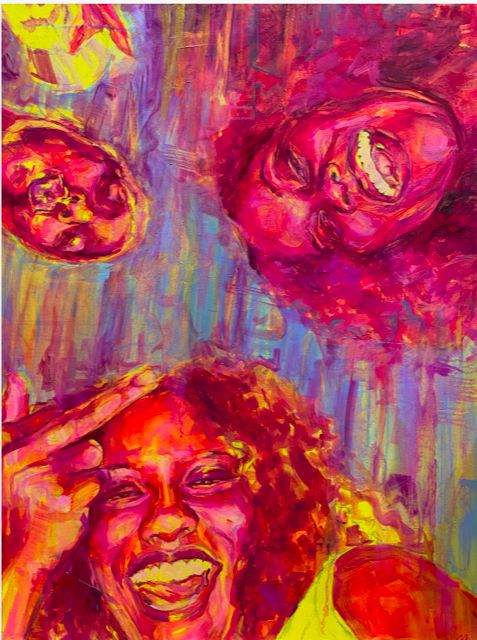 Jewel Ham emphasizes the importance of accessibility in art that embodies an all-inclusive demographic. "While the utilization of visual art as a method of communication is inevitable, the scope of its reach is largely dependent on how the work is distributed," explains Ham, who breaks from the confines of the traditional gallery space by expanding to popular culture, streetwear and other accessible facets of art enjoyment.

In forwarding messages of mental health that encompass the act of embracing one's truth, taking up space, and the female second glance, Ham's work highlights the United Nations Sustainable Development Goals for Reduced Inequalities and Good Health and Well-Being.

To see Jewel Ham's work live, check out the Anthony Gallery in Chicago, where "i said what i said" will be installed until April 20th.
Additionally, Ham has contributed to auctioning work for the Amref Health Africa ArtBall, an non-profit African based organization that uses proceeds towards African health care including the COVID-19 response across Africa, training health workers, supplying access to clean water, sanitation and more. You can donate to Amref Health Africa with the link here.