Jonathan Jay Lee is an award-winning illustrator based in Hong Kong. In an interview with Arts Help, Lee speaks on the creative process of capturing the sensory elements of an urban landscape, as well as some of the artistic influences and critical perspectives in his work.
To start, tell us a little about yourself.
I'm an artist based in Hong Kong, who has had the pleasure of working over the years with the likes of Marvel, MINI, HSBC, Disney Plus, Lee Kum See, Mercedes, Japan Tourism Board and Apple, to name a few. I'm a former Professor who still keeps a foot in education with talks and occasional workshops wherever possible.
Could you walk us through what your creative process for a project looks like? What are some of the challenges of illustration?
Generally it starts from a brief, whether that's a collaboration, commissioned or self-imposed. From there, it's a process of research and discovery that can take any form; you can learn from reading, watching a film, talking to people or experts, physically going on-site to get a reference or sketch. There isn't a particular formula but there's always an intuitive starting place.
The challenge of illustration is capturing all the senses since it is pretty much a visual medium. So if the brief involves something food related, going to eat somewhere, for example, helps me to absorb the atmosphere that I can hopefully recreate or accentuate aspects of in the artwork, to suggest the sounds and noise, the heat, liveliness and hopefully the smells and taste when needed.
You need to of course bring in all of your formal training and understanding of composition, colour perspective perhaps etc, but then also throw all of that knowledge out the window consistently.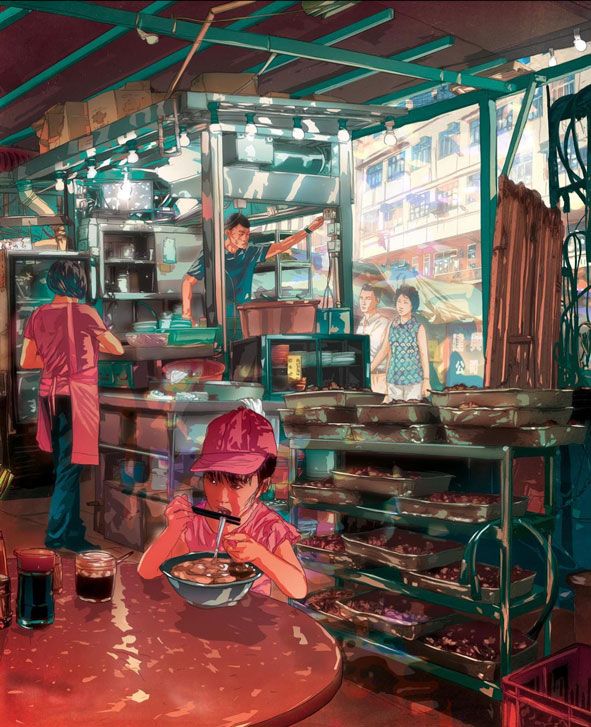 You've spoken about the influence that Marvel comics has had on your art and career—which franchise is your favourite and why?
I mostly grew up on Marvel, but began to expand my tastes with more mature DC stuff and then Manga/Anime as I got older, as well as a healthy appreciation for bande desinée. I lean towards following creators more so than the creations or franchises.
Having said that, I love seeing how the Marvel Cinematic Universe has emulated and adapted the ethos of the Marvel comics and how they have translated to film, with all the complexities and logistics that come with the film industry and its variables. I also love how they employ and hire all kinds of creators that take storytelling risks, just like the comics did.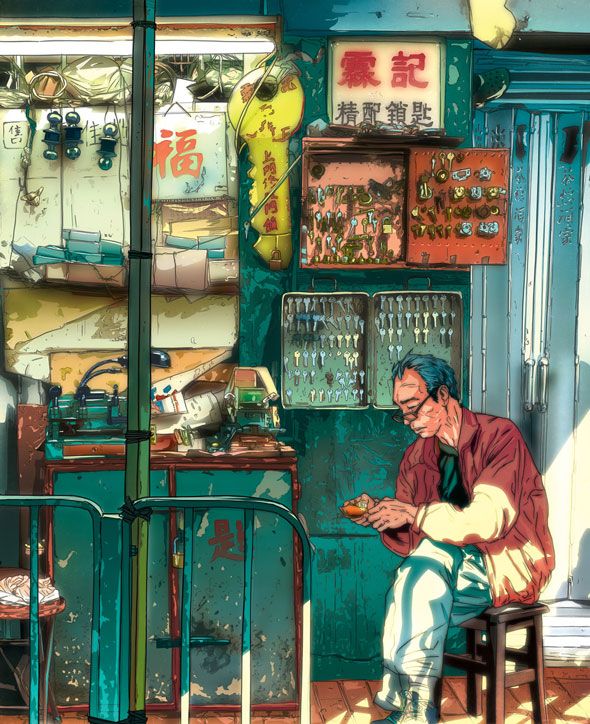 In your talk at TEDxCityUHongKong, you speak about the importance of embracing one's own imperfections and those of Hong Kong. Why do you think it is important to ground your work in your identity and experiences?
Actually, I don't think grounding one's identity is important in the work, but experiences do play a big part in forming the work you create.
The TEDx talks concept we were given was "rewind, refind, and redefine", so I found a narrative that worked around identity while using artwork to tell the story. If I'm honest there were simply a few things I wanted to address about Hong Kong, that if you read between the lines you'll see it. But mostly I wanted to try and provide a positive message at that time given everything going on, and within that reflection a message that came through was this idea that your faults are what make you unique.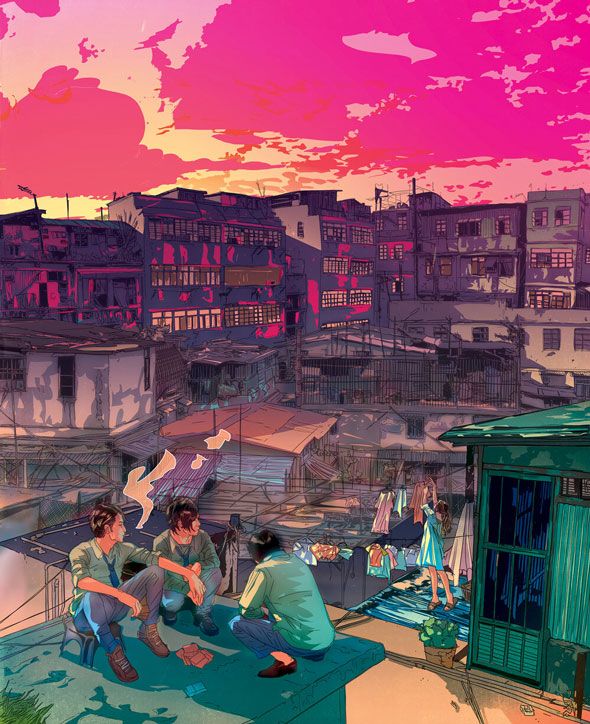 American cuisine or Chinese cuisine? What are your favourite dishes from each?
You ask an impossible question! For American cuisine it is definitely the burger in all its beautiful variations, and one thing I will always say yes to is a Chinese soup. Chicken feet, egg drop corn, tofu tomato fish, Buddha jumping over the wall soup, doesn't matter, I'm always a sucker for Chinese soup. Day to day mostly Asian food, but every once in a while there's nothing like a craving for a juicy burger.

Is there a particular social cause or United Nations Sustainable Development Goal that particularly speaks to you or your work right now?
There are actually a few of the United Nations Sustainable Development Goals that align with much of how my career has played out so far. Quality Education is one that comes to mind, and why I taught for several years.
I also think no. 17, Partnership For the Goals, resonates very much with me. Much of what I do as an artist is isolated, I find I can be more efficient operating as one. But there's nothing like a collaboration, or aligning yourself with partners who share a similar mission and embarking on those initiatives together. No matter what the cause behind it, collaboration gets you farther than you can on your own.
---