"Why can't we just print more money?"

We all have that one friend (it may even be you) who keeps asking this question. If there is an obvious answer for some, general understanding of financial systems is far from easy — but it could be.

Particularly today, one might feel even more lost with the emergence of Bitcoin and other futuristic economic terms that your grandma has probably never heard of. Indeed, since the last few years, the tech world has seen the emergence of a new cultural economy. That is why we are now bombarded with terms and abbreviations such as crypto, blockchain, NFTs, mining, P.O.W and P.O.S, the list goes on.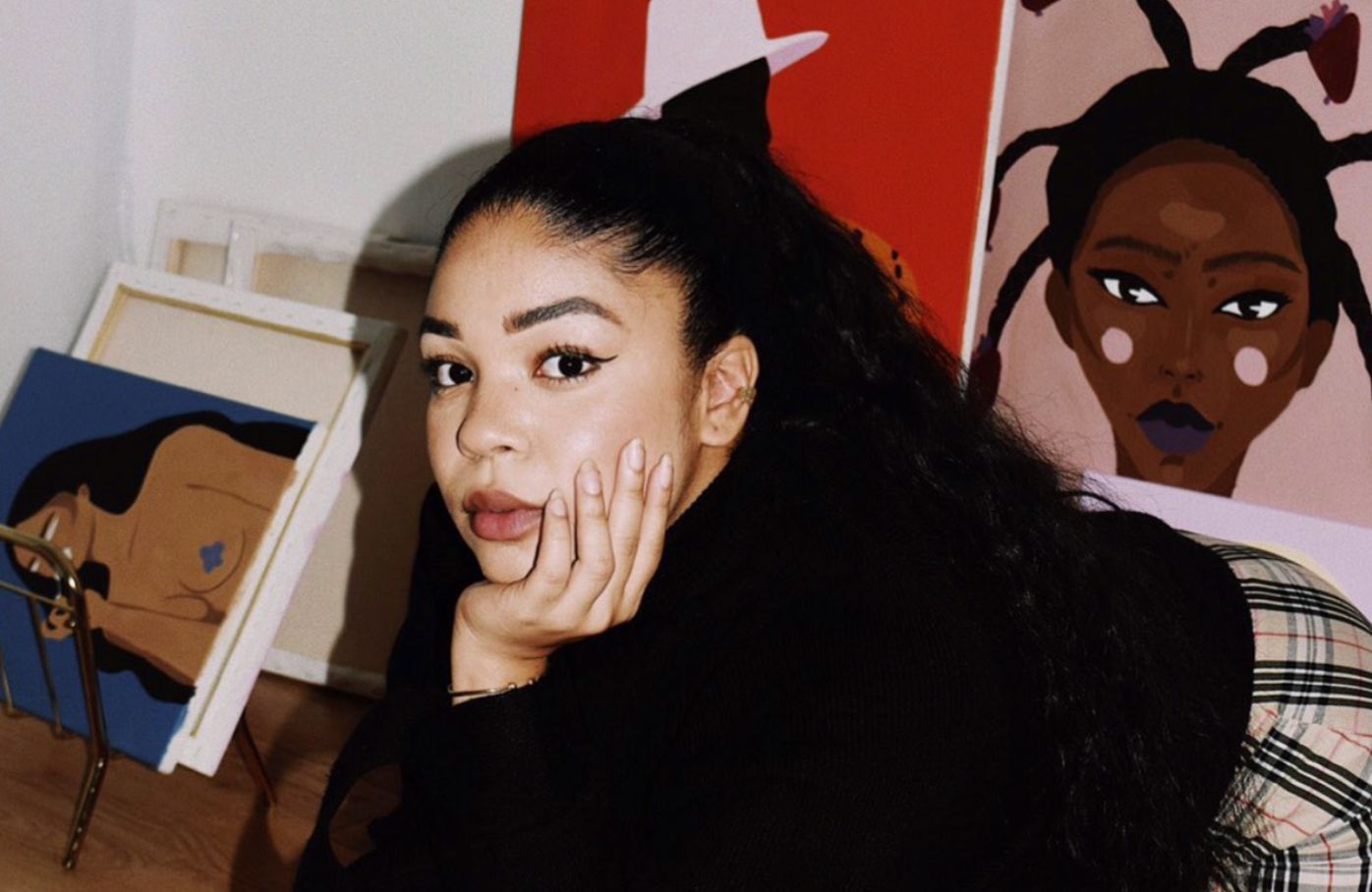 If you feel overwhelmed and confused, Lana Denina was in the same position only a month prior to her first steps into online art trading, marking the beginning of what would end up resulting in 300,000$ in earnings selling her art as NFTs in 2021.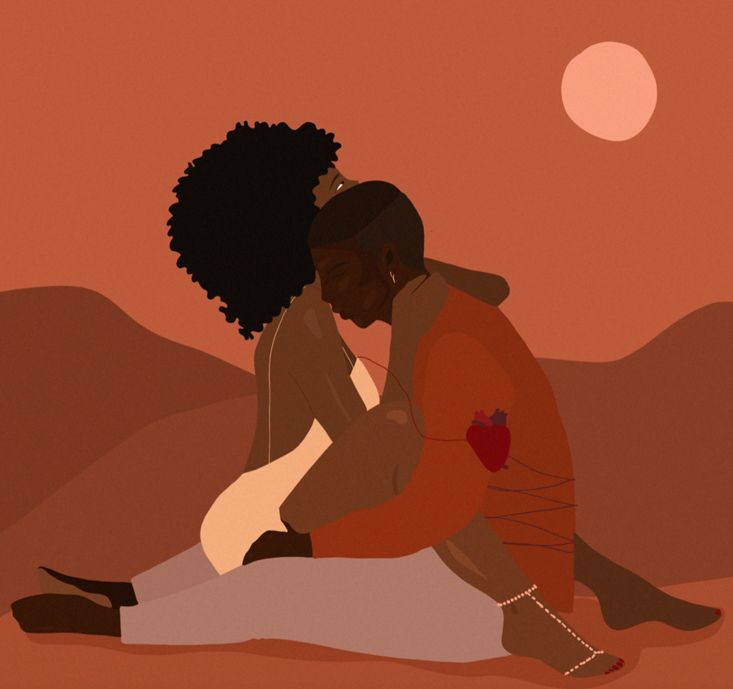 Lana Denina is a 24-year-old Black female multidisciplinary visual artist of Beninese and French origins, based in Montreal. She immigrated to Canada at the age of 5, after moving from Benin to France at the age of 2. Her body of work focuses on the representation of people of color, particularly Black culture, in contemporary art. She strives to "highlight faces and stories rarely told" through exploring diversity in human relations and in body morphology.

In an interview on the Lucky Trader DeFi and NFT podcast, Denina explains that she made art for as long as she can remember. It started off as a way to compensate for her ADHD and to help her concentrate in class. Art has always been therapeutic for her and an integral part of who she is. At age 16, she started selling her art to her friends as prints, phone cases and bikinis.

She started gaining public attention by showcasing her art prints on her Instagram and selling them on her website around 2018. Her work ranges from acrylic painting to digital art, and also includes more unique pieces like throws and rugs.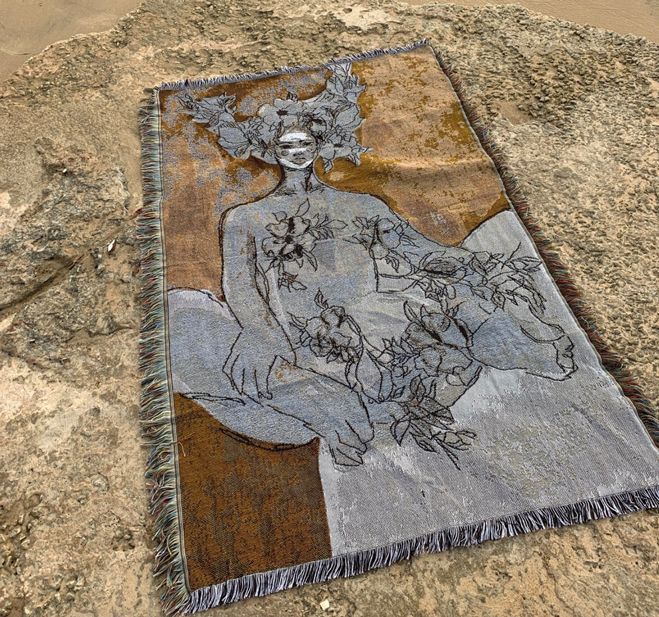 Denina is also the artist who painted the "A" of the Black Lives Matter mural on Sainte-Catherine Street in Montreal back in July 2020, following the tragic death of George Floyd in May 2020, where one could read the words: "la vie des noir.e.s compte".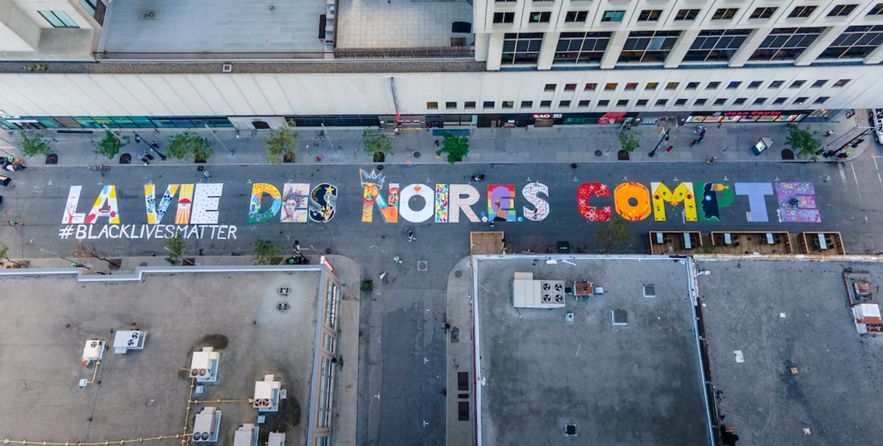 She recently delved into the world of NFTs to sell and display her work, describing how revolutionary it has been for her. Indeed, Denina tells Lucky Trader that she was "mind-blown" by her discovery of NFTs. She explains that as a digital artist, a platform that enabled her to sell her artwork digitally, without having to "denature" her digital works in prints, was game changing and exactly what she wanted.

NFTs are unique pieces of online art ranging from digital artworks, to audio files, videos and text, that can be exchanged, sold and bought with cryptocurrency, an online currency used on the blockchain. The blockchain, in turn, is the underlying technology behind cryptocurrency where NFT transactions can be secured, recorded and datafied. NFT stands for "non-fungible token", meaning that they are cryptographic claims of ownership encoded into a blockchain; they are unique and can't be altered. (To learn more, Alejandro Alba explains all the basics in the first lesson "Blockchain & Cryptocurrencies 101" of Arts Help's Conscious Crypto Creator program.)

The revolutionary aspect of NFT is that there exists records of the integrality of their ownership history. This provides economic benefits for artists since it ensures the uniqueness of their work and assures digital income, even from secondary sales, in the form of royalties. This feature solves a very common problem faced by artists today, since digital media can be easily copied and redistributed without proper attribution to its original creator. (To learn more, Linda Chew explains all about the innovation behind NFTs in the third lesson "All About NFTs" of Arts Help's Conscious Crypto Creator program.)

Lana Denina worked on a number of projects and created multiple series of NFTs in the last year. Her most recent collection, Symbiosis, includes eleven paintings representing different human relationships in all their strength and beauty.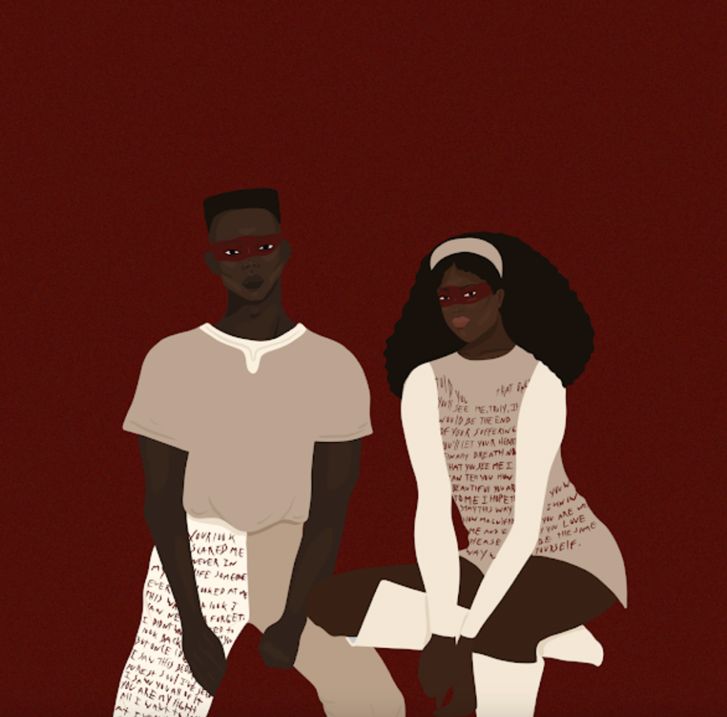 Denina also collaborated on the creation of two NFTs with graphic designer Annette Diallo, That Afternoon and Through Her Lens. Just like the collaboration between the two female artists of color, the animated digital 3D and 2D paintings with sound are "telling the stories of different women coming together to become stronger and share their battles".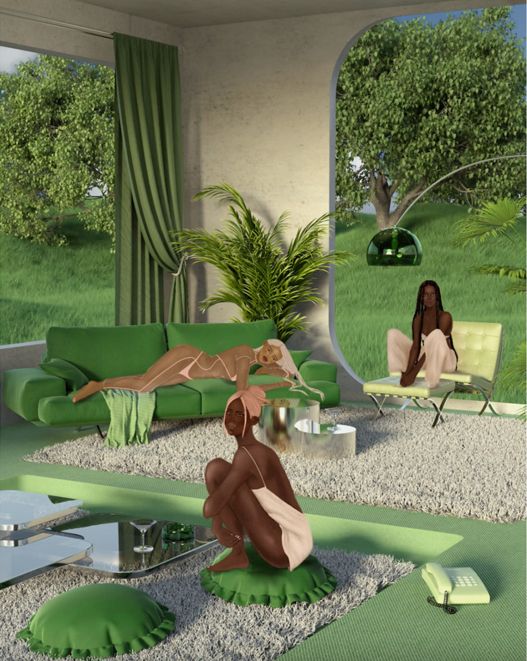 However, the Mona Lana NFT Collection was undoubtedly the biggest hit, selling out in a matter of weeks. The collection consisted of 500 different portraits of women called Mona Lanas, generated randomly by code with 112 different traits.

Denina plans to start giving percentages of her sale to initiatives supporting African Artists and to women shelters across Canada when the Mona Lana collection would surpass 100 ether in volume traded. On February 18th, Lana Denina tweeted that the Mona Lana started its donation to CyberBaat DAO, an organization that collects finances to support African artists' creative efforts.
Now, not only has Denina experienced great success with NFTs, but she has also found it to be a far more welcoming space for artists of diversity than the "traditional" art world. Indeed, creator of the NFT platform Black NFT Art Iris Nevins tells the Toronto Star that Black artists account for less than 1% of the art in fine art museums, going on to explain how the art industry has a history of being exceedingly biased and frequently blatantly racist.

Paulin Byusa, CEO and Founder of Avenir, explains in the third lesson of the Conscious Crypto Creator program how cryptocurrencies and the lack of bias in NFTs create opportunities to build generational wealth for marginalized communities. Crypto empowers those who were previously excluded from and neglected by financial systems like women, POC and immigrants.

NFTs open business models that are more equitable for creators. Indeed, the blockchain doesn't only allow transactions, but also "peer-to-peer exchanges" without the need for an institutional intermediary, like a bank approval, which often slows down the process, or inhibits the incentive to create and invest.

Denina explains to CNBC that in the NFT world, artists can create their own "online gallery", set their own prices and earn royalties on the secondary sales of their art with NFTs. Minority artists can gain visibility and profit from their art more easily in the virtual world, as well as well-deserved recognition that could, in the end, inspire more and more minority creatives to step into the tech art world, since it allows autonomy and creativity outside the limits of the traditional gallery and museums bureaucracies.

"I hope to inspire other creatives that look like me" Denina tells CNBC.
Denina explains to Lucky Trader that she lacked representation of people that looked like her in the art industry growing up. In part for the reason, she makes the art that she does today, representing people of color, particularly women of color — she wants to make POC women feel seen and valued, and above all, worthy of being included in the world of high-art.

The artist's work and initiatives, as well as the broadening opportunities of the NFT world aligns with the United Nations Sustainable Development Goals for Reduced Inequalities, Gender Equality and Decent Work and Economic Growth.  

Although, as Denina recognizes herself, there is still work to do regarding inclusivity and equality in the online art world, she encourages consumers and art fanatics to support women artists of colour by sharing their art, buying their art or even by simply talking about their work.

Despite its broadening opportunities for people of diverse backgrounds, the NFT world is far from perfect. Indeed, the monumental environmental impact of the blockchain must be taken seriously and acted upon.
---
To find out about the environmental responsibilities of Crypto and how artists can develop sustainable crypto art, watch the Mini Master Classes part of our Conscious Crypto Creator program accessible for free on the Arts Help website.
If you are new to the NFT world, our CCC program explains all the basics you need to know in the Blockchains & Cryptocurrencies 101 Mini Master Class. If you are an artist interested in delving into the NFT world, become a CCC verified artist and apply to earn your piece of our $3.5M Artist Grant.
To know more about her and to purchase her NFTs and art prints, visit her website LanaDenina.com.
To encourage NFT platforms supporting Black and African artists, visit Umba Daima and Black NFT Art.