The path of injustice towards Indigenous peoples can be found ingrained in every turn of history. Contrary to some positive little changes, Indigenous peoples are still subjected to issues of systemic racism, genocide, marginalization, denial of land rights, continued assimilation policies, violence, brutality, especially against women and children, and a slew of other abuses that are often hidden from the pages of history books.
The recent discovery of countless Indigenous children buried at unmarked graves at formal residential schools across Canada serves as a small fragment of the monstrosity committed against the Indigenous community with many other atrocities unknown.
However, many years prior to this discovery, several indigenous organizations, as well as indigenous allies, have protested in demand for change from the government. Indigenous families have given up their entire lives attending conferences, advocating for basic human rights and constantly fighting for justice which they are deprived of between the lies and fake promises of politicians and the government.
Born into the home of national Metis rights activists Tony Belcourt and Judith Pierce-Martin, artist Christi Belcourt says that she has been attending conferences since she was a little girl, even while she was still in her "mother's belly".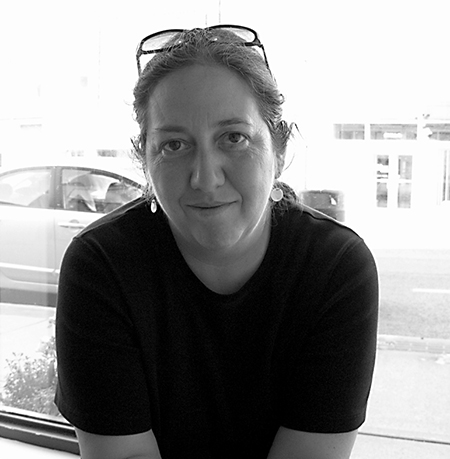 "I have heard talks, I have heard hope, I have heard promises for change. I myself have been inspired at conferences, and perhaps those were in my naïve days when I didn't know then what I know now, " said Belcourt at what she said would be her last keynote speech at a 2016 conference held at Laurentian University.
Through her work, Belcourt has continuously been an advocate for Indigenous rights, as many indigenous activists have been before her.
The Ontario born artist's practice as a visual artist majorly aims to revive Indigenous culture, language and land-based knowledge while also exploring and cherishing the natural world's beauty as well as traditional Indigenous worldviews on spirituality and natural medicine - calling attention to the planet's dire state as a result of climate change.
Belcourt incorporates the contents of her art as metaphors for human existence to convey a range of themes, including environmental issues, biodiversity, spirituality and Indigenous rights, highlighting the United Nations Sustainable Goals (SDGs) on Life on Land, Climate Action and Reduced Inequalities.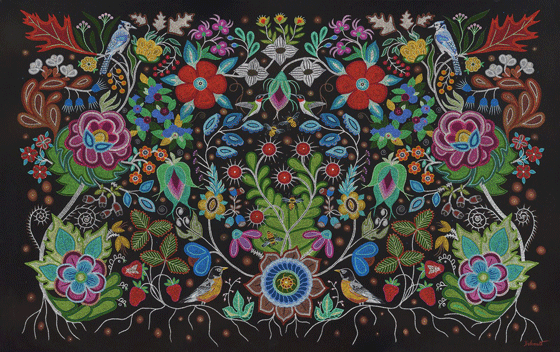 "This painting is called 'This Painting is a Mirror' because it reflects back to the viewer all the beauty that is already within them. We are not separate from anything, we are born connected to the earth, with the capacity to love, to be kind, to be generous, to be gentle," said Belcourt in a statement with Resilience Project.
The Métis floral beadwork is a significant part of Belcourt's art form which features a lively decorative arts culture that highlights beading and embroidery with brilliantly coloured floral patterns.
"Flower beadwork is one of the artistic legacies left to us by our ancestors. What began in 1993 as a simple attempt to transfer beadwork aesthetics onto the canvas with paint has become the artistic journey I've been on since. This journey has led me into the depths of understanding my own culture, our worldview, and our spirituality as it relates to the natural world, " said Belcourt.
In 2015, Belcourt's painting, the Water Song (2011), inspired Valintino fashion line – one of the dresses was worn by actress Melaw Nakehk'o to the premiere of the Leonardo DiCaprio film The Revenant. The painting's vibrant colours pop against a black velvet-like background, and they reflect a profound knowledge of the medicinal uses of plants and the need for clean water in maintaining healthy ecosystems.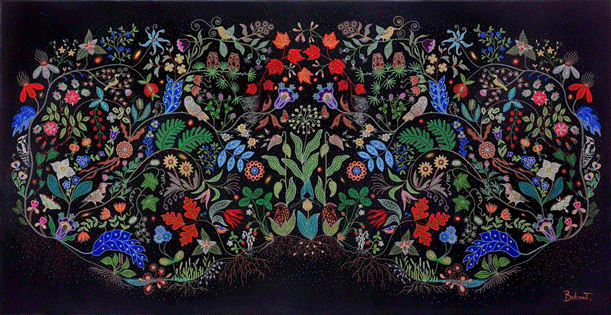 Likewise, Giniigaaniimenaning (Looking Forward), a piece she made in 2011, was designed to honour the perseverance and strength of Residential School Survivors and their descendants which was chosen and now erected as stained glass over the main entrance in Parliament Hill in Ottawa as a permanent display.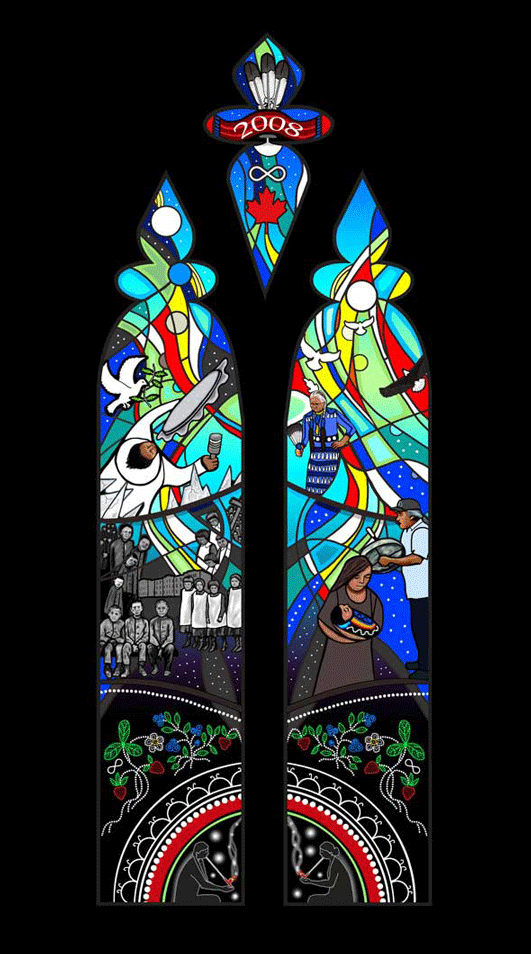 Although primarily known for her paintings, her work is also enriched with beads, hides, clay, copper, wool trade cloth and other materials. Most recently, she has incorporated birch bark and harvested plant fibres and ochre into her work.
In her 2016 painting, the ​Great Mystery of Water features walleye fish from the Great Lakes and Northern Ontario waters which swim in a diamond pattern and are surrounded by jewel-toned water. As the fishes cut through the water, gold trails emerge from their fins.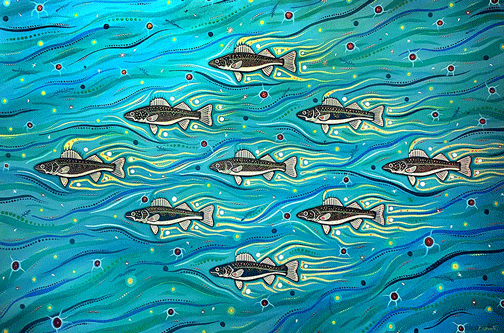 Belcourt also started the Walking With Our Sisters initiative in 2012 to commemorate the lives of Indigenous women and girls who were murdered in Canada and the United States. It has developed into an incredible seven-year international travelling tribute with over 1500 artists and hundreds of helpers.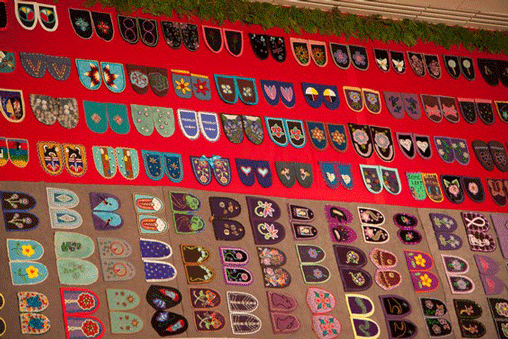 Walking With Our Sisters included approximately 1,800 vamps, which are the top, decorated parts of moccasins made by people around the world. They were arranged in pairs on a red cloth that covered the main level of the Carleton University Art Gallery, which is located on Algonquin land, with many other components of the installation based on Algonquin custom.  They were finished with minimal design, but were all part of an incomplete moccasin, symbolising the lives of those lost and killed.
Belcourt also co-founded and co-led the Willisville Mountain Project, a juried exhibition in which 40 artists used art to raise awareness of the Willisville Mountain quarrying project. The project, as well as the political and public pressure it generated, helped influence Vale Corp in agreeing to not mine for quartz in the mountain.
Just like many, Belcourt has dedicated her life to social change and justice for Indigenous Peoples. Although she doesn't always speak at conferences, her work speaks for itself.