As the world continues to make striking progress in improving the economy and health of people, we have yet to put the same strides into solving the negative impact humans have on the biodiverse environment around us. It is this theme that contemporary English photographer Nick Brandt shines a spotlight on in numerous works.
Studying at the Central Saint Martins College of Arts and Design in London, England, for Painting and Film, Brandt later moved to California to pursue a career as a director for music videos. This experience has allowed him to work with remarkable musicians such as Moby, Michael Jackson and Jewel. After working with Michael Jackson in 1995 for the Earth Song in Tanzania, he gained an interest in the beauty of East Africa and its wildlife.
Brandt co-founded the non-profit organization Big Life Foundation back in 2010, where they protect over 1.6 million acres of wilderness in East Africa by partnering with local communities to protect nature for everyone. Many of the programs they offer aim to protect wildlife, animal habitats and resolve human-wildlife conflicts. His work's depiction of the disappearance of animal life due to humankind's destruction of their habitats relates to the United Nations Sustainable Development Goal (SDG) concerning Life on Land.
In 2001, he started creating his trilogy that focused on showcasing the beauty of wildlife in East Africa. Instead of using a telephoto lens to capture the essence of the wildlife, he instead goes close to the animals.
"You wouldn't take a portrait of human being from a hundred feet away," he says, "to capture their spirit; you'd move in close."
Through using portrait-style photography in his depiction of these animals, he is able to portray that humankind and wildlife are not that different from each other and show their joint bonds. In 2013, he finally completed his project of a series of books. Together they are On This Earth, A Shadow Falls and Across the Ravaged Land.


As many images taken in East Africa from the previous years were unreleased, he decided to print life-size pictures and glue them onto large panels around urban developed areas in Kenya, which is shown in his Inherit the Dust project in 2016. These places used to be where animals roamed around before humans destroyed their land. Not only are animals the victims of this event, but humans who are living there are as well. If we continue to not fix our current actions, it will result in future generations not being able to enjoy the vibrant world we once lived in.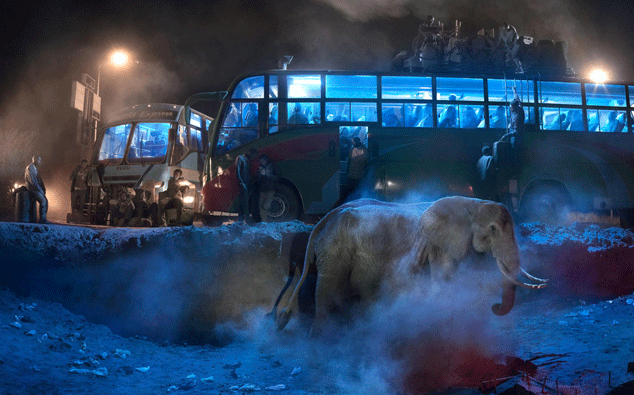 Similar to his Inherit the Dust project, the This Empty World project released in 2019 features the works of humankind in runaway development, resulting in no place for animals to survive. To produce this work, two images were combined that were taken weeks apart. The initial image is of the animal in its natural habit, then the following image is produced by gathering people from local communities to the completed sets of unsustainable or polluting human development projects. The two images are juxtaposed together, with a wildlife animal wandering in a place obsolete of vegetation, trees, biodiversity and food.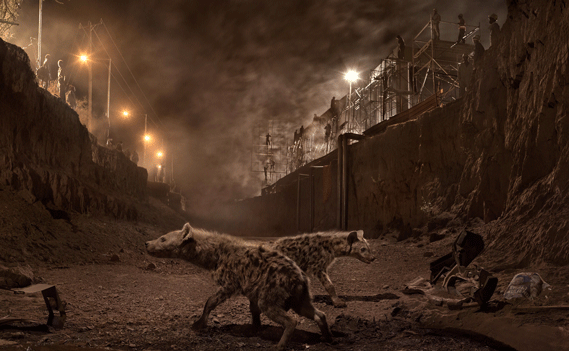 Ever since 2004, Brandt has been featured in numerous exhibitions and galleries all around the world such as in Berlin, Los Angeles, New York, Melbourne, Hong Kong and London. To see more of his work, visit his website.